BJP demands panchayat polls, wants controversial JPSC exams scrapped
Hemant govt purposely delaying elections to fuel corruption, Jharkhand unit chief Deepak Prakash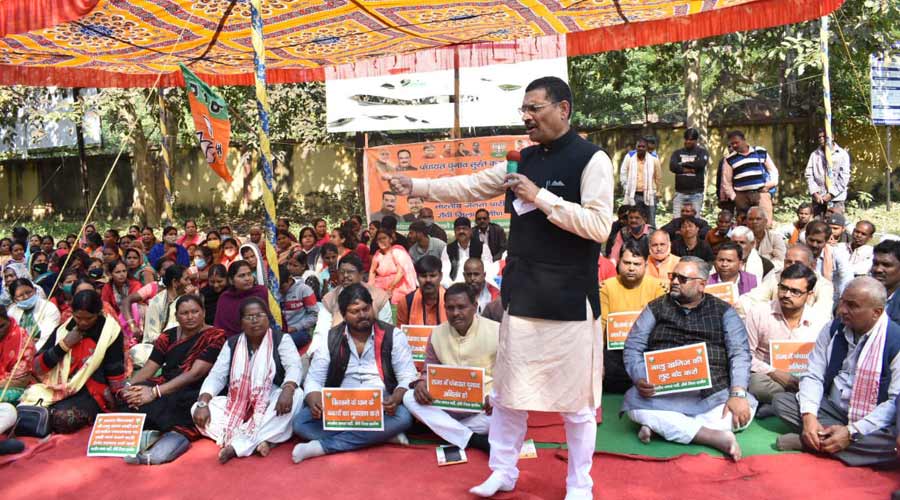 BJP state president and Rajya Sabha MP Deepak Prakash addresses party workers at Namkum in Ranchi on Saturday during day-long demonstrations across Jharkhand.
Photo sourced by correspondent
---
Ranchi
|
Published 27.11.21, 09:10 PM
|
---
BJP leaders staged demonstrations across the over 250 blocks in Jharkhand on Saturday demanding holding of panchayat elections at the earliest and cancellation of the recently held preliminary tests by Jharkhand Public Service Commission (JPSC).
Addressing a demonstration of party workers and leaders in Namkum, state BJP president and Rajya Sabha MP Deepak Prakash accused the ruling Hemant Soren-led government of delaying panchayat polls to avoid decentralisation of powers, claiming that it would stop the unabated "loot" by the state government at the grassroots.
"The government is postponing panchayat elections as a part of its hidden agenda of continuing with its corrupt practices in different areas of the state. The government wants to run its dictatorial policies and fears that panchayat elections might bring an end to its monkey business," said Prakash.
The tenure of the over 4,000 panchayat bodies in Jharkhand have already been extended twice. In January, the state government extended the tenure of panchayat bodies by six months, citing the pandemic as the reson for not conducting elections. In August, their tenure was extended for the second time.
Ministers have said in the past that the state government was in talks with the Election Commission of India (ECI) regarding panchayat polls and was waiting for the ECI to announce the dates.
At the demonstration on Saturday, Prakash said that glaring anomalies in the recently held preliminary exams for JPSC 7 to JPSC 10 had come to light, but the government was unwilling to cancel the exams despite widespread protests by candidates. "Further investigation into the matter will bring to fore names of several Congress party and Jharkhand Mukti Morcha (JMM) leaders involved in the JPSC scam," he alleged. 
During the day-long demonstration, BJP General Secretary Dharampal Singh attended the demonstration at Nagdi Block, General Secretary Aditya Sahu at Kanke Block and General Secretary Balmukund Sahai at Garhwa Block.
On Saturday, the party addressed a memorandum to Governor Ramesh Bais throwing light on the alleged malpractices of the ruling government.
Several thousand JPSC aspirants have been demanding cancellation of the recently conducted preliminary tests for JPSC 7 to 10 citing favouritism and anomalies in the system. Following widespread protests by students, JPSC recently released the category-wise cut-off marks for the exams and also answered queries of the candidates. However, student bodies, backed by political parties, still stick to their demand of cancelling the exams.