Bird with fractured wing rescued by 3 youngsters
The Black Kite bird was found lying in pain, infested by red ants in Daltonganj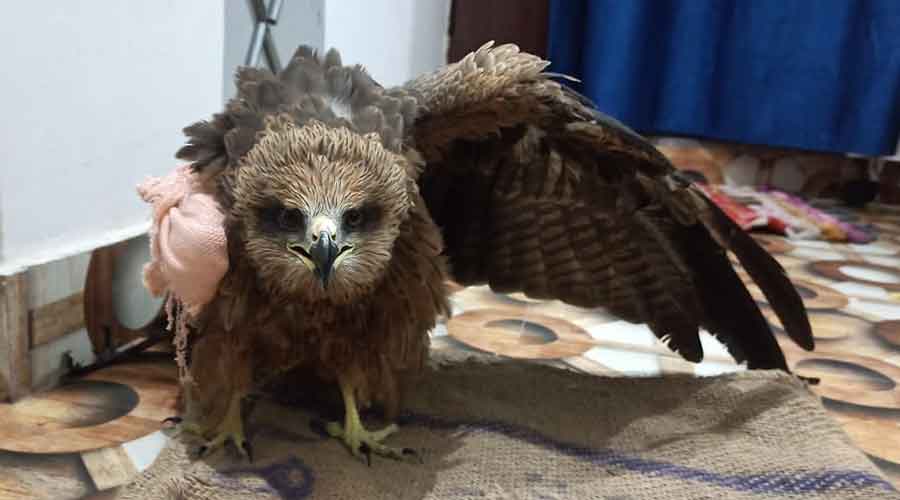 The bandaged black kite bird recuperates from a fracture of his right wing in Daltonganj.
The Telegraph picture
---
Daltonganj
|
Published 24.07.21, 07:11 PM
|
---
Three young girls of an NGO Adhikari Foundation for Nature Conservation rescued and treated a Black Kite bird whose wing was badly fractured in the Jail Hata locality in Daltonganj, said sources.
The bird, weighing 812 grams, looked exhausted, emaciated, stressed and shocked. Its humerus bone was split and was found grovelling in acute pain and dirt.
An unidentified bird lover rang one of the girls and soon two of them, Sonali and Anishka, rushed to the location and recovered the bird.
Sources said the district animal husbandry office here which runs the cattle hospital has no expertise in dealing with injuries and traumas to birds and snakes etc. 
The third member, Jyoti, said she phoned Dr Vishal Patel, a renowned name in rescue, treatment and rehabilitation of wildlife including the birds in the USA and a Gujarat based popular veterinary surgeon Dr Divya to know how to proceed with the treatment of the black kite. 
"The fracture point of the humerus bone had too many red ants further rendering the life of this bird miserable," said Jyoti adding that red ants can't be removed with water and need to be removed by hand. 
Any use of water to drain out the red ants would have run the risk of water entering the lungs of the bird which would have meant instant death. 
Sonali and Anishka removed the red ants with painstaking efforts and, on the advice of the two doctors, fluid was transfused through subcutaneous tissues.
The right fractured wing was bandaged and the black kite was fed and kept in a comfortable room. 
The black kite bird is making spectacular recovery and it is hoped this bird will be up on her wings in a couple of days. 
Sources said the girls had saved a bird cattle egret about seven or eight months ago whose one leg was amputated and after fifteen days of caring for the bird, it took to its wing with one leg in the vast space.