Baby boom at Dalma jumbo abode, population goes up
Elephant population in Dalma will cross the 160-mark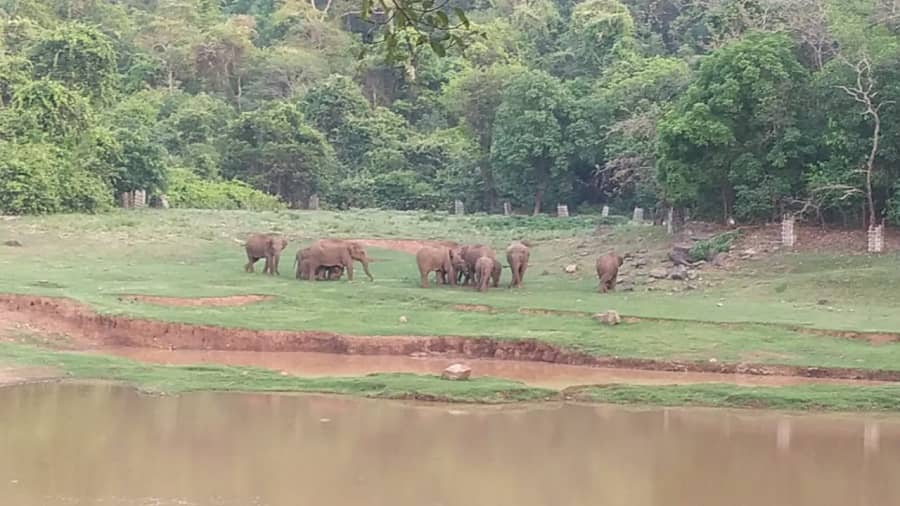 Elephant calves with a herd inside Dalma wildlife sanctuary
The Telegraph Picture
---
Jamshedpur
|
Published 15.05.22, 07:08 PM
|
---
Dalma Wildlife Sanctuary has a reason to cheer.
Around 15 baby elephants have been spotted at the sprawling 192 sq km sanctuary, some 30km from Jamshedpur. The little ones are between 4-6 months old.  The Dalma elephants, including tuskers, had moved into the sanctuary about five months back from the jungles of West Midnapore and Bankura in Bengal.
Dalma foresters and guards confirmed the presence of elephant babies, but admitted they could not say for sure whether the calves were born  in Dalma or Bengal. "Elephants are migratory elephants. I cannot confirm if the calves were born in Dalma or Bengal. But we are happy about their presence," he added.
A forest guard said the baby elephants were spotted last Sunday (May 8) by him and trackers, daily wagers recruited to keep tabs on the movement of animals."We came across the herd with babies at Majhla Bandh. The herd was very protective and often stopped to have a look at the little ones. The calves are 4-6 months in age," the forest guard said, requesting anonymity.
The babies have been spotted at different zones across the sanctuary. Presently, the sprawling sanctuary is teeming with Asiatic jumbos. The elephants are scattered across the reserve. Most are stationed uphill. The jumbos remain anchored inside the core area during day time and come out late afternoon and head towards watering holes.
According to a forester at the Dalma range office some of the babies were born in Dalma while some in Bengal. "Some of the jumbos, who returned to Dalma from Bengal in December-January, were pregnant. This means some of the babies were born in the sanctuary," he added.
The Dalma elephants had migrated to the jungles of West Midnapore and Bankura in August-September last year. Usually, they return to the sanctuary in the first week of January and sometimes overstay in Bengal owing to availability of food and water.
The elephant population in Dalma will cross the 160 mark thanks to the recently-born babies. The numbers stood at 156 during the last animal census.