At Dalma sanctuary, watering holes are already full
Summer likely to be less harsh at elephant abode this year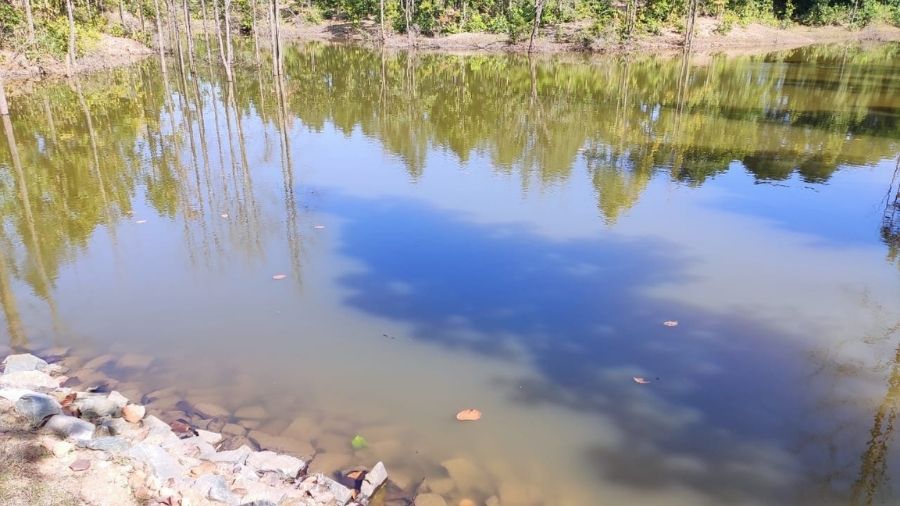 A watering hole inside Dalma wildlife sanctuary.
Picture by Bhola Prasad
---
Jamshdepur
|
Published 23.01.21, 07:44 PM
|
---
Elephants and other animals will have ample water at Dalma sanctuary this summer which will not necessitate forays into neighbouring villages to quench their thirst.
As many as 25-odd check dams and around a dozen watering holes are nearly full owing to a satisfactory monsoon and a mechanism that doesn't allow water to run off.
Generally water bodies inside the elephant abode, 30 km from Jamshedpur, go dry in April and May. But this time it's different. "There is plenty of water in check dams and watering holes. There would be no shortage of water during summer," said Dalma range officer (West) Dinesh Chandra.
Some of the 16 new check dams have come up on natural drains within the sanctuary. This has helped rainwater from flowing down into the Subarnarekha river and Dimna Lake from the Dalma hills.
The check dams built near Badka Bandh, Nichla Bandh, Chotka Bandh, Rajdohaand Bijli Ghati have helped to maintain the water level at these watering holes.
A forester said elephants were on their way home from the jungles of West Midnapore and Bankura in Bengal. Now, they were positioned on the periphery of the sanctuary. "The jumbos may slip in any day. Adequate water at the sanctuary would prevent elephants and other animals from venturing into the 80-odd villages and hamlets dotting the sanctuary. We have worked hard to conserve water inside the sanctuary," the forester said.
Another forester said there was no issue related to food availability. "Food is available in plenty. Bamboo stems (favourite of the jumbos) near watering holes have grown and present a green look to the water sources," he added. 
Abundance of water will also help maintain the groundwater level at Pinderbera forest guest house, located around 14km from the main entry gates at Makulakocha. Though the Pinderbera facility is not being let out to tourists currently, the four staff quarters there are being let out.
The sprawling 192 sq km sanctuary is presently out of bounds for tourists since March due to the pandemic. However, whenever it opens, a rush of tourists is inevitable. Availability of adequate water at the four plush air-conditioned cottages and non-AC rooms at Makulakocha will ensure tourists don't complain.