At 17, Sandip Mandi is ready to take on the big boys
Santhal defender from Tata football academy gets berth in JFC's A team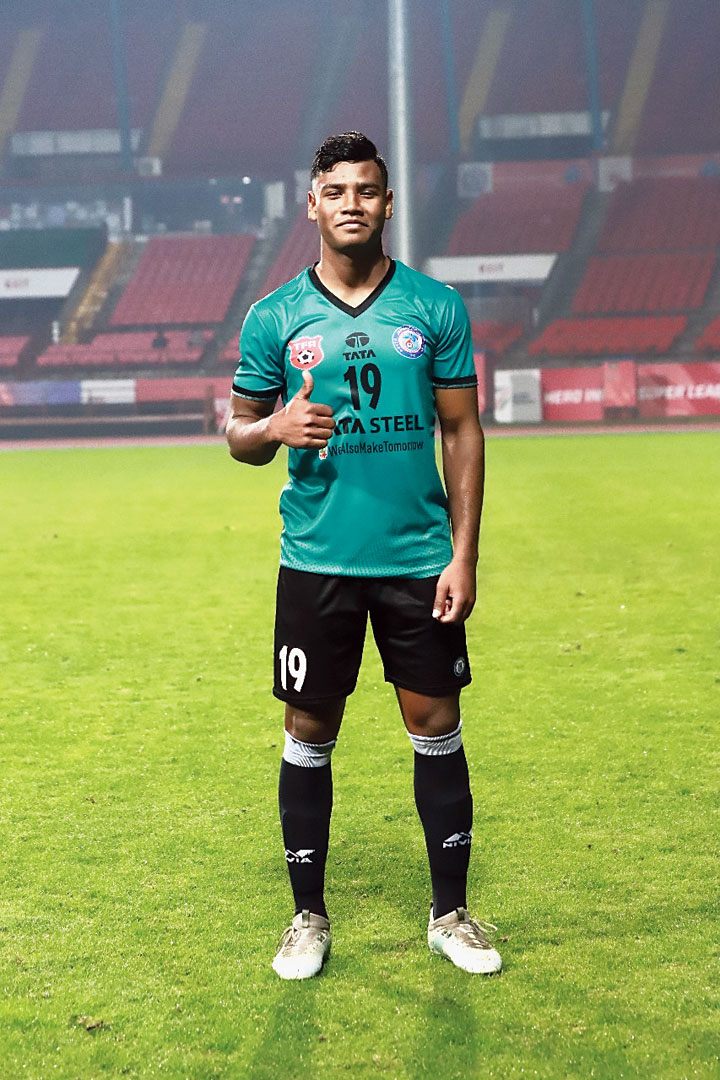 ---
Jamshedpur
|
Published 07.01.20, 06:43 PM
|
---
Donning the Jamshedpur FC jersey in the Indian Super League has been a dream for 17-year-old Santhal footballer Sandip Mandi.
And now, this New year, the JFC management made his dream come true by promoting Mandi to its First Team (senior side),
Mandi, a senior cadet of elite Tata Football Academy (TFA), has been handed a contract with Antonio Iriondo's side for the 2019/20 season. The defender from Chakulia, East Singhbhum, could not have asked for more.
Mandi comes into the senior JFC side with the ability to grasp dangers in advance, one of the key component in a defender's armoury when it comes to saving his team's citadel, his peers and coaches say.
Mandi, who started football when 13, and entered TFA in 2018, said he was very excited to be selected for the senior side. Though it depends on the coach as to which match he plays, he said: "I'll do my best."
The modest tribal with loads of energy, good reflexes, discipline and a cool head played the national U-14 and U-16. He has also represented Bengal in junior national competition.
On his Bengal connection, he said his family lives in Kalyani, a university town around 50km from Calcutta, because of his father Sundar Mandi's job in the railways. "My father is also a footballer and has represented the railways in Santosh Trophy several times," he said proudly. "My sister Sutapa and mother Sarala cheer for both of us."
Jamshedpur FC CEO Mukul Choudhari said Mandi was a talented defender and they were happy to promote him in the senior side. "Mandi was in our reserve side and he has been performing well. His inclusion is a part of our aim to give scope to Jharkhand players in our senior side."
JFC has two more players from the state, Jamshedpur's defender Mobashir Rahman and forward Gourav Mukhi. The latter, who has served a six-month suspension slapped by the All India Football Federation (AIFF) due to an age-related controversy, has also been brought into the senior side. Mobashir is already a part of the senior team.
Jamshedpur FC released Keegan Pereira and Augustin Fernandes to promote Mukhi and Mandi. Keegan and Augustin are now part of the reserve team.
The Tata Steel-owned franchise also added Spanish striker David Grande to their roster for the rest of their 2019-20 ISL season.