Arsenic filters developed by Birla Institute of Technology researchers
200 to 240 litres of safe drinking water estimated to cost 3 paise a litre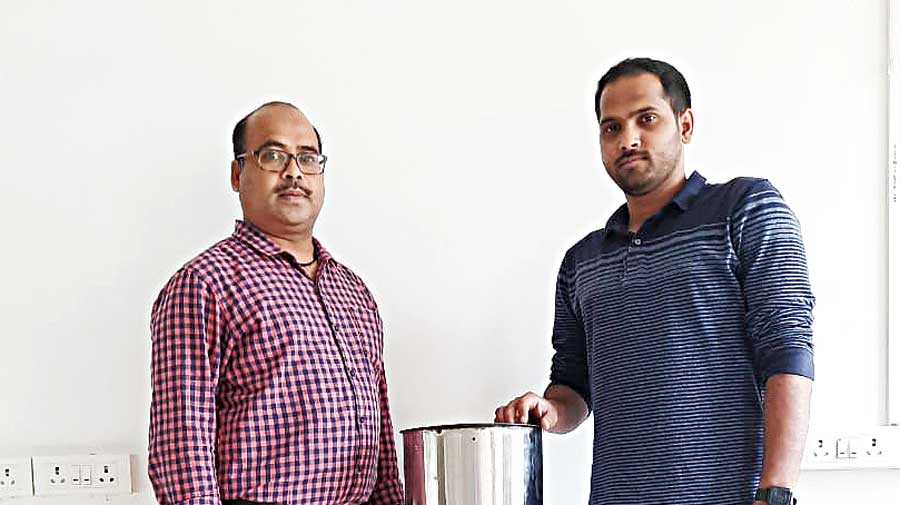 Sanjay Kumar Swain (left) and Amulya Ranjan Panda with the arsenic filter developed by them
Telegraph picture
---
Ranchi
|
Published 09.04.21, 03:21 AM
|
---
A team of researchers from Birla Institute of Technology (BIT), Mesra (Ranchi), has developed a filtration system for eliminating arsenic from groundwater for using it for drinking purpose. 
"It's an affordable filtration system developed by using naturally available materials to combat the growing problem of arsenic contamination of groundwater," informed Sanjay Kumar Swain, the leader of the team.
"The project was funded by the Board of Research in Nuclear Sciences of the Bhaba Atomic Research Centre (BARC), Mumbai," he further informed,  adding their team comprised of Usha Jha and Amulya Ranjan Panda from BIT and Sanjukta A. Kumar, a BARC scientist, besides him. 
"It's a low cost system made of locally available materials and can be made by the local people," Swain further informed when pointed out such filtration systems were already developed by others also and added it needed no electricity or an overhead tank and the cylindrical filters can be easily installed. 
About 200 to 240 litres of safe drinking water can be obtained from this filter every day, with outflow of about 10 to 12 litres per hour, he informed, adding the cost would be just 3 paise per litre.  
"We have worked on it for the past four years and tested its efficiency both in the laboratory and also in under different groundwater conditions in affected areas," Swain said, adding they had already applied for an Indian patent.  
Earlier, educational institutions like IITs (Kharagpur, Madras and Bombay) and Tezpur University in Assam had developed some such filtration systems. 
"But most of those removed pentavalent arsenate while ours is capable of removing both trivalent arsenite and pentavalent arsenate," Swain claimed when asked, adding their filters could also remove iron, phosphate and manganese from groundwater to bring it down to the permissible level prescribed by the World Health Organisation.  
Arsenic is found in parts of Assam, Bengal, Bihar, Jharkhand, Chhattisgarh and Uttar Pradesh in more than prescribed limit, causing health hazards for the local residents. 
"While the limit is 0.01 milligram per litre, arsenic is found up to 1 mg/litre (100 times more) at certain parts of these states," Swain further said, adding some areas in Sahebganj district of Jharkhand were also badly affected. 
They made four filters and successfully tested in those affected parts of Sahebganj over the past two years, he further said. 
"We will disclose the details about the materials used in our filters once our patent formalities were complete," he replied when pointed out that other educational institutions that worked on it had reportedly used such materials as laterite soil, cooking soda, potassium permanganate and ferric chloride. 
The cost of an arsenic filter developed by them would cost within Rs 4,000 and would last for at least five years, he said. 
"We shall be glad if any organisation comes forward with an offer of funding a project for providing these filters to affected families," Swain replied when asked about their future plan, adding that it could also be used for commercial production of filters.