Students body to congratulate Modi on hitting century over fuel prices
Deciding that sarcasm is the best form of protest the unit began a WhatsApp drive to encourage people to write congratulatory messages to the PM in pen and paper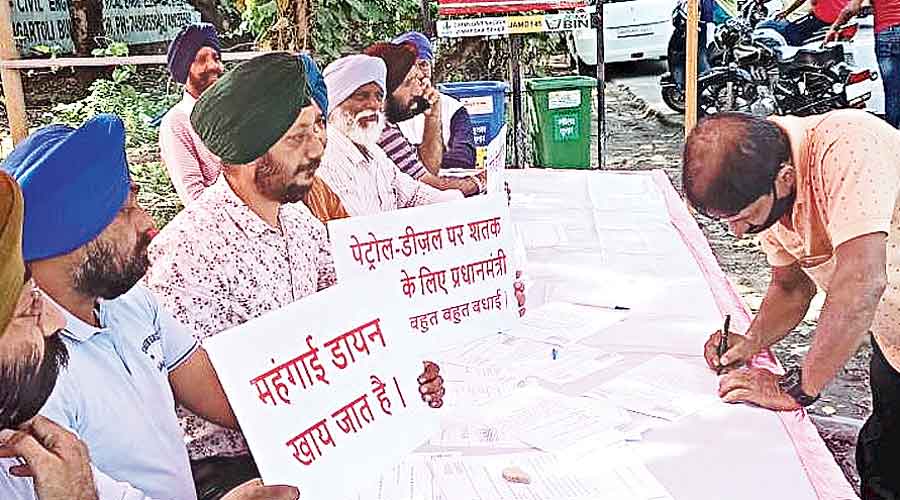 AISSF members collect the messages in Jamshedpur.
Picture by Bhola Prasad
---
Jamshedpur
|
Published 23.10.21, 01:38 AM
|
---
A federation of students is planning to congratulate the Narendra Modi government on completing a century. Not over the 100 crore Covid jabs the government is tom-tomming but over fuel prices crossing Rs 100 a litre in Jharkhand.
Deciding that sarcasm is the best form of protest, the All India Sikh Student Federation (AISSF), Jharkhand-Bihar unit, began a WhatsApp drive around Friday noon to encourage people to write congratulatory messages to Modi for achieving the feat of "fuel prices crossing 100".
The messages are to be written with pen and paper and submitted at local AISSF offices, to be couriered in bulk to the Prime Minister's Office along with the student body's covering letter.
Satnam Singh "Gambhir", president of the AISSF, Jharkhand-Bihar, told The Telegraph that the federation, which has about 1,000 members in Jharkhand alone, was expecting to send at least 5,000 letters, packed in 10 boxes.
On Thursday, petrol prices reached Rs 101.23 a litre and diesel prices Rs 100.9 a litre in Ranchi.
"Within a few hours, we had collected nearly 500 congratulatory messages (till 4.30pm) in Hindi," Gambhir said.
"The messages are to be written on A4-size paper with a red sketch pen. Along with a covering letter on our (AISSF) letter pad, we will be couriering the messages --- 500 per packet – to the PMO from Saturday."
The AISSF's covering letter says: "Petrol diesel ki shatak lagane se Bharat ki janata mehngai ki mar se trahi-trahi kar rahi hai jisme apka sahyog saraniya hai. Iss nek karya ke liye Jharkhand ki janta apko badhai sandesh bhej rahi hai. Kripya swikar kare."
Translated, it means: With petrol and diesel hitting centuries, India's people are reeling under inflation. Your contribution to this has been significant. Jharkhand's people are sending you congratulatory messages for this noble deed. Please accept them.
The sender is "apke prashanshak (your admirer)".
"We have a target of collecting 5,000 messages, which we will be sending to the PMO within a week," Gambhir said.
One of the messages the AISSF has received reads: "Petrol diesel per shatak lagan ke liye Pradhan Mantriji to bohut bohut badhai (Congratulations to the Prime Minister for scoring a century on petrol and diesel)."
Another says: "Mahangai dayan khai jat hai (The inflation witch is devouring us)."
The AISSF had earlier too launched a programme of ridicule against the Centre, holding a series of interest-free petrol "loan melas" in February when petrol prices crossed Rs 95 in Jharkhand.
People needed to make down payments of Rs 10 at AISSF counters and hand in a post-dated cheque for the rest of the amount, depending on the volume of petrol they planned to buy. The AISSF issued them a slip against which the petrol stations sold them petrol. The student body later reimbursed the petrol pumps.
Pramod Kumar, spokesperson for the Jharkhand Petroleum Dealers Association and proprietor of the Ranchi-based Shambhavi Fuels, said the Centre had ignored fuel dealers' demand for a rollback of VAT.
"We shall request the Jharkhand government to reduce the state VAT by five per cent and make up the loss through increased sales of fuel," he said.
"We are witnessing a more than 30 per cent decrease in fuel sales. If prices are reduced in Jharkhand, the bulk purchasers who are now buying fuel from neighbouring states will resume buying it from Jharkhand."
State finance minister Rameshwar Oraon ruled out any slash in VAT, arguing such a step would make it "difficult for the government to sustain its development activities".
"We are continuing with the 22 per cent VAT of the erstwhile BJP government," he said.
"Since the imposition of the GST, the states have been left with hardly any avenue to earn taxes. It's the Centre that should slash VAT."