A day-long exposure visit for postgraduate students
It was a welcome exposure for pupils from various universities of Jharkhand and the neighbouring states of Bihar and Uttar Pradesh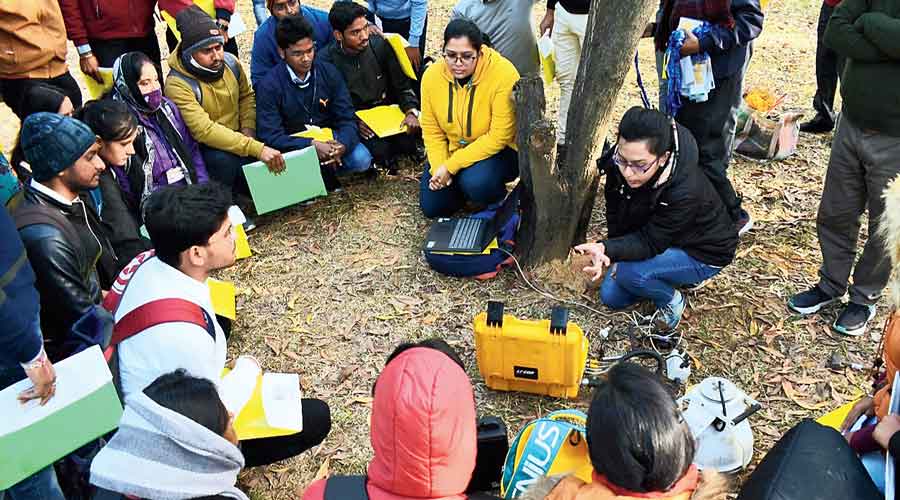 Students during the exposure trip on Sunday.
Shabbir Hussain
---
Jamshedpur
|
Published 08.01.22, 12:28 AM
|
---
A day-long exposure visit-cum-training programme was organised by the Environmental Information System centre at the IIT (ISM) in Dhanbad for around 57 postgraduate students from various universities of Jharkhand and the neighbouring states of Bihar and Uttar Pradesh.
The Envis centre operation at the department of environmental science and engineering (ESE) organised the programme on Sunday and the report was released on Thursday.
The purpose of this programme was to provide field exposure to the students including hands-on experience about field-based primary data generation on ecology and biodiversity sampling, surface water and agriculture/forest soil sampling, air and noise monitoring etc. The training area was located around 40km from the IIT (ISM) on the Dhanbad-Sahebganj National Highway (near Karamdaha Village) and near Barakar river. This site was chosen as it has a rich variety of biodiversity consisting of forest, river, agricultural ecosystem and tribal region," said coordinator of IIT (ISM) Envis centre Anshumali.
Students of different colleges of Jharkhand namely PK Roy Memorial College (Dhanbad), Binod Bihari Mahto Koylanchal University (Dhanbad), Bokaro Steel City College, SSNLT Mahila Mahavidyalaya (Dhanbad) and IIT(ISM) Dhanbad and also from universities of other states like the Central University of South Bihar, Gaya (Bihar) and Banaras Hindu University (BHU).
The students were of B.Tech, M.Tech, B.Sc and M.Sc backgrounds belonging to a different subject domain such as environmental science, geology, zoology, biotechnology and remote sensing and GIS.
The training programme was headed by Anshumali, who also heads the ESE department, along with other expert faculty members from IIT (ISM) who helped in setting up of the various monitoring equipment/instruments and in their demonstration to the students.
Few of the demonstration and hand-on experiments that were shown to the participants during the exposure-visit-cum-training programme includes field training on the accumulation of data for different parameters required for estimation of plant biomass, monitoring of CO2 flux in forest site, degraded land and grassland site, demonstration of how to calculate different noise parameters and indices with the help of noise level meter, spot sampling methods for collecting water samples from river and groundwater, physio-chemical analysis of river water and groundwater samples and soil samples with the help of Multi-parameter Thermo Scientific Eutech instrument and demonstration of GPS device to locate the latitude and longitude of a particular site.
"The training programme provided the hand-on-exposure to participants about baseline data generation for environmental impact assessment (EIA) study. To facilitate the training programme, teaching materials were distributed among participants," said Anshumali.
The expert faculty members delivered a field-based lecture for a sampling of water, soil, noise and air monitoring, identification of point and non-point sources 
of pollution, study of geogenic characteristics and geological formations influencing land use and land cover patterns, and plant diversity assessment for carbon sequestration.
 At the end of the training programme, a plantation drive was conducted.