A 'dam' good plan to generate power in Ranchi
Two solar plants to come up on Dhurwa, Getalsud reservoirs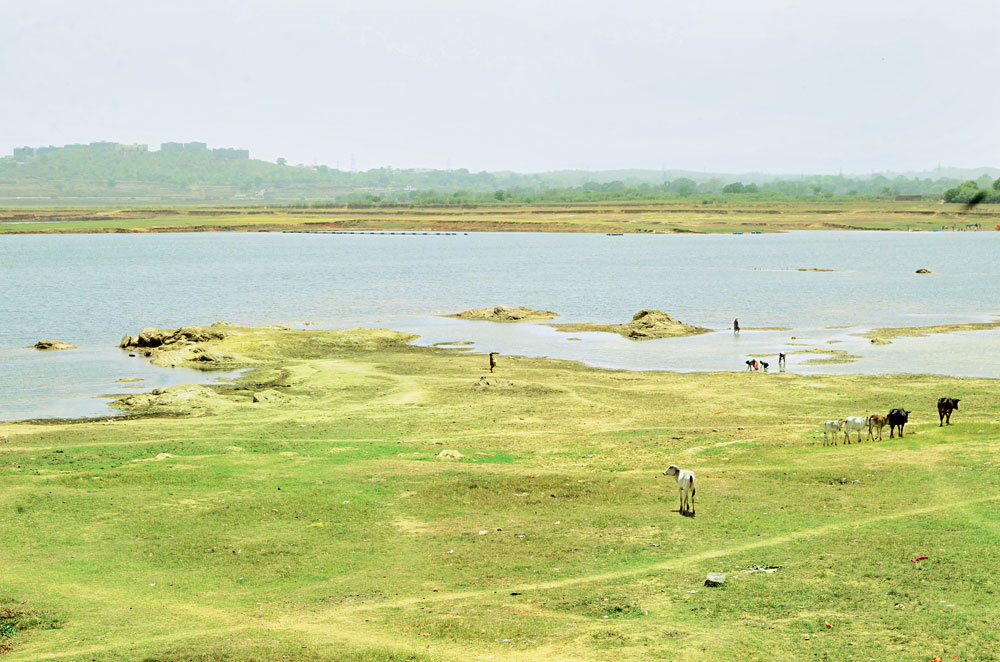 People collect water from Dhurwa dam in Ranchi on Wednesday. The water level of the dam, where one of the solar plants will come up, has been dipping sharply due to rise in temperature.
Picture by Prashant Mitra
---
Ranchi
|
Published 08.05.19, 07:04 PM
|
---
Solar Energy Corporation of India (SECIL) will set up two floating solar plants on Dhurwa (Hatia) and Getalsud dams here which will together generate 150mw of power.
Jharkhand Bijli Vitran Nigam Limited (JBVNL) managing director Rahul Purwar on Wednesday said the project would be entirely funded by SECIL.
"JBVNL will purchase the power from SECIL at a cost of Rs 3.10 per unit. While the solar plant on Getalsud dam will produce 100mw, the Dhurwa dam will generate 50mw," said Purwar.
Purwar said SECIL had recently floated the technical bid to select the firm that would execute the project. The entire project will take six to eight months to complete.
The power generated at Getalsud dam will be routed through Sikidari grid whereas Dhurwa plant will be connected with the Hatia grid. Sources in the JBVNL said the power generated from both the dams will be used in Ranchi.
"The state government has a policy to promote renewal energy. Thousands of solar panels, which will float on water, will not cause pollution or damage the aquatic ecosystem. Floating solar panels have become very popular and effective. A study suggests that water beneath keeps the panels cool and increases productivity. Floating solar panels have been introduced in a number of southern states," he said.
One of the biggest advantages of floating solar panels is that the installations do not require valuable land space. Many of these installations can take up unused space on water bodies, such as dams, wastewater treatment ponds, or drinking water reservoirs.
This allows landowners to make use of an area that wouldn't otherwise be used, rather than installing on sunny land that could potentially serve another purpose down the line. Additionally, installing solar panels out on open water reduces the need for tree removal and forest clearing, a practice used in the case of some larger solar panel installations.
Floating solar makes sense in countries with high land costs and poor availability. The global floating solar market is driven by Asian countries, with China and Japan being home to bulk of such plants.