72 hrs after Dhanbad mine deaths, probe begins
3 from poor families were picking coal from site in BCCL's Rajapur Colliery when mine roof collapsed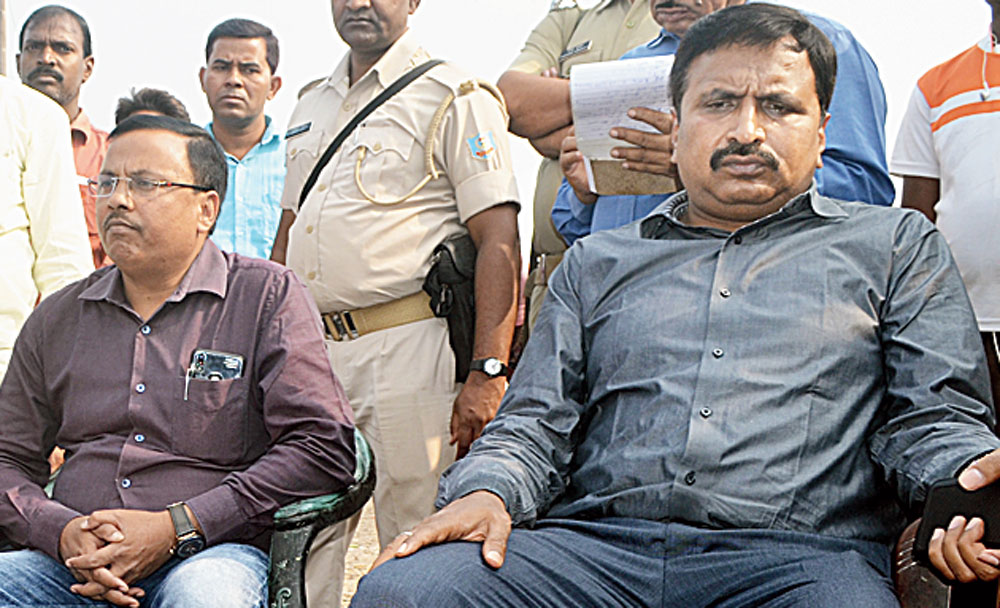 Dhanbad SDO Raj Maheshwaram (right) at Liloripathra in Jharia, Dhanbad, on Monday.
Picture by Shabbir Hussain
---
Dhanbad
|
Published 12.11.18, 05:34 PM
|
---
The district administration has launched a probe into the death of three persons, including two minors, at a mining site in BCCL's Rajapur Colliery, around 8km from the district headquarters, on Friday.
A two-member team led by Dhanbad SDO Raj Maheshwaram and Jharia circle officer Kedarnath Singh on Monday visited the site and interacted with the family members of the deceased who stay in Jharia's Liloripathra, around 3km from the site. They also met R.K. Singh, the general manager of BCCL's Bastacola area, and Vindhyanchal Singh, the project officer of Rajapur Colliery.
Chandana Kumari (13), Pankaj Kumar (16) and Nageshwar Mahto (20) had entered the mine around 8am to pick coal for sale in the local market to supplement family income. Around half an hour later, the roof of the mine came crashing down on the trio. A few local residents, who were also picking up coal nearby, rushed to the spot and informed police.
While Chandana and Nageshwar were children of daily wage earners Karu Bind and Ramji Mahto, respectively, Pankaj was the son of construction site worker Sundar Ram.
Talking to reporters outside Vikash Bhavan at Bastacola, Maheshwaram said, "We have been instructed by deputy commissioner Anjaneyulu Dodde to probe the mishap that claimed three lives. We will submit a detailed report soon."
Singh said, "We interacted with a lot of people, including BCCL officers and families of the deceased, to find out what had exactly happened." Former Dhanbad MP Chandrashekhar Dubey, who also reached the site when the administration officials were carrying out the probe said, "BCCL officials are responsible for the incident since it was their responsibility to stop outsiders to enter the mining site."
He, however, held poverty as the main reason as people risk their lives to pick coal from the dangerous site to feed themselves and their families.
Roof collapse is an unavoidable risk associated with illegal mining where safety almost always takes a back seat.