391 households in Mango division go without power due to red-tapism in JBVNL
With no option left in hand, majority of the residents are compelled to resort to illegal power source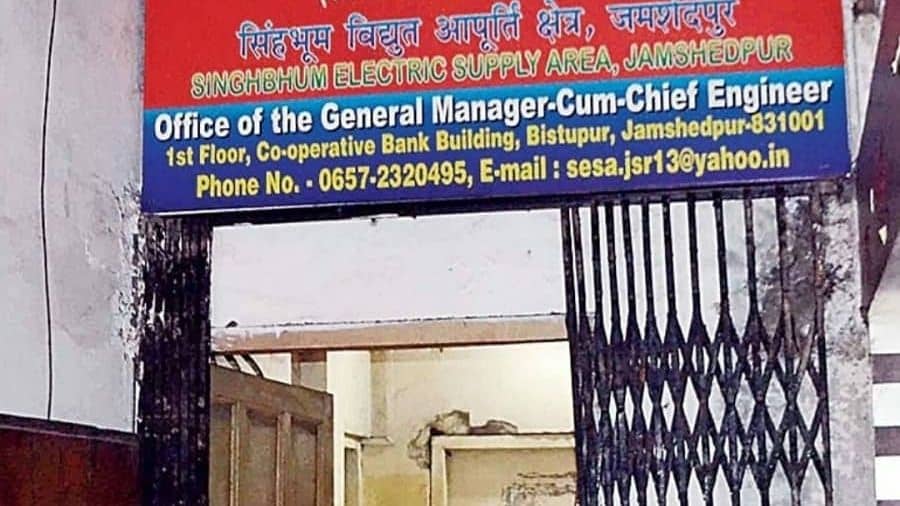 General manager-cum-chief engineer, JBVNL's Singhbhum area board office at Bistupur on Tuesday
Animesh Sengupta
---
Jamshedpur
|
Published 01.03.22, 04:49 PM
|
---
Red-tapism in the Jharkhand Bijli Vitaran Nigam Ltd (JBVNL) has caused over 390 households to go without electricity in the Mango division of the power discom. 
With no option left in hand, majority of the residents are compelled to resort to illegal power tapping, risking the lives of the family members or facing action by the discom's anti-power theft wing. 
As per the JBVNL norms, an applicant is supposed to get power connection within seven days of putting the application online. For getting the application sanctioned, it needs the approval of assistant engineer and junior engineer. But large number of applications for power connection are lying indisposed of because a section of officials posted at the Mango division are not approving the application without taking extra money.
"I had a year ago applied for domestic connection of one kilowat load having paid the required security money. But my family members are languishing without power since November 18, 2020. I think the man reason behind my plight is that I did not pay extra Rs 500 to an official posted in my area, " said Dhaniram Mardi, the applicant while talking to this website. 
Mardi who is a resident of Dimna under Mango division said like him several other residents of Dimna are also deprived of the power connection despite meeting the necessary parameters for getting the power connection. 
According to JBVNL sources, since February, 2020 till February 2022, 391 applications are lying indisposed causing immense difficulties to the residents and also considerable revenue loss to the discom. Significantly, despite the system of things like providing power connection, generating power bill and even payment of power bill has been made online, over 390 applications lying indisposed since a long time exposes chinks in the JBVNL's local area board. 
P Kumar, general manager-cum-chief engineer, JBVNL's Singhbhum area board did not wonder when his attention was drawn towards pending of so many applications for the power connection. 
"Applications are lying pending may be because of delay in fixing of electric poles in the rural areas. We will look into the matter," said Kumar while talking to The Telegraph Online.