No septuagenarian wails before a stranger without reason.
Haji Hamid Hasan, a 72-year-old timber trader in Muzaffarnagar town in western Uttar Pradesh, said nearly 30 policemen, some in plainclothes, broke into his two-storey house around 11pm on Friday and went on the rampage.
Hasan said he was assaulted with a rifle butt when he protested and beaten with sticks. They vandalised the house, breaking washbasins, bathroom fittings, bed, furniture, fridge, washing machine and utensils, he added.
"I cried and begged for mercy but they were very brutal. They told me Muslims have only two places, Pakistan or Kabristan," he wailed while showing the scene of destruction inside his house and the injury on his leg.
Like most mohallas in India, elders take the lead during protests to ensure that they do not spin out of control and descend into violence. Hasan had done the same thing last Friday during protests against the amended citizenship act and the National Register of Citizens.
The horror, he said, continued for 30 to 40 minutes. "After destroying everything, they looted at gunpoint jewellery and cash of Rs 5 lakh kept in the almirah. I recently bought the jewellery for the weddings of my two grand-daughters," Hasan said.
Hasan said his wife Fatima had holed up in a room with their two granddaughters, Ruqaiya Parveen, a postgraduate in science, and Mubashira Parveen, a graduate.
The intruders hurled abuses at the women, beat up Hasan's son Md Shahid and took him away, he said.
Hasan said his only crime was that he and his son had participated in the protests after the Friday prayers.
"Chief minister Yogi Adityanath is taking revenge and his policemen are targeting Muslims for participating in the protests. India is no longer the same country where I was born. My parents had rejected Jinnah's Pakistan and embraced Gandhi's India but this government has made us pariahs," Hasan said, tears streaming down his cheeks.
Picking up the wedding cards of his two granddaughters — the weddings are scheduled for February 4 next year — he mumbled: "Modiji, you always tell people beti padhao, beti bachao but your policemen raided my house like criminals, abused them and looted their jewellery. They vandalised the furniture, beds, washing machines, fridge, air-conditioners, smart TVs I had bought as their wedding gifts. Are you listening?"
The aged citizen broke into a wail again.
When he regained composure, he said: "I was asleep with my eight-year-old grandson when I heard a loud thud on the main door. When I came near the gate, I noticed several people banging on the door repeatedly. I kept quiet but after a while they broke open the door with a hammer."
He said the policemen had removed their name badges and several of them were in civilian clothes.
Shahid, his son, is still in police custody and he has been charged with rioting. "I met him and he said the cops asked him to hold a gun and then took his photo," Hasan said.
Senior police officers in Muzaffarnagar refused comment when asked about the allegations listed by Hasan. "The police are only going to the houses of rioters who had taken part in the violence," said a sub-inspector at Muzaffarnagar police station.
When this correspondent called Uttar Pradesh director-general of police O.P. Singh on his mobile phone, an aide took the call and said: "Sir is busy in a meeting. Please tell me whatever you want to say and I will convey him your message."
Told about the alleged atrocities and vandalism by the police, the aide said: "This is completely untrue. The police have not vandalised any home. Our senior officials are monitoring the situation. The police are only taking action against rioters."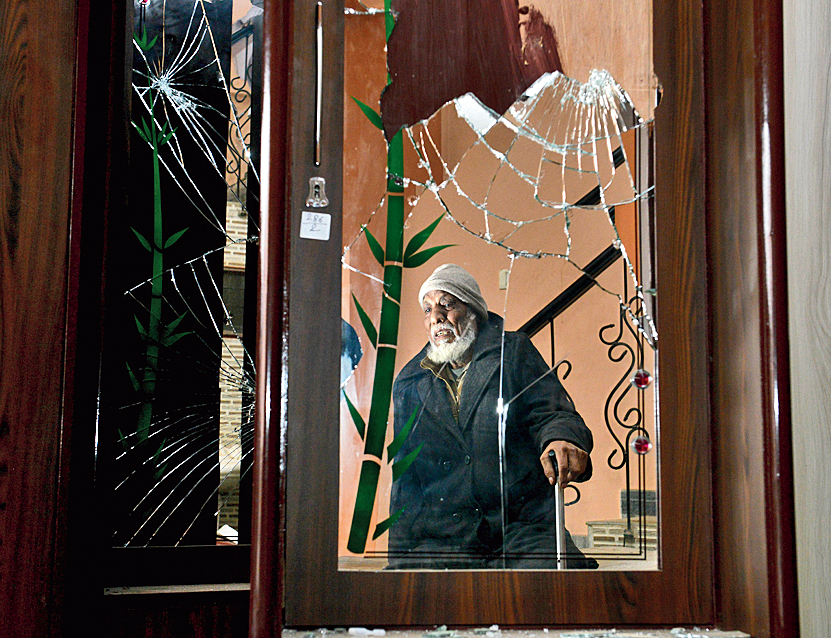 Haji Hamid Hasan at his home in Muzaffarnagar. Some scars of the vandalism allegedly committed by policemen are visible. Pictures by Prem Singh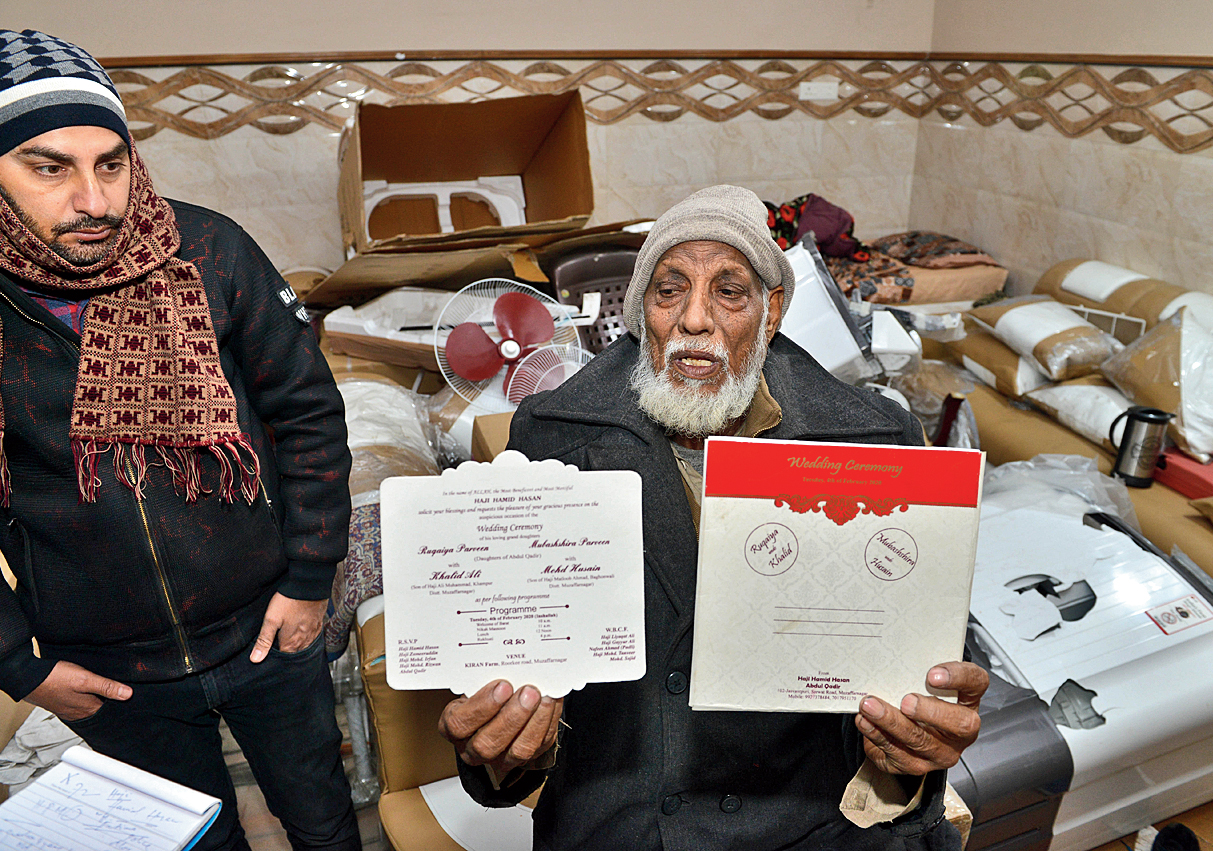 Hasan shows the invitation cards for his granddaughters' weddings, scheduled for February 4. The jewellery and other gifts for the weddings and Rs 5 lakh was looted, he said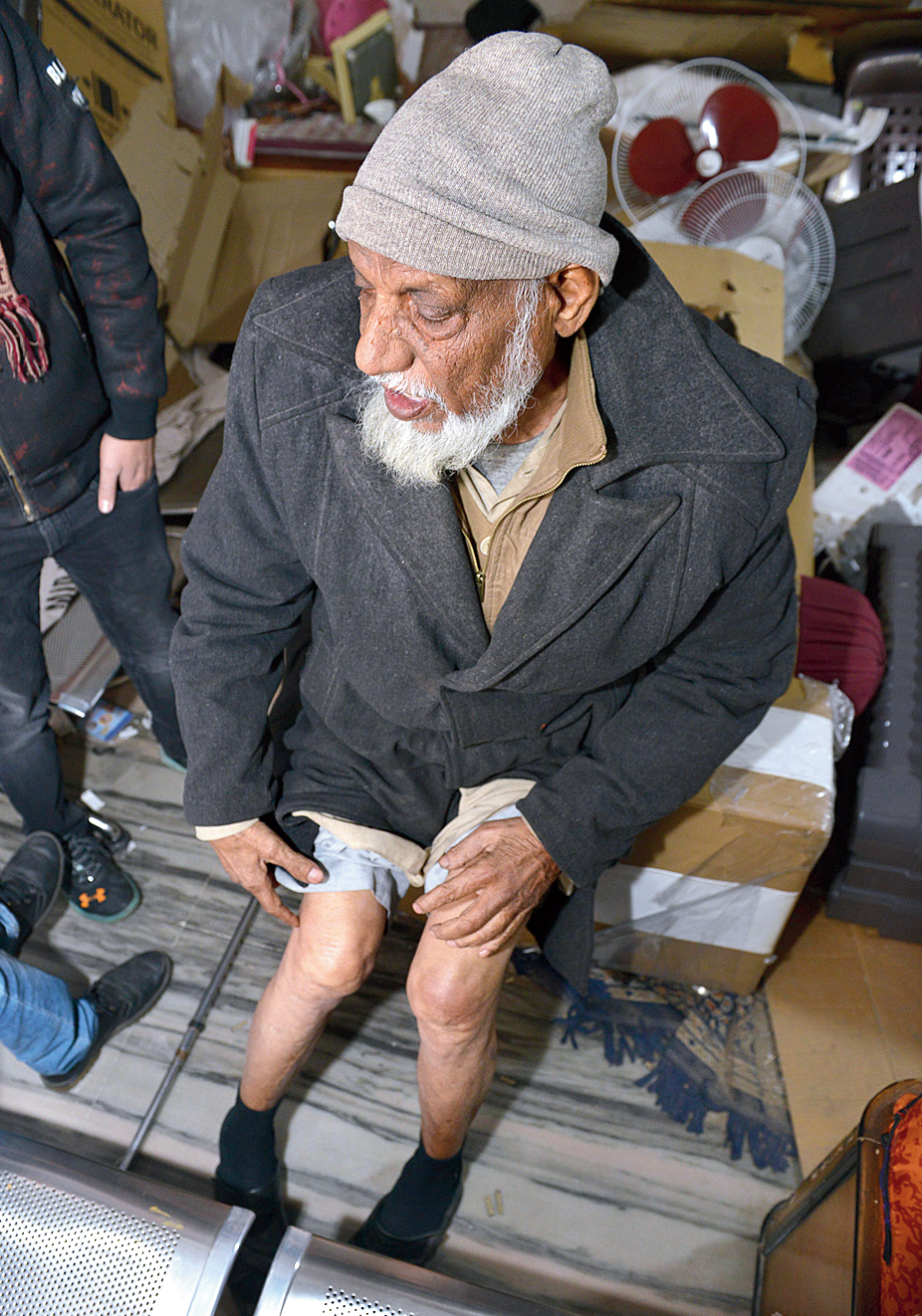 Hasan said he was assaulted with a rifle butt and beaten with sticks
A kilometre away, two cars of former Congress MP Saiduzzaman Saeed lay gutted in his farmhouse. His son Salman accused the police and local RSS foot soldiers of indulging in the violence. "It was a peaceful protest organised after the Friday prayers. Some RSS supporters in connivance with the police entered my farmhouse at 6pm and were involved in arson," he said.
His farmhouse is around 800 metres from his house in the town.
He alleged that local RSS supporters opened fire on Muslim protesters and later broke into Muslim households and shops and looted their belongings.
"Their ulterior motive was to create a communal riot again to divide people," Salman said.
His guard at the farmhouse, Bharat Ram, was witness to the arson.
"Policemen, along with some civilians, entered inside and ran amok, setting the four cars parked inside on fire and even went inside the stable where they hit one of the horses on its leg with a stick. They caught hold of me but let me off when I revealed my identity," he said.
A little farther in the neighbourhood, Haji Akbar's house is witness to the vandalism.
Broken pieces of washbasins, furniture, fridge and utensils were strewn all over.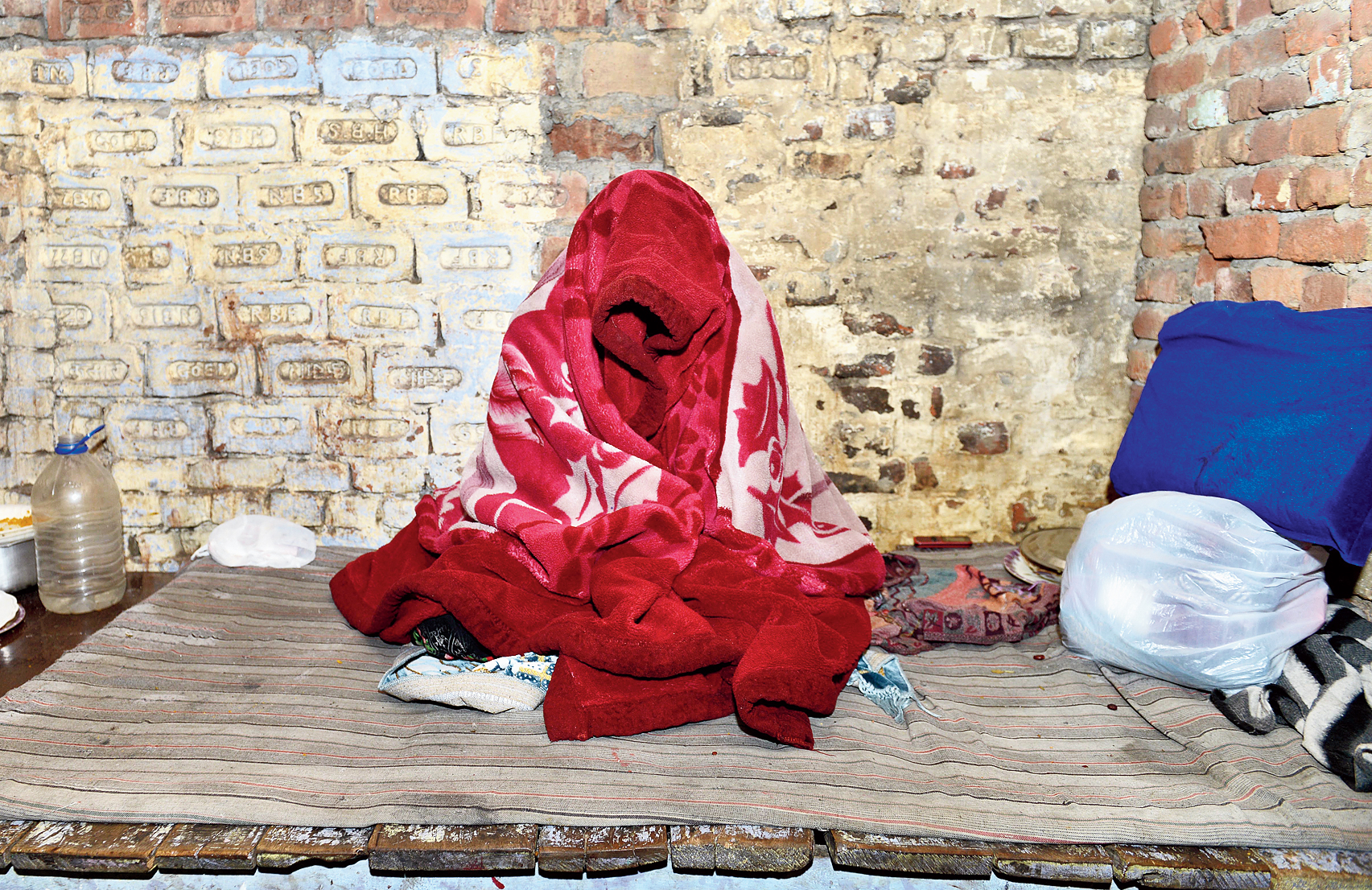 Shanno, 19, wife of Noor Mohammad who was shot dead on Friday, is observing Iddat — the four-month period of mourning for widows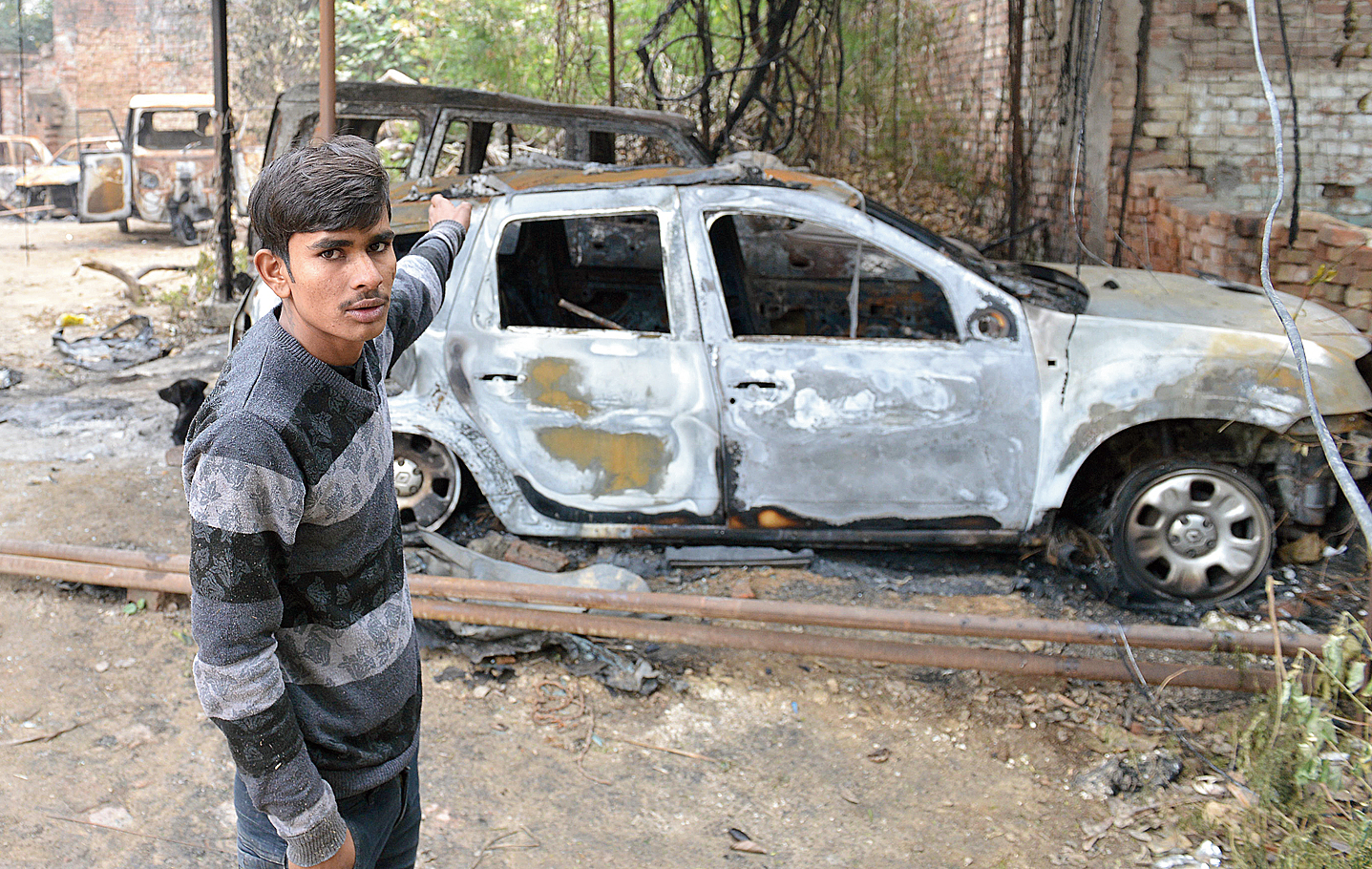 Bharat Ram, the farmhouse guard, points at some of the vehicles set on fire allegedly by policemen. He said they let him go when he revealed his identity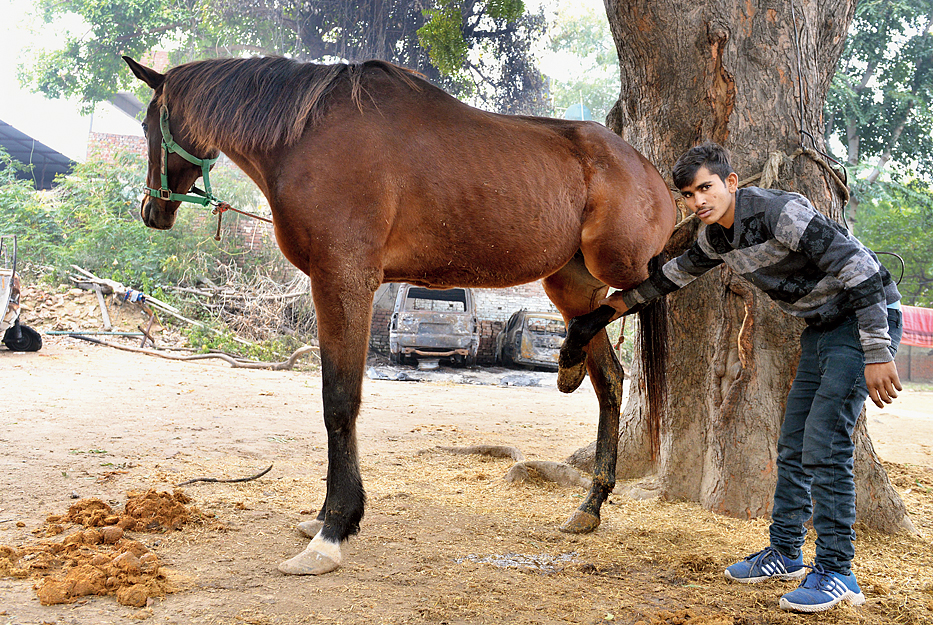 Bharat Ram shows a horse inside the stable at the farmhouse that was allegedly assaulted and left with an injured leg
"Cops along with some people in mufti barged into my house and vandalised everything on Friday evening. They were armed with lathis and rods and hurled abuses at women. When I went to the police station to lodge a complaint, they threatened to implicate me in rioting cases. They abused and pushed me when I requested them to help me meet senior police officials," he said.
Shanno, 19, who is seven-months pregnant, wept inconsolably, holding the photo of her husband Noor Mohammad, 26, a hawker. He died of bullet injury in the violence on Friday. Her first child, Umaira, is aged one-and-a-half.
"The police did not allow his body to be buried here, saying it would create a law and order problem. The police had taken the body from the hospital to a locality near Meerut where he was buried," said Noor's elder brother Umar.
He said police were raiding homes in the neighbourhood to pick up Muslim youths. The police on Wednesday afternoon put up posters showing alleged protesters who were involved in stone pelting during protests. The images have been taken from CCTV footage. The posters have been put up in Muslim neighbourhoods requesting people to identify the suspects.
Rehan Khan, a social worker, said people were holding a peaceful protest in the afternoon on Friday when some RSS supporters pelted stones at them. Some of the youths retaliated and threw stones and then the police started firing tear gas shells and bullets, leading to violence in which four to five vehicles were torched.
"Why is violence taking place during protests only in UP? Some miscreants and outsiders are involved and they have the patronage of police," Khan said.
He said Muslim neighbourhoods were being targeted to send out a chilling message.
"Chief minister Yogi Adityanath spoke about taking revenge against protesters and this is what his police are doing. The systematic attack is targeted at Muslims who protested against the new law and the brutalisation is aimed at chilling Muslims into silence and scare them so that they don't speak out for their rights," Khan said.
He said parts of Bijnor, Kanpur and Meerut had also witnessed similar brutality by the police. "Muslims are living in fear everywhere in UP. The assault is part of a bigger plan to subjugate them. They do not want Muslims to assert their rights if they want to live here," he said.