Youths protest felling for smart city
Some of the trees are centuries old, source said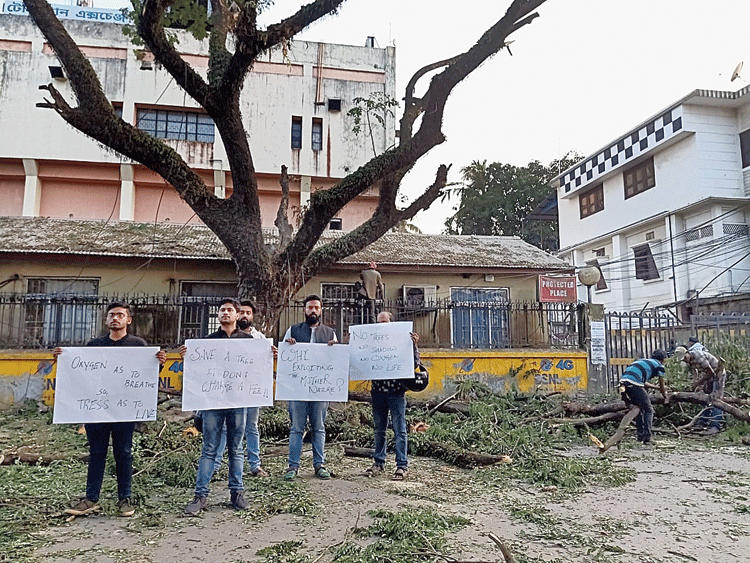 ---
Agartala
|
Published 29.12.19, 08:31 PM
|
---
A group of youths on Sunday protested here against the Agartala Municipal Corporation (AMC)'s decision to cut down trees in the heart of the city in the name of Agartala Smart City Development project.
Some of the trees are centuries old, source said.
As the corporation is working to develop Agartala into a smart city, hundreds of trees are being cut down by the West district forest department following the order from the authorities.
A group of youths on Sunday came up with some placards protesting against the step by the AMC.
Bilash Chandra Roy, who is a student of Tripura Central University, told reporters, "We have gathered here to protest against the chopping of trees in the city in the name of the development. We don't want such kind of smart city where the only concrete roads would be available with no trees." Roy also said if required they would follow in the footsteps of the Chipko Movement to save the trees from being chopped off.
Suraj Ghosh, a protester, said the people of the country have been celebrating environment day by planting trees and now in the name of development people are destroying Mother Earth.
"First of all, we have to maintain and save our environment. It is our responsibility to save our Mother Earth or else the next generations will suffer for it. If this continues, then in the next 20 years we might need to purchase oxygen. Some companies have already started developing the process. We do not want such development, we want a clean and green nation," he told reporters. Pradyot Datta, an entrepreneur, said the government should focus on development, health and education and not cut down trees.
"The government should not cut trees, it should maintain a balance. It cannot do such things by harming the environment. We request every single youth and student to come out and join us," Datta said. West district forest officer Shakti Kant Singh said this is a request which has been made by the AMC and there are some drainage works which has to be done here. "We were requested to remove the trees which are a hindrance in the construction of the drainage system. Since Agartala witnesses widespread waterlogging every monsoon, the corporation is trying to improve the drainage system. The trees are in the way," he said.
He said the land belongs to the corporation and not to the forest department. AMC commissioner Shailesh Kumar Yadav was unavailable for comment.