Youth Congress observes Modi's birthday as 'Unemployment Day'
The party staged massive demonstrations in many states where slogans such as 'Narendra Modi sharm karo' accompanied banners and posters on the jobs crisis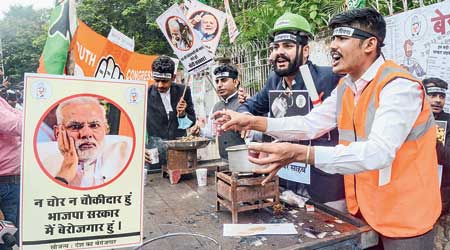 ---
New Delhi
|
Published 18.09.21, 01:25 AM
|
---
The Congress on Friday wondered what Prime Minister Narendra Modi's birthday should be celebrated for — unemployment, destruction of democracy or selling national assets to crony capitalists.
Though Modi's birthday was observed as "Unemployment Day" by the Youth Congress last year as well, the party had avoided using the occasion for political warfare despite its irreconcilable differences with the BJP.
But with the BJP going all out on Friday to use Modi's birthday to try to undo the damage to the Prime Minister's image in the pandemic, the Congress too did not pull its punches.
Rahul Gandhi stuck to the customary birthday wish in the morning, but later tweeted: "There would have been no need for National Unemployment Day if the BJP worked for the people, not for friends."
Happy birthday, Modi ji.

— Rahul Gandhi (@RahulGandhi) September 17, 2021
#राष्ट्रीय_बेरोजगार_दिवस की ज़रूरत ही नहीं पड़ती अगर भाजपा जनता के लिए काम करती- मित्रों के लिए नहीं!

— Rahul Gandhi (@RahulGandhi) September 17, 2021
The Congress held a news conference at which spokesperson Supriya Shrinate said: "Unemployment Day is being observed today by the youth across the country; it is an unmatched Twitter trend since morning. Women are observing the Prime Minister's birthday as 'Mehngai Diwas' and farmers as 'Kisan-Virodhi' day. There are other achievements of the Prime Minister, which too cannot be forgotten — India is on sale and democracy is being attacked. We could also observe the day as 'Covid mismanagement Day' or 'ED-Income Tax raid Day'. These issues make Modi's legacy."
The party staged massive demonstrations in many states where slogans such as "Narendra Modi sharm karo" accompanied banners and posters on the jobs crisis.
The Youth Congress joined the call to observe September 17 as "National Unemployment Day", lending its might to the social media campaign. The Youth Congress not only changed its profile picture on Twitter to amplify the "National Unemployment Day" message, but also posted hundreds of videos and messages containing jobs data to ensure the topic trended worldwide throughout the day with millions of tweets. The Mahila Congress worked separately to highlight the burden of inflation, focusing on the prices of petroleum products and edible oil.
The Youth Congress chipped in by selling pakoda and sabji-bhaji at several places, and polishing shoes in markets to highlight the scourge of unemployment.
The messages posted on social media pointed out how engineers and post-graduates were applying for the post of peons and appointments were not being done in government jobs despite selection.
Shrinate said: "Every Prime Minister is known for something. We have to look at the achievements of Modi as Prime Minister in the last seven years and what comes to mind is unemployment, cruelty to farmers, high prices of essential commodities — with petrol selling at Rs 100-plus and edible oil at Rs 200-plus, India being on sale in the name of monetisation of assets, playing havoc with people's lives by Covid mismanagement and data manipulation, attack on democratic institutions and raid on rivals and critics by central agencies."
Asking the Prime Minister to worry about governance instead of headline management, Shrinate said: "Instead of delivering on his promise to create two crore jobs every year, his policies have ensured lakhs of jobs disappear every month."