Yogi Adityanath relents on Priyanka Gandhi Vadra
Priyanka, who seemed to have spent the night on the lawns continued her dharna on Saturday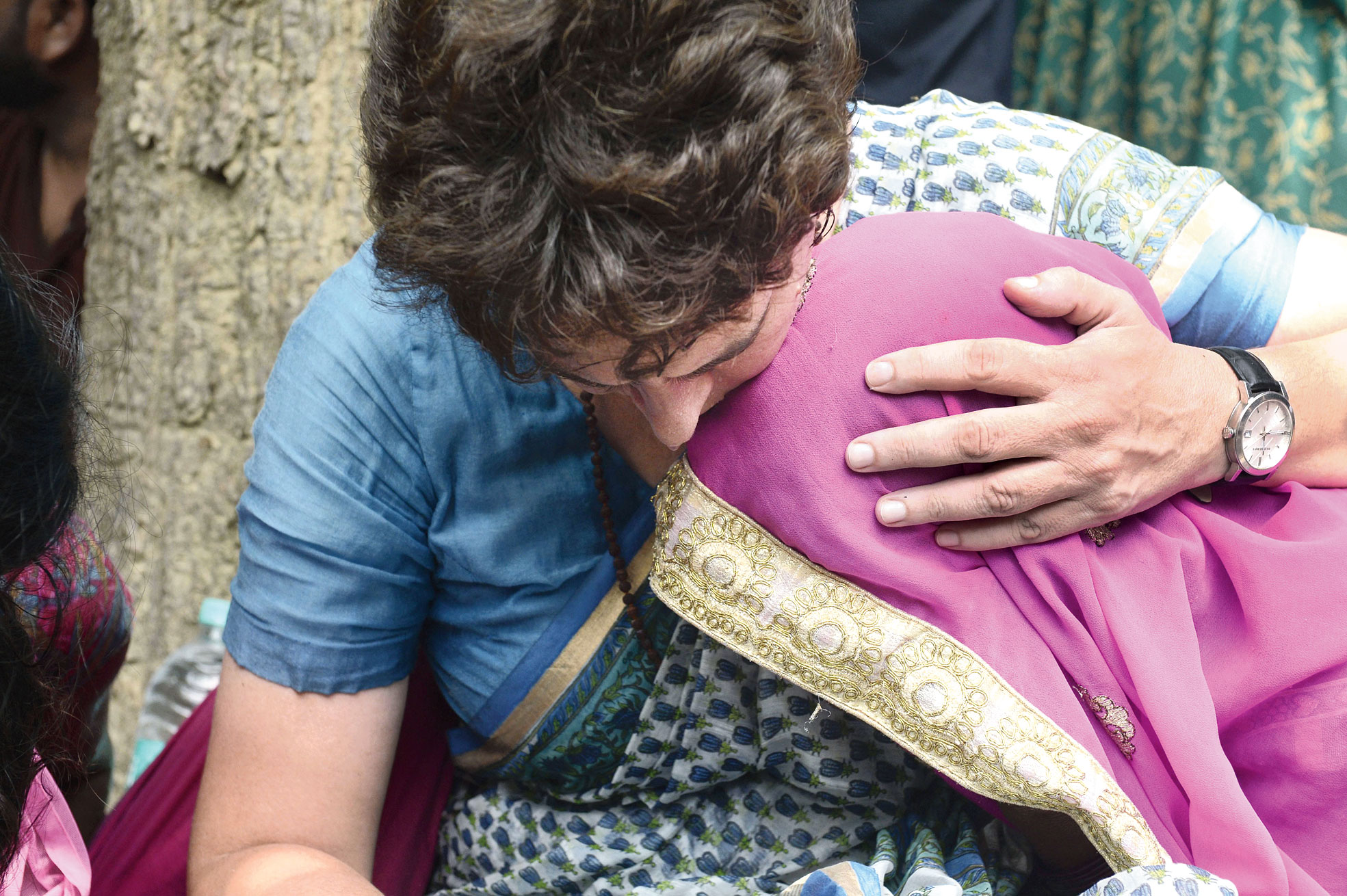 ---
|
Lucknow
|
Published 20.07.19, 09:05 PM
---
Priyanka Gandhi Vadra on Saturday won a 21-hour battle of nerves with Yogi Adityanath's government, forcing it to let the families of the Sonbhadra victims meet her at the guesthouse where she had been lodged, before returning to Delhi.

"You are not alone in your pain. I shall be back to meet you soon," she told the relatives of the 11 Gond tribals killed allegedly by their panchayat chief and his henchmen at Umbha village, Sonbhadra, on Wednesday over a land dispute.
"I arrived in Uttar Pradesh on Friday to meet you and have finally met you. I have achieved my goal," she added.
Police had detained and then arrested the Congress general secretary on her way from Varanasi to Sonbhadra on Friday and brought her to the government guesthouse in Chunar, Mirzapur district, around 2pm.
After Priyanka began a dharna on the guesthouse lawns, asking to be allowed to meet the Sonbhadra victims' families, power and water supplies were snapped on Friday night. Local Congress workers rented a generator and brought drinking water from their homes for Priyanka and the 150 leaders and workers protesting with her.
Priyanka, who seemed to have spent the night on the lawns — with about 5,000 party supporters gathered outside the gates — continued her dharna on Saturday.
"God alone knows what the administration is trying to hide (in Umbha). The government is also harassing the relatives of the victims for some mysterious reason," she told the reporters surrounding her on the lawns since Friday.
Around 6.30am on Saturday, 15 relatives of the victims, including eight women, arrived outside the guesthouse in two hired tempos from Umbha, 70km away, to meet Priyanka but were stopped a few metres from the gates.
When she learnt about it around 9am, a furious Priyanka strode to the gates and initiated a standoff with the police that forced the administration to blink first, around 11.30am, and let in the visitors from Umbha in small batches.