Yeti footprints or foot in mouth? Twitter laughs at Indian Army and Modi
Army claimed it had spotted 'Yeti' footprints near the Makalu base camp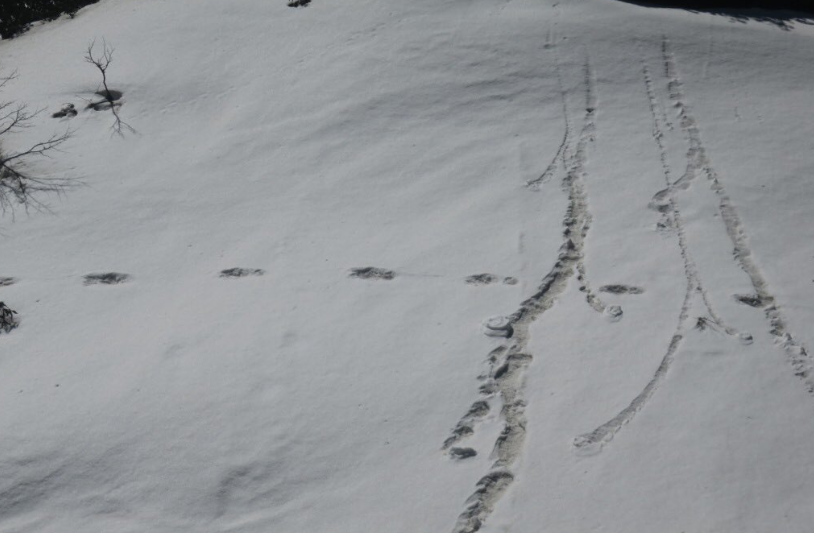 ---
---
The Indian Army became the butt of several jokes after an officer tweeted that its mountaineering expedition team had found footprints of the 'Yeti'. However, in the same tweet chain were many jokes targeting the Prime Minister, who seems to have nothing to do with the mythical creature's footprints.
Amit Tyagi, whose handle is @hiambuj, wrote: 'Those asking for proof of Modiji ever going to Himalayas, here's the proof. I clicked his footprints.'
Joke spinners on social media managed to establish a correlation between the highly implausible presence of a one-foot 'Yeti' and some of the improbable claims made by Narendra Modi.
This is now an expected pattern on Twitter. Want to debunk a claim? Find a Narendra Modi statement that's a close match and compare it with the claim.
The trend is heartening because social media should make its users laugh, question and also inform at the same time. It could seem disturbing because so many times the joke is on Modi and manages to hit the mark.
One parallel to this kind of social media behaviour is the trolling US President Donald Trump faces on Twitter. But America has a tradition of using stand-up comedy to question people in power. India is socially and legally more conservative. Stand-up comedy till recently was about husband-wife jokes.
Modiji ko vote karne bahar aaya hoga 😂

— Rudra (@awasthi_rudra) April 29, 2019
One Indian on Twitter who may have been waiting for 'achchhe din' to arrive found hope in the development.
If the Indian Army's photographs are to be believed, this Yeti walks on one foot. To point out the high improbability of such a discovery, some handles on Twitter put out the cover of The Adventures of Tintin in Tibet. The English edition of the book had a sketch that showed single-foot marks in the snow, and a very startled Tintin, Captain Haddock and their sherpa staring at them. In the adventure, when Tintin goes into a cave to save his friend, he encounters an angry Yeti.
The Makalu base camp, where the footprints were supposedly found, is at an elevation of 4,800 metres at its highest point. Makalu, the Himalayan peak on the border of Nepal, Tibet and China is at an elevation of 8,485 metres and is the world's fifth highest peak above sea level.

@Mohanguruswamy pointed out that the team was perhaps not just many thousand metres high, but also high on something else.
The Congress, @akashbanerjee remarked, had not dared to track down a Yeti in 70 years, alluding to an oft-said line by the Prime Minister in rallies when he compares his five-year tenure with several past Congress governments in the last 70-plus years.
For the first time, an #IndianArmy Moutaineering Expedition Team has sited Mysterious Footprints of mythical beast 'Yeti' measuring 32x15 inches close to Makalu Base Camp on 09 April 2019. This elusive snowman has only been sighted at Makalu-Barun National Park in the past. pic.twitter.com/AMD4MYIgV7

— ADG PI - INDIAN ARMY (@adgpi) April 29, 2019
Expecting a national television address soon with the PM giving more details on how his Army managed to track the Yeti... Something that the Congress hadn't dared to do in 70 years. 💪 https://t.co/2mOosTKItF

— The DeshBhakt (@akashbanerjee) April 30, 2019
Those asking for proof of Modiji ever going to Himalayas, here's the proof. I clicked his footprints.👇

Photos are from a high altitude pass (Darwa Pass) connecting Gangotri valley to Yamunotri valley through old pilgrim route. Enroute falls Dodital, birth place of lord Ganesha. pic.twitter.com/GE2xQU9pXk

— Amit Tyagi (@hiambuj) April 30, 2019
Today they spotted Yeti's footprints.
Tomorrow someone will spot Acche Din.
Day after they will find Netaji.
Have faith y'all!

— Ankur Bhardwaj (@Bhayankur) April 30, 2019
I think the Indian Army should be a bit more careful with the rum ration and smokes issued. The rarefied air in high altitudes also tends to lead to flights of imagination. https://t.co/r1DzjmMypN

— Mohan Guruswamy (@mohanguruswamy) April 30, 2019
The Army's 'Yeti spotting' tweet reminded me so much of... pic.twitter.com/6ec0M9X455

— Shiv Aroor (@ShivAroor) April 29, 2019