Biocon chief Kiran Mazumdar Shaw has confirmed that "a government official" called her recently and told her not to speak about issues such as income tax harassment that has drawn attention after the death of Café Coffee Day founder V.G. Siddhartha.
"He just said that 'please don't make such statements. Even Mohandas Pai should not. I am telling you as a friend'," Mazumdar Shaw told The Telegraph in response to a question on Saturday.
Pai, former Infosys director and an investor who supports the "good work" of Prime Minister Narendra Modi as well as his predecessor, had disclosed to Quint, the news website, that the Biocon founder had received such a call.
Asked whether she felt the call sounded like an advice or a warning, Mazumdar Shaw said: "You can call it both ways."
"Personally, I've never had any problems with the tax department," she added.
Kiran Mazumdar Shaw wondered why the corporate world was so silent. "Nobody is muzzling anyone. Only you can decide on whether you want to speak out. If you are paying your taxes, why should you worry? Why is the corporate world so silent?" she asked.
"I used to speak out always. It doesn't matter if UPA is in power or the NDA," she added, urging the corporate world to speak up.
Speaking to this newspaper, Pai said he and Mazumdar Shaw were not the only ones to have received such calls. "Lots of people get such threats."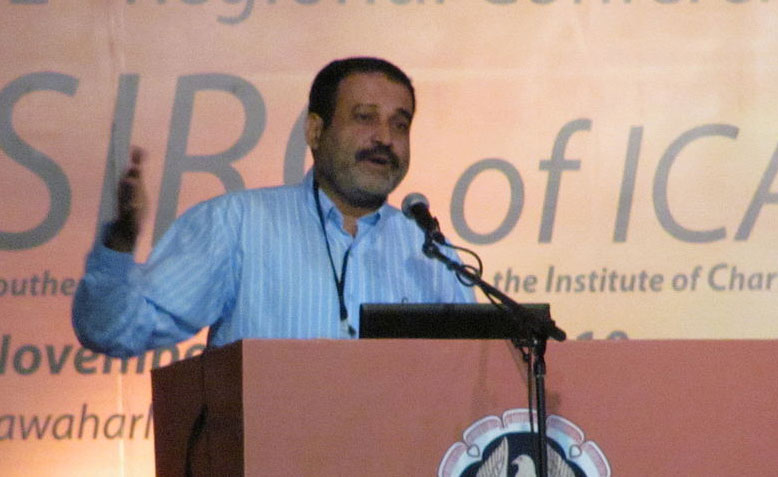 Mohandas Pai (Wikimedia Commons)
Pai sought to put his comments in perspective. He said tax terrorism started increasing when the Congress-led UPA was in power but the BJP did little to keep its promise of controlling it after taking over at the Centre.
"It went up during the UPA. They were all out against the people (businessmen)," said Pai, chairman of the his investing frim Aarin Capital. "The NDA did not bring it down as they promised."
The death of Siddhartha, he added, was a trigger for the business fraternity to realise the danger of tax terrorism.
Pai, who resigned as Infosys's human resources director in 2011, went on: "Our laws need to change, as income tax officers now have the power to arrest anyone. That kind of power leads to harassment.
"The UPA II and (Arun) Jaitley (finance minister during Narendra Modi's first term as Prime Minister) also gave them so much power. This is the result of our politicians not talking to businessmen and going only by the view of officials."
Pai said he didn't see things perking up immediately, as the business climate has been dull. "Right now the business atmosphere is quite dull because consumption has fallen. Consumption has fallen in automobile and consumer industries because liquidity in the market is down.
"They (financial institutions) stopped giving new loans. When you stop giving loans, consumption cannot increase.
"They (the financial institutions) are now withdrawing loans such as supply chain financing which is usually for 90-100 days and are asking businesses to repay the loans. Money is going back to coffers. That means no new money is coming and liquidity is hurt. So you are hurt twice."
The only way out, he said, is to improve the business atmosphere by increasing contact with the government.
"Direct engagement between industry and businessmen should be accelerated. The Prime Minister and the ministers (concerned) should meet industrialists every quarter and restore confidence."
Although seen as an investor closely linked with the BJP, Pai credited the UPA II as the only government that did something to improve investor confidence.
"When India was declared 'Fragile Five,' UPA II came up with some measures which worked," he said, alluding to Morgan Stanley placing India in its basket of five fragile economies in 2013.
The multinational investment bank and financial services company had rated emerging markets on their current account balance, external debt ratio, foreign exchange reserves, US dollar debt and inflation, among other parameters, in placing economies in the Fragile Five list.
Pai rejected the perception that he was pro-Modi and supported the BJP and its politics.
"I have supported the good work of all governments. I supported Dr Manmohan Singh. I even supported Singh when he was falsely accused of corruption," he said.
"I have written against tax terrorism," he said. The Economic Times had carried one of his articles against tax terrorism in March 2018.
"I am not supporting any political party or their ideologies. I am not a Leftist. I am a compassionate capitalist," he said. "I support Modi because he is doing good work."
Pai hoped the Modi government would listen to people like him. "I know nothing can happen until August 6 since Parliament is in session," he said. "Hopefully, they will sit down with businessmen after that and work out a much-needed solution to end tax terrorism and usher in a climate without fear."