Wound so deep people won't forget: Chidambaram
'Economy trumps all factors but now, it's different'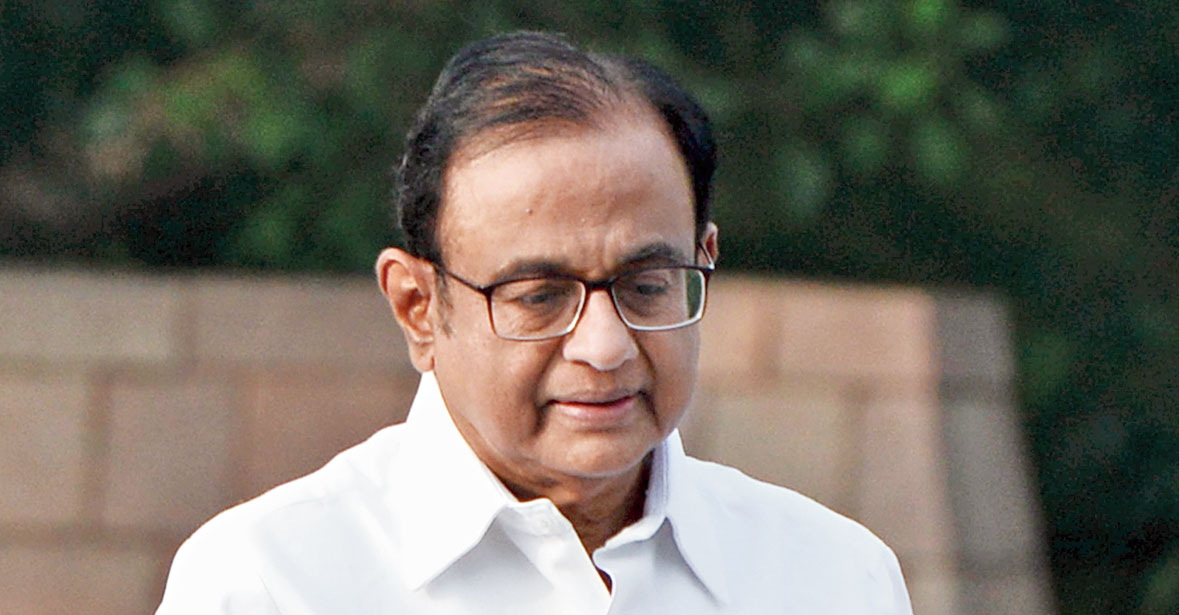 ---
---
Veteran Congress leader P. Chidambaram, who has handled portfolios like finance and home at critical times, feels Prime Minister Narendra Modi has inflicted injury on India's social and political fabric and promoted crony capitalism. In an interview with The Telegraph, the former minister said the combine of the amended citizenship law and the National Register of Citizens was as a clear message to Muslims that they would be treated as second-class citizens henceforth. Excerpts from the interview follow:

Q: The Congress said Narendra Modi was destroying India. People gave him a bigger mandate. Can't the Congress read the pulse of the nation or is it incapable of confronting Modi's demagoguery?
Chidambaram: I don't think there is absolute truth in what you are saying. There are elements of truth in each one of the factors that you mentioned. My reading of Mr Modi's election victories is, he is able to conjure up issues at the time of elections which have a very emotive appeal to that particular electorate, especially in north India.
This approach will not succeed every time. In Maharashtra they expected 150 seats, they got 105. Let's see what Jharkhand does. I believe that lack of Opposition unity has helped Mr Modi, along with his ability to convert an issue into an emotive nationalist issue. But as we go forward, you will find that this cocktail he has cooked up will not help.
Q: How do you see the abnormal rise of money power in elections?
Chidambaram: The electoral bond is a way of legalising corporate corruption. The cap was removed, any amount of money can be donated. And the donor remains anonymous and only the government knows who is the donor and who is the donee. This is a readymade situation in which the corporate (houses) will donate only to the ruling party. We find that 95 per cent of the corporate (houses) gave money to the BJP. It was a very cleverly devised scheme, done without adequate consultations and by overruling the Election Commission and the Reserve Bank of India.
Some day there will be an inquiry into how the scheme was hatched and implemented.
Q: You are well versed with international politics, corporate power and market logic…. Does Modi suit these forces better than the Congress?
Chidambaram: Absolutely. I don't want to take names but it is an open secret that certain business houses have been extremely favoured under the Modi regime while others suffered. My assessment is today, there is less competition than there was six-seven years ago. Many industries have become oligopolistic. Corporate (entities) don't like market competition, they like oligopolies and monopolies. Mr Modi's approach favours that kind of preference.
Q: Won't the economic slowdown affect the corporate admiration for the Modi regime?
Chidambaram: The oligopolies and monopolies will continue to thrive. The slowdown will affect sectors where there is stiff competition. It has already affected the construction sector, infrastructure sector, transport, power, telecom, automobile… all these are tremendously affected.
Q: Are you suggesting Modi is good for crony capitalism but not business per se?
Chidambaram: No, Mr Modi is pro-business, not pro-market. But the government does not treat all businesses equally. It is no different from the age when favoured businesses thrived under government patronage in the United States.
Q: What about global powers? They too have an obvious preference for Modi….
Chidambaram: They will prefer anyone who thinks like them. Today, who constitutes the best-known club in the world? I leave it to you to draw what is common among them. Mr Donald Trump, Mr Bolsonaro (the President of Brazil), Mr Netanyahu (the Israeli leader), Mr Erdogan (Turkey), Mr Putin, Mr Xi Jinping…. This is the club and every one of them is authoritarian, Rightwing and doesn't really believe in a competitive market economy.
Q: What's the reason for the rise of such leaders across the world?
Chidambaram: One of the reasons is rising inequality. There is a ferment in societies about the growing inequality. Leaders who speak for the majoritarian section of the people indulge in populism and get support. But overall, it is bad for the economy, business, world trade and investments.
Q: What happens if the government manages to put economic growth on a high trajectory over the next few months and recreates the feel-good factor in the country? Will the political misadventures be forgotten?
Chidambaram: Eventually, economy will trump all other factors. But I don't think people will forget the wounds inflicted on J&K, on the Northeast, on the law and order situation in north India and on farmers. The injury is so deep and festering, people won't forget it.
Q: Do you have any suspicion about the electronic voting machines?
Chidambaram: I don't have any personal expertise to decide whether the EVMs are tampered with or not. But there are a large number of well-meaning people who say that EVMs can be tampered with and have been tampered with. Is it not better to put aside that debate? When an overwhelming majority of parties demands paper ballots, (and) the world has gone back to paper ballots, why not paper ballots here?
Q: Is the Election Commission's response in tune with the democratic spirit?
Chidambaram: This is a captive Election Commission. The only voice of dissent has been stifled, threatening him with cases. Hopefully in future, we will have independent election commissioners.
Q: The government has been accused of a political witch-hunt. Almost every Opposition party has made that accusation. Some would say you too are a victim of political vendetta….
Chidambaram: I don't comment on my case. I decline to answer this question.
Q: What about other cases?
Chidambaram: Every defection in Karnataka, in other states, where the BJP lured MLAs and leaders from other parties is part of a witch-hunt. The Tenth Schedule of the Constitution (which deals with defections) has been reduced to nullity. There is fear everywhere; among politicians, businessmen, media. When the fear quotient reaches a certain level, it becomes easy for an authoritarian regime to exploit it.
Q: There have been several unseemly incidents and cases. Did the government escape adequate legal, political and social scrutiny?
Chidambaram: There hasn't been enough scrutiny. The kind of scrutiny that happened in Bofors wasn't applied to the Rafale case. Mr Modi has been lucky. Why do we assume that these cases will never be scrutinised in future?
Q: The judiciary appeared to be tougher on the UPA. There were concerns about judicial activism from different quarters. Now, commentators and a section of intelligentsia talk of judicial abdication.
Chidambaram: Mistakes were committed by the UPA and the Opposition actively exploited them. It is inevitable the Supreme Court will be invited to look into those mistakes. I would not say the Supreme Court has been partial or favourable towards any party. I think the Opposition couldn't articulate its concerns forcefully, (it) failed to convert charges into legally determinable issues.
Q: Should social activists like Sudha Bharadwaj rot in jail for such a long time in a mature democracy?
Chidambaram: It's condemnable. At the risk of commenting on a sub-judice case, I don't think it is justified at all.
Q: Many people, and a section of the Congress, feel the Modi phenomenon is an outcome of the Congress's failures and misdeeds. Cases, right from Gujarat riots to fake encounters and Snoopgate, were not seriously pursued….
Chidambaram: The Gujarat riots were not investigated by the central government.
Q: And so many corruption cases…. An impression had gained ground that the Congress must be kicked out and India needed a strong leader, a saviour.
Chidambaram: I concede that the BJP succeeded in creating an impression that the UPA regime was corrupt. But there is more corruption today than there was allegedly –- allegedly -– under the UPA. There are many scandals waiting to be exposed. If the BPCL is privatised, that alone will be a scam running into thousands of crores. The Opposition will have to unite and pursue these matters.
Q: Except the stale concept of Opposition unity, have you anything else to offer?
Chidambaram: Opposition unity is important. The opposition has to offer a common minimum programme. We did have the UPA. We can have another UPA.
Q: What if Modi and Amit Shah defeat the united Opposition again? What is India's future then?
Chidambaram: I doubt that will happen. There is widespread unrest and a deep-rooted economic crisis. This is the most dysfunctional situation that I have seen India in the last few decades. People listened in Maharashtra and Haryana.
Q: How will you counter the polarisation the NRC-CAB combine will cause?
Chidambaram: The CAB-NRC is an explosive combination, I call them Siamese twins. NRC will exclude and the CAB (as the Citizenship Amendment Act was known when it was a bill) will come to accommodate non-Muslims. The entire idea is to send an unambiguous message to Muslims that you are not wanted here. If you have to remain here, you are second-class citizens. Muslims are fearful but the bulk of the people protesting are Hindus.
Q: Finally, a question about your party. Did Rahul Gandhi commit a mistake by disinvesting in his own leadership?
Chidambaram: When a person says he is not inclined to continue, we should respect that and let him be. Now we have to start looking for dynamic leaders to lead the party in the states. In that process, who knows? One of them may emerge as the national leader.