World Economic Forum's nod to India policy
Non-governmental organisation recognises need to enumerate women's participation in local govt bodies in its Global Gender Gap Report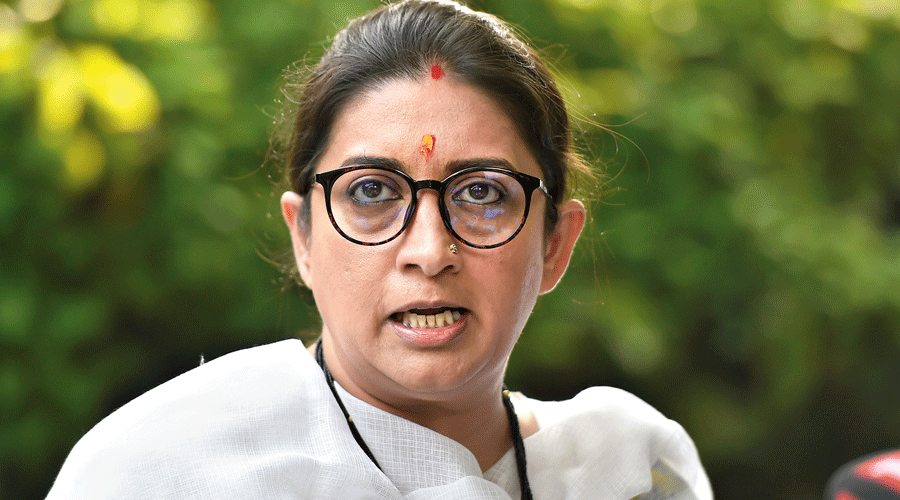 Smriti Irani
File picture
---
New Delhi
|
Published 24.01.23, 04:02 AM
|
---
The World Economic Forum (WEF) has recognised the need to enumerate women's participation in local government bodies in its Global Gender Gap Report, Union women and child development minister Smriti Irani said on Monday, three days after the forum informed her in writing that it would improve cross-country benchmarking to factor this in.
Announcing this on Twitter, Irani said: "This is a big victory for 1.4 million grassroots women locally elected at panchayat level in India.'' 
New Delhi has been pushing for this for a while, upset by the poor performance on the Global Gender Gap Index.
India contended that the index only factors in women who hold cabinet rank, women who have been heads of state or government and the number of years spent by elected women in Parliament.
New Delhi has been pointing out that the ministerial criteria for the index does not factor in ministers of state or deputy ministers and elected representation is confined only to the central legislature whereas India has a threetier system with state legislatures and also the panchayati raj system where there is 33 per cent reservation for women.
Sources said Irani raised this issue at the WEF — where she was one of the four ministers representing India — and the managing director of the forum's Centre for the New Economy and Society provided a written communication to the minister assuring India that it would improve its "global data collection and cross-country benchmarking efforts to assess in a globally comparable way participation of women in local political decision-making".
India has over 14 lakh elected women representatives in panchayati raj institutions as a result of the 73rd Amendment — enacted in 1992 — which mandated that 33 per cent of seats in local self-government institutions will be reserved for women.