Work less, hurt more: Congress on PM Modi
At a rally in Kalol in Gujarat, Modi said there was a competition in the Congress on who would insult him more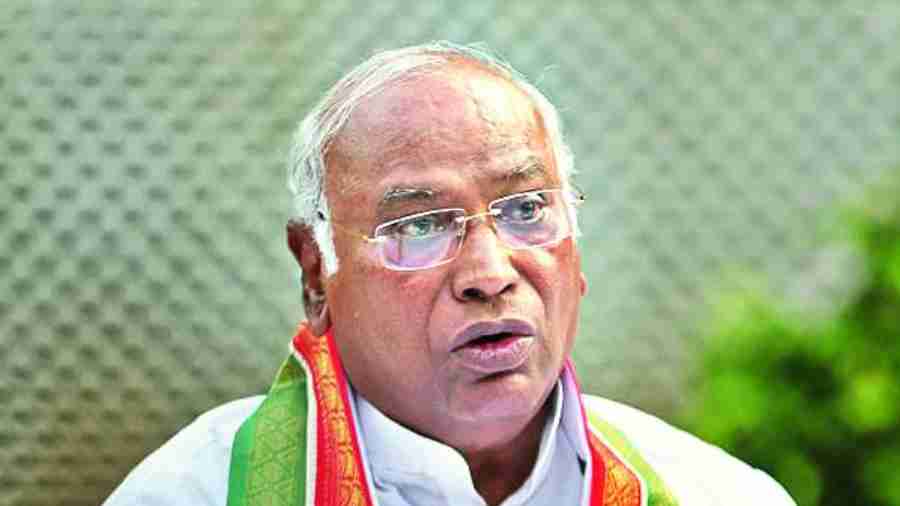 Mallikarjun Kharge
File picture
---
New Delhi
|
Published 02.12.22, 03:55 AM
|
---
The Congress on Thursday said a leader whose performance is poor exploits people's emotions to mislead them, even as Prime Minister Narendra Modi yet again sought to evoke sympathy by drawing attention to how he was abused and insulted by his political rivals.
Addressing a public rally in Gujarat's Jhalod, Congress president Mallikarjun Kharge said: "Agar hum sach batate hain toh unhe bura lag jata hai. Aadmi kaam mein kamzor hota hai toh aur bura lagta hai (If we speak the truth, he feels bad. If the person is weak in his work, the sense of hurt is even more)."
The Congress leader was referring to his remark comparing Modi with "Ravana", which the Prime Minister is seeking to emotionally exploit for electoral dividends.
Insisting that they intended to convey the "people's mann ki baat" to the Prime Minister, Kharge recalled: "What I said is that the Prime Minister goes to the panchayat polls and asks the people to vote on his face. He asks people to vote on his face in Assembly elections and then Lok Sabha elections. A Prime Minister usually goes to one or two places and talks about his plans for the state and the nation. But Modi is wandering in lanes, addressing two meetings in one constituency. If the government has delivered, why such desperation?"
At a rally in Kalol in Gujarat, Modi said there was a competition in the Congress on who would insult him more. Recalling the unseemly words used against him, Modi warned: "It was not right to call someone Ravana in the land of Ram bhakts."
Rajasthan chief minister Ashok Gehlot, who is in charge of the Congress's election management in Gujarat, also explained Kharge's remark and the Prime Minister's tendency to pick up emotive issues.
Speaking at the rally that Kharge addressed on Thursday, Gehlot said: "Modi plays emotional games to form the government. He distorts any statement of Congress leaders and creates a wrong impression, saying that Gujarat's dignity was attacked, the Prime Minister was insulted and abused. He instigates people. We saw last time what he did to hijack the election."
Gehlot added: "Kharge is a senior leader and he knows what to say. It is demeaning for us to recall what Modi said about Manmohan Singh and Sonia Gandhi. We can't stoop to that level. You can search on Google what he said. A Prime Minister speaking like that is worrying. Even if a popular saying is used, something is said euphemistically to explain things, Modi will distort it and create a false narrative. What Amit Shah said a few days ago… we can't even recall because we want peace and social harmony."
Shah had said in connection with the 2002 Gujarat riots that the BJP had brought "permanent peace" in the state. Kharge too tackled the controversy aggressively by putting things in perspective, arguing that he was only stating the fact that Modi staked his personal reputation in all elections instead of letting the party and government seek votes on the basis of the candidates and performance.
He said: "If your work is good, where is the need to wander in every lane? What have you done for the poor? Why did three lakh people die in Gujarat during Covid? Why have five lakh vacancies in the state not been filled?"
Kharge added: "You say see my face and vote. People have done that repeatedly for years. Basic problems haven't been solved. Atrocities against Dalits and tribals are rising in Gujarat. You only solve the problems of the rich and the powerful. In your government, the wealth of your crony capitalists has soared and the poor have become poorer."