Women ask Shah to turn up and clarify
Shah is to address a rally at Lucknow where he will remove people's 'misconceptions' about CAA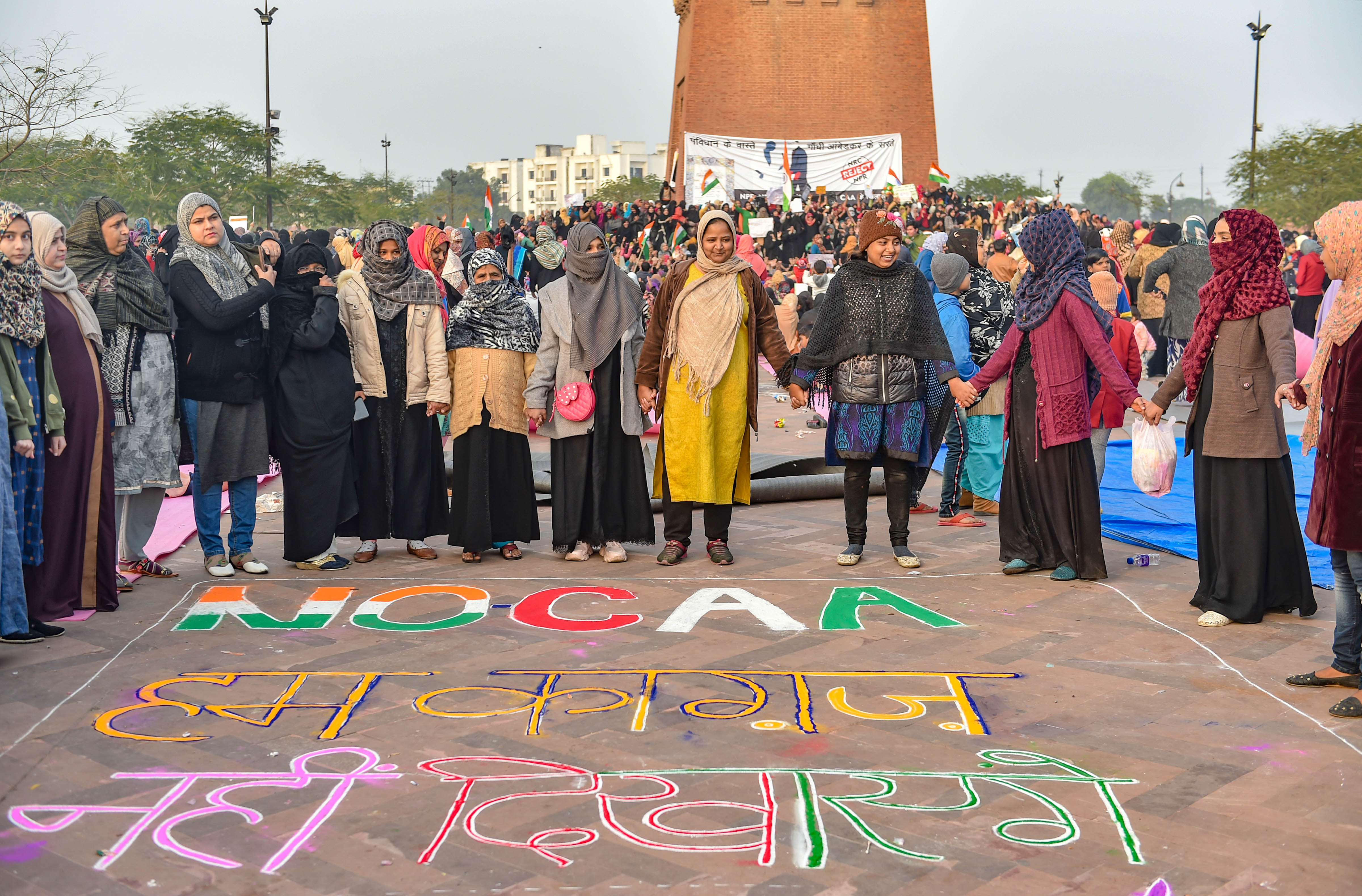 ---
|
Lucknow
|
Published 20.01.20, 09:54 PM
---
Ghanta Ghar remained home to 5,000 protesters on Monday, belying the authorities' hopes that the numbers would dwindle once the working week began. But the women offered to leave — on one condition.
"Let Amit Shah come and clear our doubts about the new citizenship regime; we'll withdraw our protest and go home," Shagufta Begum, in her fifties, declared.
Shagufta has been at the clock tower since the beginning of the occupation on Friday night, declared.
Union home minister Shah is to address a rally at Lucknow's Ashiyana locality, 16km from Ghanta Ghar, on Tuesday where he will remove people's "misconceptions" about the Citizenship (Amendment) Act, BJP sources have said.
"Prime Minister Narendra Modi has said so many times that he has done Muslim women a great favour by making the instant triple talaq a punishable offence. The same women are now telling the Lucknow administration to persuade his home minister to address them from Ghanta Ghar," Shagufta said.
"Many BJP leaders have claimed that Muslim women have begun supporting their party. So, what better place for a rally than this clock tower where over 5,000 women are waiting for Shah?"
She signed off with a dig: "We have heard the state government is cleaning a garbage dump in Ashiyana for Shah's rally; but Ghanta Ghar is clean…."
Twenty-something student Pooja Shukla, another of those occupying the clock tower since Friday night, confirmed that the women had asked district administration officials, police and the media to pass on their invite to Shah.
"If they feel we have misconceptions, who better than Shah to clear them? We have a few simple questions for him. We promise to return home if he allays our doubts," she said.
A BJP politician rejected the demand. "Our home minister can't attend a rally at a place where an illegal dharna is on," he told this newspaper on the condition of anonymity.
'Abusive' cops
After being accused of snatching the women's spare blankets, food and water on Saturday night, the police have mostly kept their distance, watching the protesters from the streets.
But on Sunday night, after the media had left, several policemen walked into the clock tower courtyard to provoke the women with profanities, Pooja alleged.
"They roamed among the protesters, using foul words. I heard them abusing us. They were also saying they would soon baton-charge us. They were hoping we would get irritated and commit a mistake, giving them a reason to assault us," she said.
"But they haven't the intelligence to understand we are fighting for a bigger cause than they can imagine. These dirty people fail to realise that we are prepared to agitate not for a day or two but for weeks, months and even years."
Angry at what they see as the administration's dirty game, the women coined a new slogan against chief minister Yogi Adityanath on Monday.
"Yogi jab jab darta hai, police ko aage karta hai (Every time Yogi feels scared, he lets the police loose)," they chanted through the day along with the usual "azadi" slogans.
Additional deputy commissioner of police Vikas Chandra Tripathi denied the allegation about the police abusing the women. "Some people are spreading rumours against the police on social media. We'll act against them," he said.
Late at night, the police booked 125 women — naming 18 of them — for violating Section 144, CrPC, which bans assemblies. Officers did not explain the number. Among those named was a former journalist, Samaiya Rana.
Only a handful of policewomen had figured among the forces stationed at the site since Friday but their number suddenly increased on Monday, raising fears the authorities were about to use force. But the cops stayed away from the steps and courtyard of Ghanta Ghar.
"They will come again once the journalists leave, and use foul words," Pooja said.
The women also chanted slogans in solidarity with the protesters at Shaheen Bagh in Delhi.
Not all the women and children are staying continuously at Ghanta Ghar; but as one batch leaves another comes in, maintaining the strength of 5,000.
Helping hand
Teenaged girls, doctors, techies… support seems to be pouring in from all quarters.
Many young girls were seen going around the protest venue asking the elders if they needed any medicine.
"We have spoken to a few doctors about the health problems some of the protesting women are facing. Many of them have diabetes or high blood pressure," Hina Khan, who looked about 18 and carried a plastic box of medicines, said. "The doctors gave us lots of medicines with instructions on dosage."
She said eight doctors would hold a health camp at the site free of cost on Tuesday morning.
This correspondent saw several well-heeled young men get off their cars with bags stuffed with puri-sabzi, wrapped in newspapers, and handing them over to the women.
"My sister is participating in the protest; so I've been distributing hundreds of packets of puri-sabzi every day. I'm an engineer with an IT firm and earn enough to contribute a little to this cause," a young man said, declining to be identified.
A middle-aged man from Jaunpur, 250km away, brought three 20kg containers of dry fruits and nuts. A visitor from Azamgarh brought biscuit packs.
Adityanath repeated on Monday that the protest was being "sponsored by the Congress and the Samajwadi Party".
Second dharna
About two dozen women began a fresh anti-citizenship-act dharna in Lucknow around 9.30 at night, gathering at the Ujariyaon dargah in upscale Gomti Nagar.
They arrived with placards hidden under their shawls and gathered on a small lawn under a shamiana erected for visitors. Some of them lit a fire with wood they had carried in. A team of policemen and policewomen arrived and asked the protesters to leave.
Asma Siddiqui, a protester, said even a baton charge would not dislodge the women. "We wanted to join the Ghanta Ghar protest but the place is 14km from our homes. We live in the neighbourhood," Asma said.
The police pulled the shamiana down late at night but the women stayed put.