Win-win mix: Kashmir wall, ajar market
The BJP believes the revocation of J&K's special status has elevated Modi as a strong leader, at par with Indira Gandhi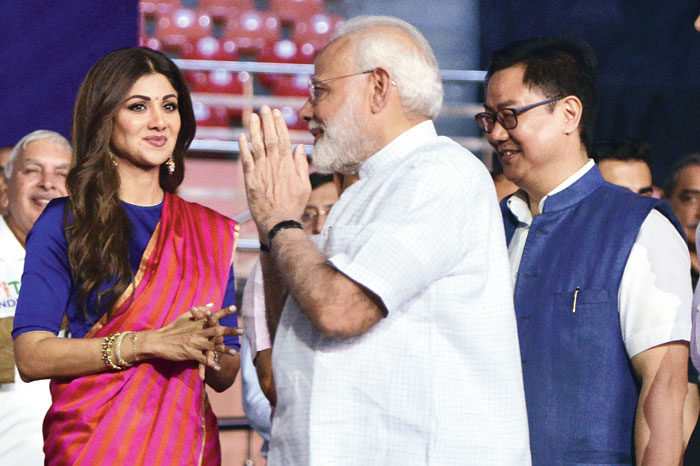 Modi greets Shilpa Shetty at the Fit India Movement in New Delhi
Picture by Prem Singh
---
New Delhi
|
Published 29.08.19, 08:54 PM
|
---
India's perceived diplomatic victory on the dramatic alteration of Jammu and Kashmir's status has generated a sense of triumphalism in the BJP and the Sangh parivar, which view this as Prime Minister Narendra Modi's biggest achievement so far.
The BJP believes the revocation of the state's special status has elevated Modi as a strong leader, on a par with Indira Gandhi, and that politically this would lead to unprecedented growth of the party and disintegration of the Opposition, particularly the Congress.
"Narendra Modi's decision on Jammu and Kashmir is like the 1971 moment of Indira Gandhi when she got Bangladesh liberated," a BJP leader said.
This leader said that in the wider parivar, Modi had earned great respect and whipped up expectations for more path-breaking decisions on issues that form the core of the Sangh's ideology.
The BJP, including Modi, despises first Prime Minister Jawaharlal Nehru but has great admiration for his daughter Indira even though they never miss an opportunity to attack the Congress over the 20-month Emergency she imposed.
The way US President Donald Trump stepped back after repeatedly offering to mediate on the Kashmir issue and the optics of his meeting with Modi are being talked about in the BJP corridors. Party leaders feel the pictures of Modi clasping Trump's hand, as both leaders share a laugh, show the Prime Minister's importance in the international arena.
BJP leaders feel the primary reason for the world powers siding with India and Modi is the big economic opportunities the country's huge market holds for the developed world. The relaxation in FDI norms announced on Wednesday is being seen in party circles as a move to leverage the domestic market to firm up support for "controversial" political decisions such as the one on Kashmir.
"All the world powers are eyeing India's huge market. One should note how the decision to relax FDI norms in single-brand retail was taken after India's diplomatic victory at the G7 summit," a BJP leader said.
The BJP is also eyeing domestic gains, with leaders claiming that internal surveys have revealed huge support for the Kashmir decision even in areas, including Kerala, where the BJP has not been strong.