Win or lose, Tejashwi makes a mark in Bihar
The anointed heir to Lalu Prasad has debunked punditry and prediction and given the lie to his own default lassitude to make a phenomenon of his campaign charge in the state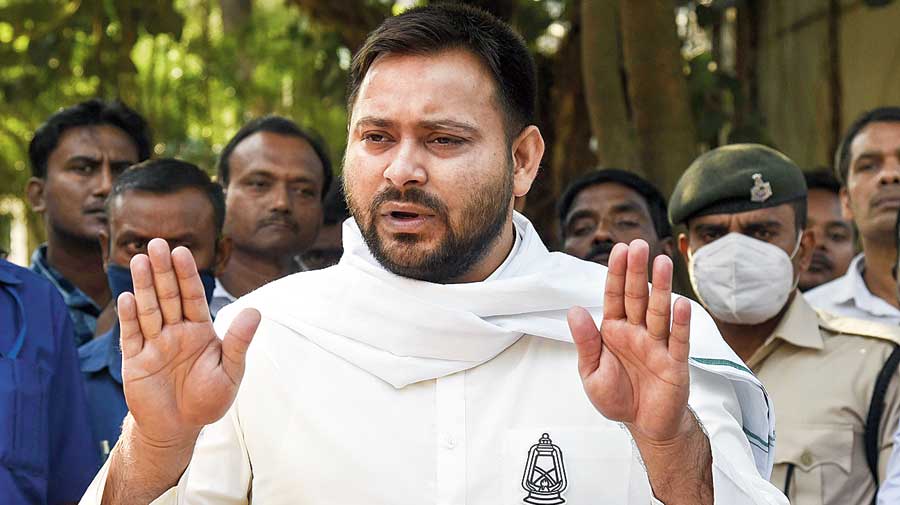 Tejashwi Yadav in Patna on Thursday.
PTI
---
Published 30.10.20, 01:06 AM
|
---
To emerge from the looming shadows of Lalu Prasad is a tough task; to begin to cast your own even tougher.
Tejashwi Yadav of the RJD, anointed heir to Lalu Prasad, has debunked punditry and prediction and given the lie to his own default lassitude to make a phenomenon of his campaign charge in Bihar.
Win or lose, this election Tejashwi has made himself the man to watch in Bihar beyond the conclusion of the current contest. There's a mandatory caption to the images of Tejashwi amid rapturous throngs wherever he goes: Lalu remains a force to reckon with even from his continued banishment in jail.
Paradoxically, this also makes the RJD's run on the ballot double-edged. The more Tejashwi is seen to be the aggressor-trailblazer, the more likely it is to consolidate the ranks of his adversaries.
The BJP might, in fact, be not too displeased to see a surging Tejashwi; a section believes it can feed off a revived RJD by fanning fears of a return to "Lalu raj". The BJP remains Bihar's largest single force, the most resourceful and the most adept at twisting the course of the campaign to suit its ends.
Tejashwi's feisty barnstorming across the state has forced hectic revision of how he was earlier assessed by ally and adversary alike; suddenly, in the turn of a few weeks, there is no Bihari leader able to match his ability to pull crowds and swing them.
Chief minister Nitish Kumar has been put deep in the shade with paltry pickings, unable to contain the vexation at the manner he is being thwarted. Tejashwi's only real competitor at the hustings is a man not in the contest for Bihar --- Prime Minister Narendra Modi.
To many, Tejashwi's abandon of manner on stage and the energy he is bringing to crowds is a reminder of Lalu in his heyday --- in a marked change of mien, he isn't delivering speeches any more, he is conducting a dialogue, his meetings have become raucous gigs.
But there is more to Tejashwi's challenge than merely his pied-piper spell on audiences. He is playing to --- and being paid for --- a strategy designed to sidestep the classic electoral pitfalls of the RJD.
Tejashwi has deliberately dodged the sectarian themes spun by the BJP to avoid getting button-holed on the "minority appeaser" card. Equally, and outspokenly, Tejashwi has made to widen his political appeal and embrace --- he isn't talking the Mandal tongue, he is foregrounding "sarvajan" politics, a platform that does not mark out any caste, least of all the upper castes, as adversaries.
"Tejashwi has made a crossover from merely social justice (the war cry of Lalu-era Mandalism) to economic justice as well," Manoj Jha, MP and top RJD strategist, told The Telegraph.
"We are defining a new, larger politics aimed at all sections of Bihar and addressing the fundamental issues of unemployment and deep economic stress that all Biharis have suffered."
A couple of factors are characteristic of the new Tejashwi campaign. He is keeping strictly to local issues, mindfully spurning the temptation of getting looped into the BJP's ultranationalist or Hindutva discourse. He has responded neither to junior home minister Nityanand Rai's rhetoric that the gathbandhan's victory will encourage "terrorists to come from Kashmir", nor to Modi's invocations of victory for the cause of the Ram Mandir in Ayodhya.
He is also refusing to get riled by chief minister Nitish Kumar's recurrent personal attacks on his father and family. "Whatever Nitishji says, even if he curses me, I accept as a blessing," has been his stock response.
"We are aware of the regulation rhetoric of the ruling alliance," said a close aide to Tejashwi's. "We want to neutralise them by simply not getting into extraneous issues. We want to emphasise our own issues, we want to set the agenda for this election."
The RJD deems it a success that Tejashwi's hard-driven campaign on opening 10 lakh jobs and taking governance to people through improved education and healthcare has forced the BJP to mimic the promise.
"Tejashwi has triggered a new imagination and hope with his job promise," the aide said. "He has put his signature on the issue, the others will be seen as copycats."
One phase of polling done, RJD strategists remain ebullient about their prospects, even claiming the status of "runaway campaign leaders".
Tejashwi's electric turn on the campaign apart, they are also savouring the overt manoeuvres of the BJP to cut Nitish Kumar down to size. The fielding and spurring of Chirag Paswan of the LJP, they believe, will not only hurt Nitish but also sunder votes in a manner that could help the gathbandhan.
They are, however, privately cognisant of obstacles --- internal and external --- that could trip the RJD's bid for power, arguably the strongest without Lalu to helm the troops.
They must contend with Lalu raj --- "jungle raj" in the lexicon of the NDA --- being an embedded psychological issue with many voter segments, especially upper castes and non-Yadav backward communities.
The prospect of Tejashwi getting close to power could create a counter-consolidation. Tejashwi's inclusive "sarvajan" chant and Rahul Gandhi's "personal guarantee" that a future gathbandhan government will belong to all communities are attempts to blunt the NDA's emerging narrative.
That begs another wonderment: has Tejashwi been able to expand his appeal beyond the RJD's Muslim-Yadav constituency and breach sections of other backwards, Dalits and upper castes? Tough to tell, but critical to his ambition.
RJD insiders also admit that they may have tactically erred in giving away as many as 70 Assembly seats to the Congress, an emaciated force in the state.
"We were offering the Congress much less but in order to keep the integrity of the alliance, we had to pay the price we did. We hope it does not cost us as heavily as some say," an RJD leader conceded.
He quickly added, in undisguised hope: "But if a mood for change sets in, as we think it has, the electorate can often makes winners of rank losers."