Why two senior citizens are making TDP flags
'The country is in danger from terrorists; fascists who are destroying the Constitution. We don't want Narendra Modi to win again,' said Prasad, who is 62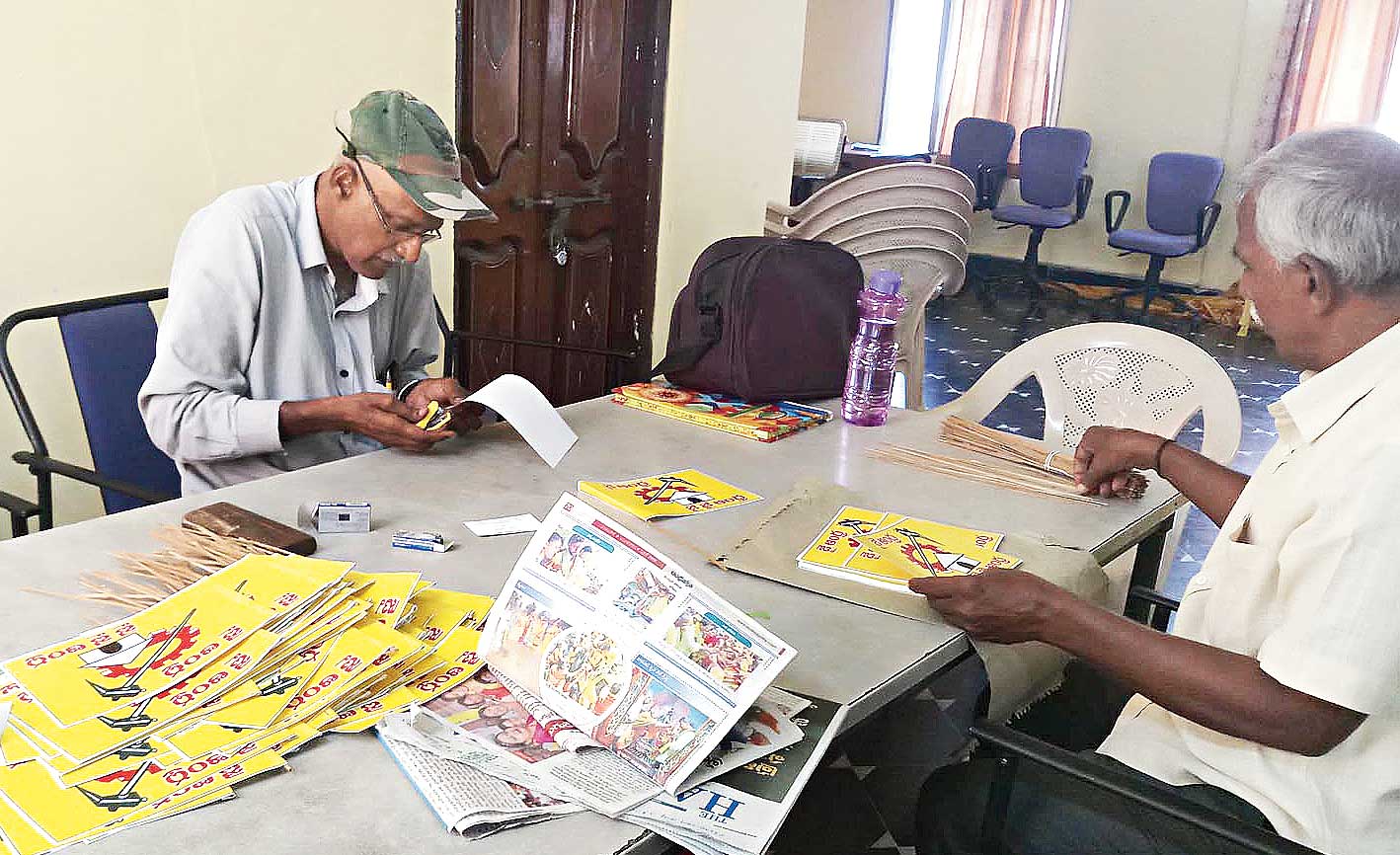 Prasad (in cap) and Subbarao make flags at a TDP office in Mangalagiri.
Picture by Pheroze L. Vincent
---
Mangalagiri
|
Published 12.04.19, 02:40 AM
|
---
Subbarao, 70, is a caterer from Maharashtra's Gadchiroli. Prasad, 62, is a paper-plate maker from Hyderabad in Telangana. They ran into each other at Tirupati's Venkateswara Temple last week.
Earlier this week, they reached Mangalagiri, on the banks of the Krishna, in Andhra Pradesh. Nara Lokesh, the son of chief minister N. Chandrababu Naidu, is contesting from the Mangalagiri Assembly seat that went to polls on Thursday.
When this correspondent met them on Tuesday — the last day of campaigning — Subbarao was folding glossy yellow flags of the Telugu Desam Party (TDP) on thin cane strips and Prasad was stapling them.
Why did the senior citizens, both Telugus from coastal Andhra, make the trip?
Prasad, who uses only one name, said: "The country is in danger from terrorists; fascists who are destroying the Constitution. We don't want Narendra Modi to win again. We are ordinary people who like the TDP. So I made flags, and told him (Subbarao) 'let us go to Mangalagiri'. We are doing this to protect secularism against anti-democratic terrorist people."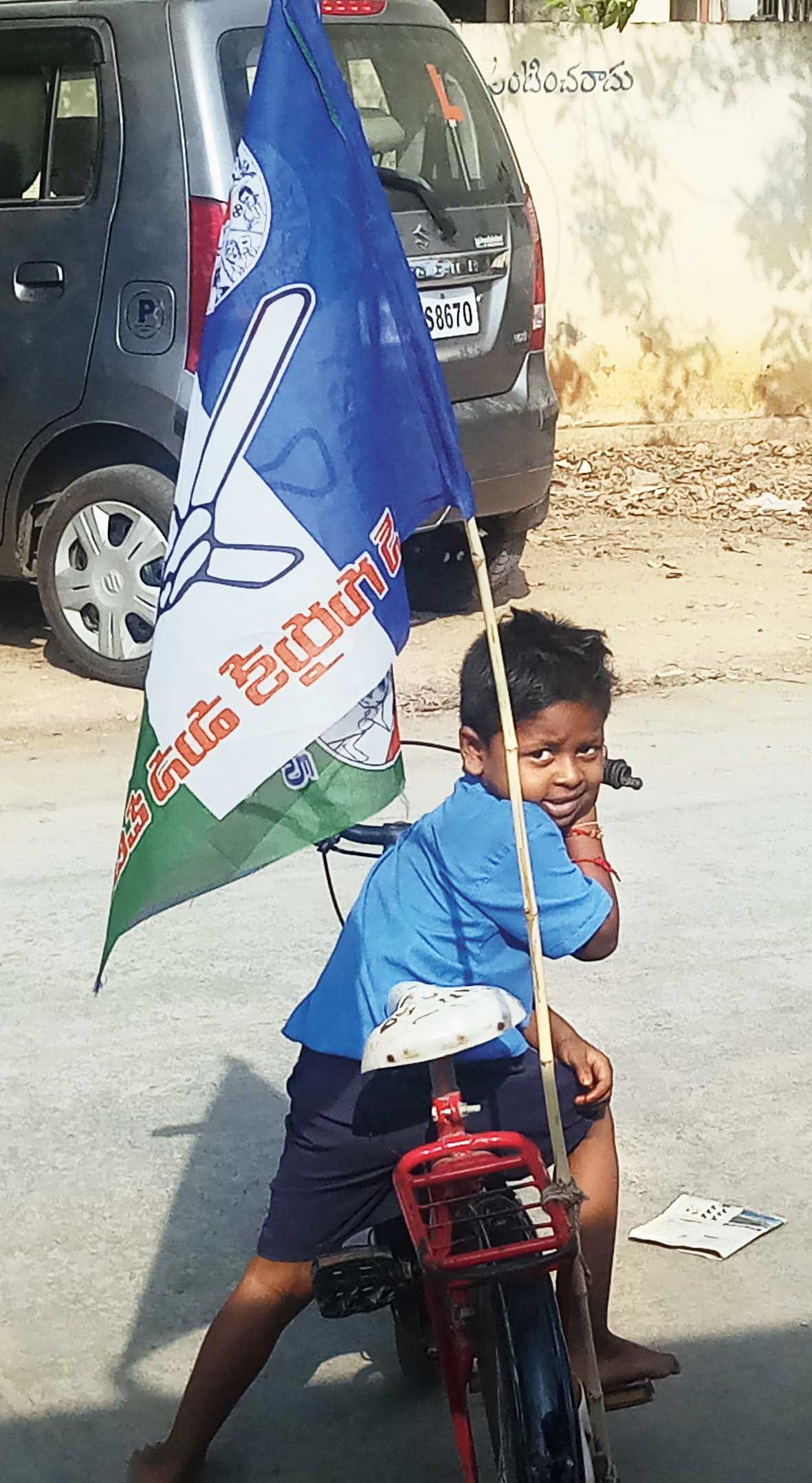 Prasad said he had to surrender a truck to a bank when he failed to pay a loan after demonetisation. He has been writing letters detailing his political ideas to chief minister Naidu. He never got a reply but "I am happy because the CM used some of my words in his speeches", Prasad said.
Subbarao has his reasons, too.
"We wanted to do something. I have run a food stall selling the best rice meals for Rs 60 in Gadchiroli since 1987. Neither the Naxalites nor the police — the two most powerful entities there — have ever found fault with my food. I felt that when my country is in danger, I must do something. If I do politics in Gadchiroli, people will laugh at me as I am uneducated. So I came here with him (Prasad). Chandrababu garu is a nice man who has never harmed anyone, and the YSR Congress is another name for the BJP. That's why it is important for the CM's son to win,"
Lokesh is making his electoral debut in a seat the TDP has not won since 1985. His closest rival is Yuvajana Sramika Rythu Congress Party (YSRCP) MLA Alla Rama Krishna Reddy, who defeated his TDP opponent by just 12 votes last time. The BJP has fielded Jaggarapu Rammohan Rao but most voters here did not seem to know that. The CPI, part of the Jana Sena Party-led alliance, has fielded Mupalla Nageswar Rao in the seat that was once a communist bastion.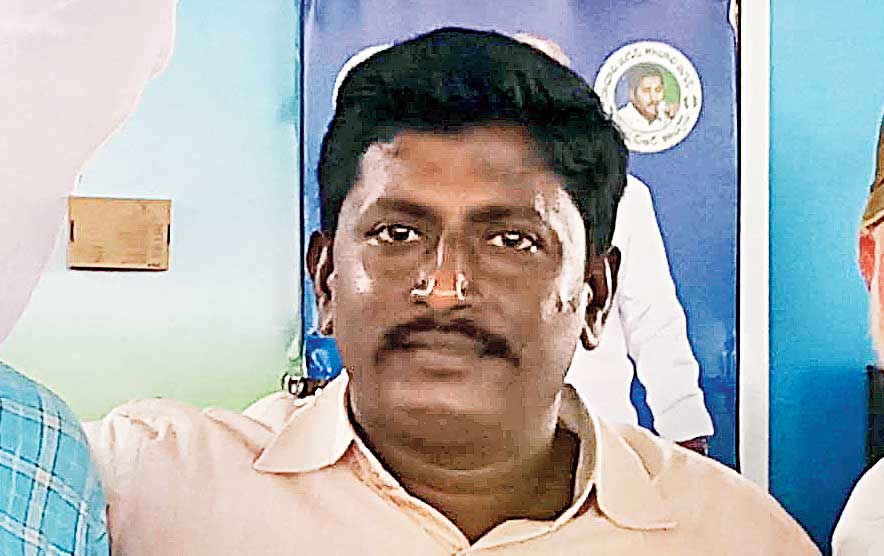 At a tea stall nearby, Bharathi Naik has decked up her walls with YSR Congress stickers. "Chandrababu garu gave schemes but we still pay bribes to get them. No one has done us a favour. Jagan (Jagan Reddy, the YSR Congress leader) must be given one chance for the good work his father (the late Y.S.R. Reddy, the Congress leader and chief minister who died in a chopper crash) did. Rahul Gandhi is good for PM, but I don't see any Congress (its candidate Saleem Shaik is as "visible" as the BJP) here. Jagan will support him."
But at the crowded YSR Congress tent house office in town, Murali K. says: "Narendra Modi is best for PM. In a hung Parliament, Jagan will support him if he gives special status (greater share in revenue, promised in lieu of bifurcation) to Andhra Pradesh."
Murali joined the Congress in 2008 after availing himself of a post-graduate fee reimbursement granted by the late YSR. In 2011, he found himself in the YSR Congress after the party split. Now an employee in a private firm, he has taken five days off for campaigning for A.R.K. Reddy to fight against "dictator Chandrababu who has filed cases against our leaders for fighting against land grab for the new capital".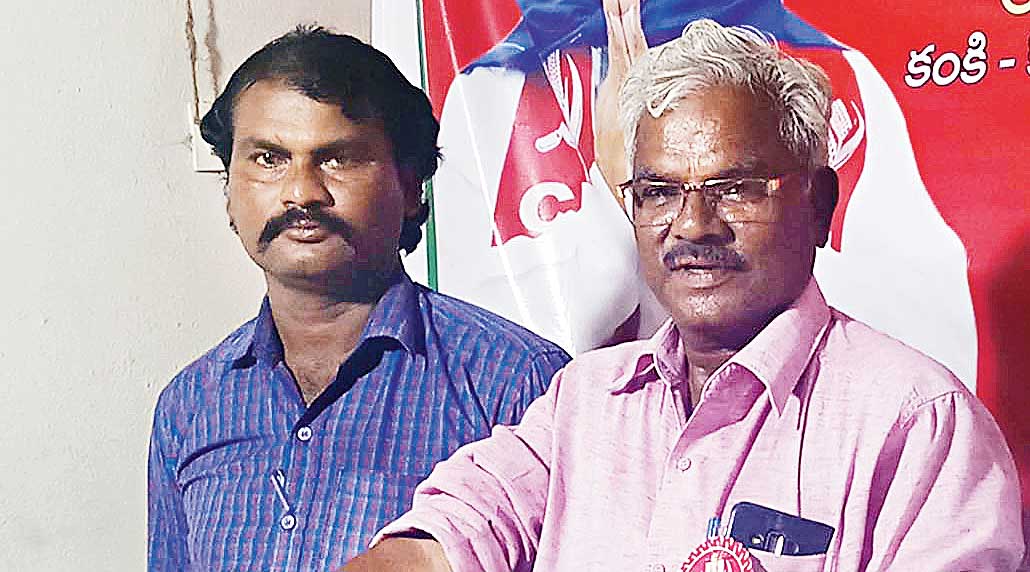 Ten multi-crop villages in Mangalagiri fall under the new capital Amaravathi. The YSR Congress has flagged the loss of livelihood of landless agricultural workers and share croppers.
Down the road, Gani and his comrades of the Indian Peoples Theatre Association have returned after several street performances against "the fascist rule of Narendra Modi and the illusory promises of the TDP and YSR Congress moneybags".
Gani is supporting the CPI candidate. Unlike earlier when they were bitter rivals in Andhra, especially the Krishna delta, the CPI and the CPM have united this time. "Our songs and skits make people aware that unless they elect a candidate of the working class, the rich will keep making decisions for us and, Modi will continue to destroy institutions," Gani said.