What, CBI next? asks Akhilesh after tax raids on party leaders in UP
IT officials at homes of Samajwadi Party spokesperson Rajeev Rai, secretary Jainendra Yadav and another leader Manoj Yadav since morning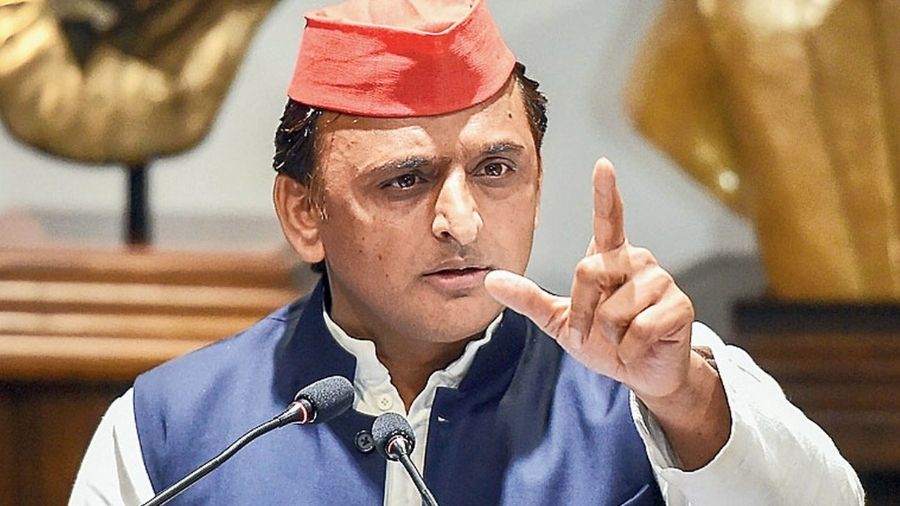 Akhilesh Yadav
File picture
---
Calcutta, Lucknow, New Delhi
|
Published 18.12.21, 01:17 PM
|
---
Former Uttar Pradesh Chief Minister Akhilesh Yadav lashed out at the ruling BJP after senior leaders of the Samajwadi Party and his personal aide were raided by income tax authorities on Saturday.
"I have said this time and again that as elections approach.. all this starts happening. Abhi to Income Tax department aaya hai, Enforcement Directorate aayega, CBI aayega ( Right now, now the tax department has come... the Enforcement Directorate will come, CBI will come) but the cycle (the Samajwadi Party's poll symbol) will not stop... its pace will not stop ... the BJP will be wiped out of UP," he told ndtv.com.
Akhilesh's outburst comes on a day when multiple news agencies and publications reported how Samajwadi Party leader and spokesperson Rajeev Rai, Akhilesh Yadav's personal secretary Jainendra Yadav and another party leader, Manoj Yadav, were raided on Saturday morning.
"People of the state won't be fooled. Why was Rajeev Rai not raided a month ago? Why now? Because elections are near?" said Akhilesh, who is hoping to give a tough fight to the BJP in the coming state elections. 
A team from the Income Tax department from Varanasi reached Rai's home on Saturday morning in eastern UP's Mau district. Rai owns a group that runs many educational institutions in Karnataka.
"The BJP is on the path of the Congress. Earlier when the Congress wanted to scare anyone, they used such tactics and the BJP is following in the footsteps of the Congress," 48-year-old Akhilesh  said. 
"Why are these raids being conducted right before polls. The tax department seems to have joined the poll battle," he said.
Mr Rai, who was the Lok Sabha candidate from the Ghosi constituency in 2014, told reporters, "I've no criminal background or black money. I help people and the government didn't like it. This is a result of that."
"If you do anything, they'll make a video, register an FIR, you'll fight a case unnecessarily," he said from the gates of his residence. 
Earlier in the day, there were reports that several tax raids were on at residences of various Samajwadi Party leaders. News agencies reported that the Income Tax department conducted searches at various places in Uttar Pradesh like the premises of RCL Group promoter Manoj Yadav and his residence in Mainpuri in addition to the premises of Rai in Mau, ABP Live reported quoting ANI.
Income tax officers, the news website, said had reached the house of Manoj Yadav with a convoy of 12 vehicles. His entire house was surrounded by security forces. No one was allowed inside the house. Income tax department officials  were in the house for over two hours, said sources. 
At the same time, raids were also on in the house of  Jainendra Yadav, alias Neetu, who is said to be close to Akhilesh Yadav in Lucknow. Jainendra's house is near Ambedkar Park in Lucknow.