Weakening but Bengal storm surge forecast
Gale wind speeds up to 70kmph are expected over Bengal's coastal areas from Friday evening or Saturday morning lasting up to 12 hours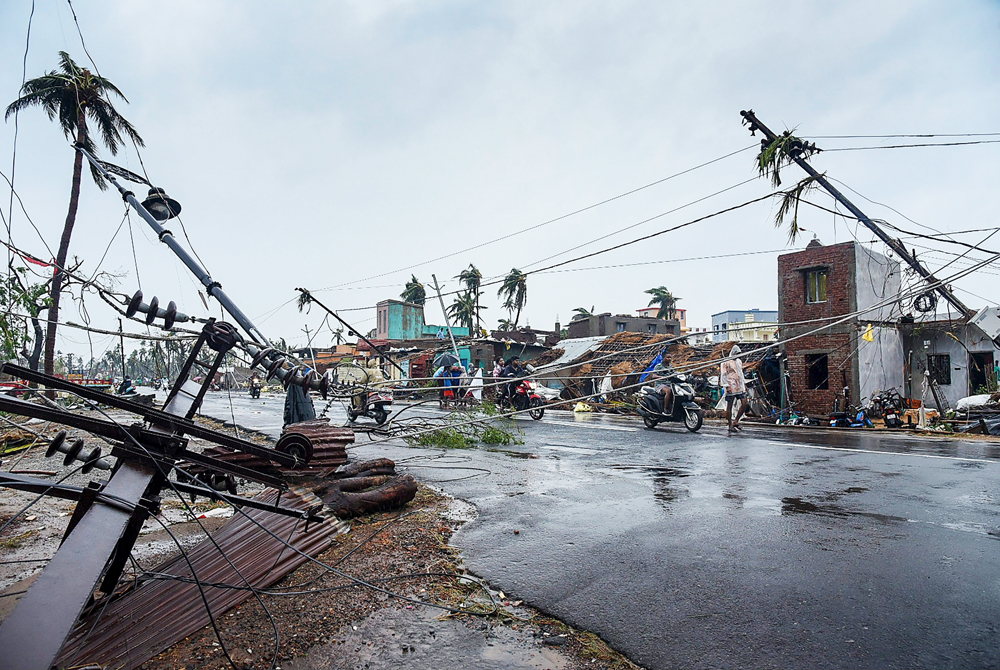 A view of the destruction caused by Cyclone Fani after its landfall in Puri on Friday, May 3, 2019.
(PTI Photo)
---
New Delhi
|
Published 04.05.19, 01:24 AM
|
---
Cyclone Fani with wind speeds gusting up to 205kmph crossed the coast near Puri and moved along a coastline-hugging trajectory that was to bring it over Bengal in the early hours of Saturday, although slowly weakening along the way, weather scientists said.
Around 8.30pm on Friday, Fani, inching towards Bengal, was 210km from Calcutta. Rain fell intermittently in the city where life virtually came to a standstill by afternoon.
The cyclone's sustained wind speeds ranged between 175kmph and 185kmph as it crossed the coast near Puri, Odisha, between 8am and 10am on Friday but are likely to weaken to about 90-100kmph over East Midnapore and 70-80kmph over Calcutta, the scientists said.
The predicted wind speed makes Fani a cyclonic storm when it reaches Calcutta. Such a storm can damage thatched huts, break tree branches and cause minor damage to power and communication lines. When Fani made landfall in Puri in the morning, it was an extremely severe cyclonic storm.
When cyclones hit the coast and move over land, they lose their source of moisture — the sea — and rapidly lose strength. "But Fani will move almost parallel to the coast which means its moisture
will be only partially cut off, not fully," a senior scientist at the India Meteorological Department (IMD) in New Delhi said.
The IMD predicted that a 0.5-metre to 1-metre storm surge — giant sea waves triggered by the cyclone — is likely to inundate low-lying areas in North and South 24-Parganas from Friday midnight to Saturday forenoon.
The forecast mentioned a similar storm surge affecting Kendrapara, Balasore and Bhadrak in Odisha within the next 12 hours.
In West Midnapore on Friday, wind and rain blew away the tiled roofs of nearly 200 houses, felled 100 trees and some electricity poles. At least 25 to 30 villages in these areas were without power.
The forecast said the cyclone would emerge over Gangetic Bengal as a severe cyclonic storm with 90-100kmph wind speeds by early Saturday morning and further weaken to emerge over Bangladesh with 60-70kmph wind speeds.
Gale wind speeds up to 70kmph are expected over Bengal's coastal areas from Friday evening or Saturday morning lasting up to 12 hours.
The IMD has recommended a "total suspension" of fishing operations over northwest Bay of Bengal along and off the northern Odisha and Bengal coasts until May 4. It has also asked coastal hutment dwellers to be evacuated to safety.
City airport shut
Calcutta airport was shut down at 3pm on Friday, instead of an earlier decision to stop operations from 9.30pm. Some 108 flight departures from Calcutta and 119 arrivals till Saturday morning were scheduled to be cancelled.