We have never felt the Achchhe Din that Modi promised: Punjab candidate
After suicide cycle, auto carries a telling testimony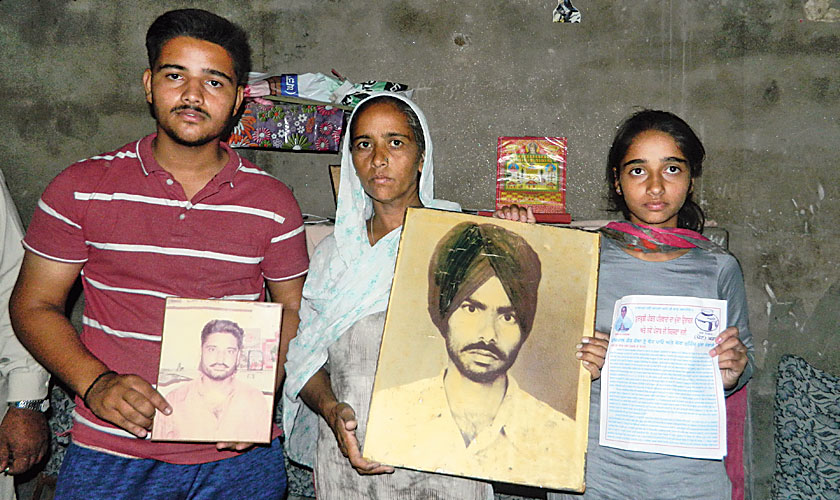 ---
|
Ralla
|
Published 18.05.19, 08:42 PM
---
Independent candidate Veerpal Kaur was 16 when her father Krishan Chand swallowed Sulphas, or aluminium phosphide, which has come to be known more as an accessory to suicide here than as an agricultural fumigant.
Chand, a peasant, was depressed about his inability to repay the Rs 2 lakh-odd he owed a private lender after four of his buffalos died and his vegetable sales took a hit.
Eight years after Veerpal lost her father — and dropped out of school to work as a day labourer — her 28-year-old husband Dharamveer Singh burnt himself to death in 2003, leaving her to care for their two children alone. Dharamveer's father too had killed himself in 1990.
"His (Dharamveer's) sister's wedding was due and the cotton crop had failed. He could neither repay his Rs 5 lakh debt nor afford the wedding. He left home, ostensibly to buy something, and never returned. He committed suicide in a village 60km away," Veerpal said.
A study by three universities has put the number of farm suicides in Punjab between the years 2000 and 2015 at 16,606.
In Mansa district, where Veerpal's village of Ralla is located, the number has been 3,388. The area falls within the Bathinda constituency, from where Union minister Harsimrat Badal of the Shiromani Akali Dal is seeking re-election.
Her main opponents are Congress MLA Amrinder Singh Raja Warring, rebel Aam Aadmi Party MLA Sukhpal Singh Khaira who now represents the Punjab Ekta Party, and Aam Aadmi Party MLA Baljinder Kaur.
"The demonetisation hit the small farmers the worst. The rich farmers have only become richer. We haven't felt the achchhe din (good days) that (Prime Minister Narendra) Modi promised," Veerpal told The Telegraph.
With assets of less than Rs 2.8 lakh and debts of Rs 5.9 lakh, Veerpal is running her campaign with the support of the Kisan Mazdoor Khudkushi Peedit Parivar Committee, an activist group made up of families that have lost members to farm suicides.
Donations of almost Rs 1 lakh have been received, and two auto-rickshaws have been hired for her campaign. Veerpal's 19-year-old college-going daughter Diljot Sharma accompanies her in these autos.
The November 2016 note withdrawal hit the largely cash-run farm economy at a time when the peasants were selling their crops. What have added to the farmers' misery are the rising input costs and crop losses from climate change and stray cattle — a problem linked with cow vigilantism and an official crackdown on unregistered cattle sales in north India.
"Me and all my classmates are first-time voters," Diljot told this newspaper. "My friends and younger brother Abhishek, who is 18, have been campaigning for mother online too."
She said that once the villagers hear Veerpal's story, they are ready to listen to her campaign.
"It's not difficult convincing people that this place lacks development. The roads are bad in most of the villages and our auto once fell into a ditch and punctured a tyre," she said.
Diljot wants to earn a master's after graduating in her subject, political science, and perhaps a law degree too.
"I realise that what we learn (on campuses) is far from the reality. I want to bring about a change, and I can do that by fighting people's cases." Veerpal, an anganwadi worker who earns Rs 2,800 a month, has not been paid for five months. A benefactor from Canada is funding the studies of Diljot and her brother.
"I'm contesting so that change comes to Punjab; so that poor families find the courage to contest in an electoral system where only those with crores can thrive," Veerpal said. "I ask people to read my pamphlet and give me at least one vote from their family."
Her neighbour Sira Singh, a landless Dalit Mazhabi Sikh peasant, says he will vote for Veerpal.
"She has made the village famous. I feel proud of her," Singh said. "People will stand up for their rights if they see ordinary people fighting elections. She is respected in the village for bringing up her children well despite the suicides in her family."
Singh said he was unhappy with both the Congress and the Akalis, but preferred the Congress because "the ration delivery under their regime is better" and because his family could avail itself of the Aashirwad scheme to fund his sister's wedding.
The total outstanding loan in Punjab's farm sector is estimated to be more than Rs 80,000 crore. Of this, a tenth is owed to private moneylenders, whose interest rates are much higher than the banks'.
Till last year, the Amarinder Singh government had waived more than Rs 3,500 crore in loans. Another Rs 3,000 crore has been allocated for waivers this year. But the waivers don't cover the loans taken from private moneylenders.
The state government itself has outstanding debts of over Rs 2 lakh crore, which works out to more than Rs 55,000 per citizen.
The CPIML Liberation, which led a nine-month agitation in Mansa seeking welfare measures to check the farm suicides, too has fielded a candidate from Bathinda.
Sukhdarshan Natt, the party's Mansa-based central committee member, said: "First the landlords fell into debt, then the landless peasants. Now, after the (2008-09) recession and the introduction of big retail and online shopping, the shopkeepers too have been hit."
He said the banks had marked the homes of at least 17 shopkeepers in Mansa town alone for possession over loan defaults.
"After an agitation, possession and auctions based on promissory notes was disallowed. So the banks and other lenders now make their clients sign blank cheques and prosecute them if the cheque bounces," Natt said.
"Our main demand is that the government stop the banks from grabbing defaulters' homes and destroying their livelihoods in the name of debt recovery."
Veerpal said: "Even if Modi comes back to power, what will he do? Nothing he has done in the past five years could give us fair prices or take away our debts. Farmers are still killing themselves."
She said Amarinder's loan waivers had benefited "a small fraction" of the farmers.
"The jobs he gives away at job fairs pay too little. The drug menace is still around despite his promise to eliminate it," Veerpal said.
"Unlike them, I will be honest to my manifesto promises of securing fair prices for farmers and supporting families that have lost their loved ones to suicide — because the government does nothing."