We have a government that is cheating the people: Yashwant Sinha
The former Union minister fears that the idea of India will be in peril if this government returns to power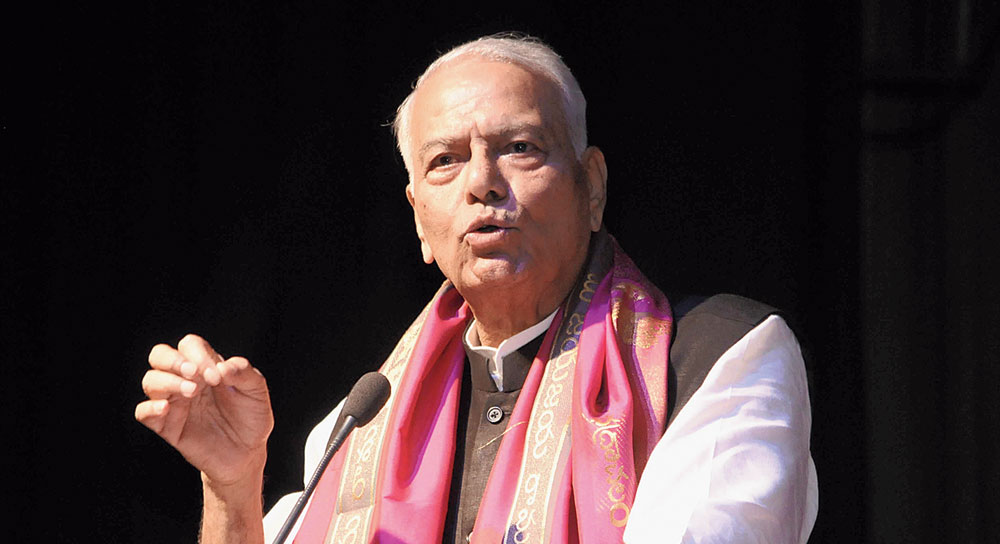 Yashwant Sinha, the former Union minister
A file picture
---
Published 20.04.19, 02:22 AM
|
---
Yashwant Sinha, the former senior BJP leader who handled key portfolios such as finance and external affairs in the Atal Bihari Vajpayee government, has been a bitter critic of Prime Minister Narendra Modi for the last couple of years. Sinha suspects that the black money that was not supposed to come back into the system post-demonetisation was brought in by unscrupulous elements by illegally exchanging every dirty rupee for a cut. He also sees a similarity between the "Modi-Modi" chant and the "Heil Hitler" cry of Nazi Germany and fears that the idea of India will be in peril if this government returns to power. Sinha spoke to Sanjay K. Jha of The Telegraph. Excerpts:
The Telegraph: Yashwant Sinha, a BJP stalwart in the Vajpayee era, is an important voice of opposition in the Modi regime. What caused the transformation?
Yashwant Sinha: I have a natural knack of understanding people and their motives. I had figured out even before 2014 that Narendra Modi will not be a good Prime Minister. He had already shown tendencies of an autocrat… in the manner in which he dealt with his senior colleagues in Gujarat. I decided not to contest the 2014 election. When the council of ministers was formed, he acted in a funny manner. Arun Jaitley had lost the election but he was rewarded with two huge ministries — finance and defence. Somebody was made a minister of state with independent charge in one ministry, a subordinate in another ministry. Very important portfolios were handed over to ministers of state, like commerce and petroleum, in which ministers have an international role, apart from national role. All these oddities were not pointed out by the media. Then strangely, it was pointed out that nobody above 75 could be a minister. When was this decision taken by the party? Did the parliamentary board take the decision, did the national executive take the decision? Was this decision, like every other decision, taken by one person? Be that as it may, at a function in Mumbai, a reporter asked me whether I had given my advice to the PM on a certain issue. I said the PM does not need the advice of a person like me because in the BJP, all those who are above 75 are considered to be brain-dead. I was told the PM didn't take kindly to this comment and the distance between me and the party continued to grow. Come 2017, I felt that things were seriously wrong with this government and I will be less than true to my country if I don't speak out. Economy, cabinet, judiciary, Election Commission, media, other vital institutions of democracy… everything was mismanaged, undermined, controlled. The planned devaluation of institutions was the biggest danger to our polity. Ministers appeared to have lost their relevance. There was no collective decision-making. The PM was treating Parliament with disdain; he was treating Parliament as a necessary nuisance. The Aadhaar bill was passed as a money bill, extraneous issues were included in the Finance Bill. A complete mess was made of parliamentary conventions. We all know how the RBI and CBI were compromised. There are many other things about which we don't know. Look at the way the media is behaving. Some TV channels have aptly been described as North Korean; anchors there are loudspeakers of the government. Media is the only means through which information reaches the people. Now people are subjected to untruths and misinformation on a daily basis. There are shouts of Modi-Modi even when he is not present. Modi-Modi is reminiscent of Heil Hitler in Nazi Germany. Nobody in the BJP will advise him to give up the perilous path. The mental make-up of this man was reflected in the manner in which he dealt with his benefactor L.K. Advani and Murli Manohar Joshi. So after this long explanation, the short answer is that the BJP is not what it was — it is a completely unrecognisable creature today.
TT: Should age be a factor in the political sphere? Even if some veterans are sent into the Margdarshak Mandal, they can be used as a think-tank and to groom younger talent. Why were senior leaders treated so badly in BJP?
Sinha: What is the age of the attorney-general of the country — 86. He has to stand in the court daily and argue cases. Somebody like Sumitra Mahajan, who just turned 76, is discarded as deadwood. So this is an untenable theory to begin with. The other is the point that you made. Ok, you retire them but they are available for consultation. Institutional memory — what happened in the past — is a very important input. This can come easily from people having experience in governance. Seniors are happy to give advice. But if you think you are not only all-powerful but know-all, then…
TT: There is another perspective. That you were only a bureaucrat and didn't even have RSS roots. The BJP gave you so much and then made your son a minister. But you betrayed the party.
Sinha: Yeah, this kind of argument will cut ice with the people. Politics is the art of give and take. Nobody does any favour to anyone without getting anything in return. I had a good run in the BJP under Vajpayee and Advani but perhaps I deserved it. I gave whatever I had fully and wholly to the BJP. It was not that I was brought to the Rajya Sabha like many other BJP leaders, I contested elections. My son replaced me in my constituency and he was made a minister of state. Good for him and good for the government as he is a highly qualified professional. But I was not looking for a compensation, even less a pre-condition to keep quiet.
TT: After being in the BJP for decades and seeing the last five years of Modi, how do you see the RSS philosophy? Is it fundamentally flawed?
Sinha: Yes, it is. I didn't think much of the RSS even when I joined the BJP. RSS is caught in a time warp. They may have replaced their half pants with trousers, but they are far from being modern. They are an anachronism in this day and age.
TT: Let's come to elections. Do you think in this splintered form, the Opposition can pull it off?
Sinha: I will not call it splintered. The Opposition has been able to stitch effective alliances in most parts of the country. Nobody expected there will be a one-on-one contest between the Opposition and BJP on all the 543 seats. States where the BJP had the highest strike rate in 2014, it is engaged in fierce contest. Be it Madhya Pradesh, Rajasthan and Chhattisgarh, Punjab where the Congress is fighting, or Bihar, Jharkhand, Maharashtra, Karnataka. In Uttar Pradesh, the alliance is not complete as the Congress is outside but the feedback is that it is cutting more into the BJP votes rather than the SP-BSP. After the election, most of these parties will come together.
TT: How do you see the conflicting narratives — jobs & justice on one side, Modi & muscular nationalism on the other side?
Sinha: Modi and this muscular nationalism will face a whole lot of local issues and caste. Caste is the biggest antidote to Hindutva. Modi is using this narrative because his government is a signal failure. This is the only government in history which destroyed jobs. What shocks me most is that the government is lying.
TT: Are you talking of data manipulation?
Sinha: Exactly.
TT: Who is responsible for data manipulation? Finance minister, institutions & agencies or the Prime Minister?
Sinha: Prime Minister, nobody else matters in this government.
It worries me no end that we have a government that is cheating the people. There is an element of deceit in every sphere.
- Yashwant Sinha
TT: Is it a new crisis in India — that the trustworthiness of this government has been so low?
Sinha: Absolutely. It worries me no end that we have a government that is cheating the people. There is an element of deceit in every sphere. The government is telling lies on a daily basis. Now it is exposed internationally. You must have seen what Gita Gopinath of IMF said, that she hoped the Government of India resolves the GDP growth issue.
TT: But despite all this, Modi seems to have preserved his image as a crusader against corruption.
Sinha: He managed it because he controls all the sources of information, including the media. He spent thousands of crores on his personal publicity. He is also denigrating all others. No PM ever did it.
TT: What's your assessment of demonetisation?
Sinha: Initially I believed, as the attorney-general said in the Supreme Court, that the motive is that three-to-five lakh crore which was the black money in the economy would not come back and then accrue to the government. This will be a huge bonanza for the government. Now, the evidence which is surfacing, it appears that it was far more sinister. They were not thinking of this amount of five lakh crore accruing to the government. They in fact appeared to have this amount of black money at a discount of 30 to 40 per cent. And this money appears to have gone into the private pockets of BJP functionaries. The point is where has the black money gone? The entire black money has come back into the system because people ensured it was exchanged illegally. This is one of the first inquiries which should be ordered by a new government if the government changes.
TT: Do you have any doubts about the EVMs?
Sinha: I have serious doubts. There is evidence that whenever EVMs have malfunctioned, votes have gone to the BJP. Collectors have been shifted because of such malfunctioning. Even if this is happening accidentally, it suggests EVMs can be manipulated. Why should we shy away from counting more number of VVPAT slips? What is the problem of the EC?
TT: What happens if the BJP comes back?
Sinha: The idea of India as we have known it will stand completely destroyed. Countries have come out of such disasters in the past, like Nazi Germany and fascist Italy, but every country had to pay a very heavy price.