Washington's China agenda appears to dominate Blinken's India visit
Apart from MEA Jaishankar, the US secretary also met national security adviser Ajit Doval and called on prime minister Narendra Modi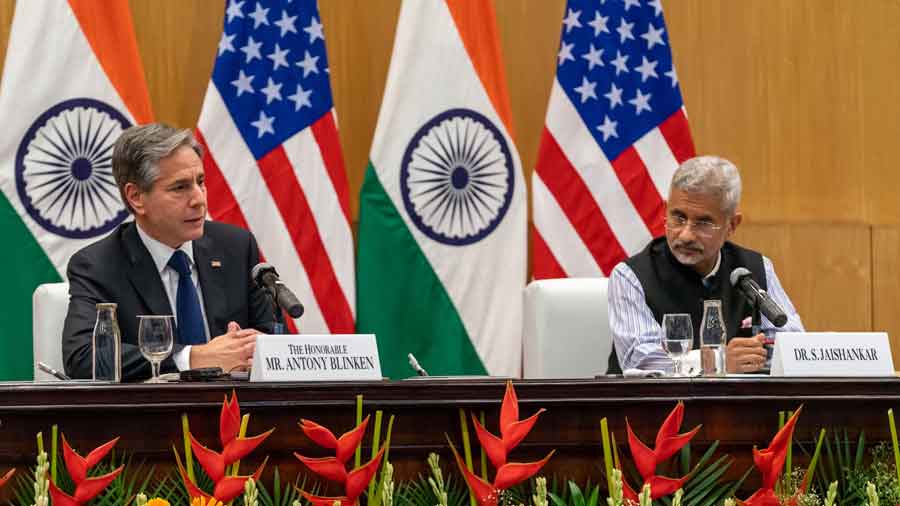 US secretary of state Antony Blinken and India's external affairs minister S Jaishankar at a joint news conference in New Delhi on Wednesday.
Twitter
---
New Delhi
|
Published 29.07.21, 01:16 AM
|
---
Washington's China agenda appeared to dominate US secretary of state Antony Blinken's India visit on Wednesday.
Not only did he meet a representative of the Dalai Lama in New Delhi, he also underscored the need for democracies to demonstrate their ability to deliver to the people, and sought to temper comments on India's democracy with a reference to the challenges faced on this front at home.
Reuters quoted an unnamed state department official as telling reporters travelling with Blinken that the secretary briefly met Ngodup Dongchung Lama, a representative of the Central Tibetan Administration — the official name of the Tibetan government in exile.
This was apart from Blinken's interaction with Geshe Damdul Dorjee, the director of Tibet House, the cultural centre of the Dalai Lama founded in 1965, during a closed-door meeting with civil society leaders where issues like the Citizenship Amendment Act and the prolonged farmers' protests are said to have come up.
These two meetings are likely to anger China, which considers the Dalai Lama as a separatist.
While it was evident that Blinken had raised human rights issues and democracy in India during his meetings, he did not say this openly even when asked a pointed question on the country's "democratic backslide", strengthening the perception in certain quarters of Washington that the Joe Biden administration is not taking up these issues strongly enough because of the importance it attaches to India's role in its bid to counter the growing Chinese footprint and does not want to jeopardise that geo-strategic objective.
It was external affairs minister S. Jaishankar who was more revealing after volunteering to reply to the question posed to Blinken at a media conference. Jaishankar's reply made it amply clear that Blinken had echoed concerns in various western capitals about the state of democracy in India in recent years.
After Blinken's long-winding reply to the question on India's democratic backslide in which he said no democracy, including the US, was perfect and that democracy in both countries was a work in progress, Jaishankar stepped in to say: "The quest for a more perfect union applies as much to the Indian democracy as it does to the American one; indeed to all democracies.
"Number two, it is the moral obligation of all polities to really right wrongs when they have been done, including historically, and many of the decisions and policies you have seen in the last few years fall in that category. Third, freedoms are important. We all value them but never equate freedom with non-governance or lack of governance or poor governance."
In his opening remarks, Blinken said: "Our bilateral relationships are strengthened by our shared values. As two of the world's leading democracies, we take seriously our responsibilities to deliver freedom, equality and opportunity to all of our people, and we know that we must constantly do more on these fronts and neither of us has achieved the ideals that we set for ourselves. Part of the promise of democracy is the constant striving for better, as America's founders put it, 'to form a more perfect union'."
Responding to a reference of offering the partnership with India as a democratic alternative to China, Blinken said the shared democratic traditions were part of Wednesday's conversation.
"The relationship between our two countries is so important and so strong because it's a relationship between our democracies...," he said, stressing the need for democracies to display they can deliver to the people.
"We view Indian democracy as a force for good in defence of a free and open Indo-Pacific, indeed a free and open world. We also recognise that every democracy is a work in progress," Blinken said.
China has described the US agenda in the Indo-Pacific by setting up the Quad with Australia, India and Japan as an Asian Nato, suggesting it is a military alliance. The claim was again countered by Blinken on Wednesday.
Apart from Jaishankar, Blinken met national security adviser Ajit Doval and called on Prime Minister Narendra Modi.
Good to meet US Secretary of State @SecBlinken today. I welcome President Biden's strong commitment to strengthen the India-US Strategic Partnership, which is anchored in our shared democratic values and is a force for global good. pic.twitter.com/HlNqKVTM95

— Narendra Modi (@narendramodi) July 28, 2021
"Good to meet US Secretary of State @SecBlinken today. I welcome President Biden's strong commitment to strengthen the India-US Strategic Partnership, which is anchored in our shared democratic values and is a force for global good," Modi tweeted.