Central government yet to pick Bipin Rawat's replacement
Although it's not an operational post, most veterans are emphasising the need to appoint a new CDS without delay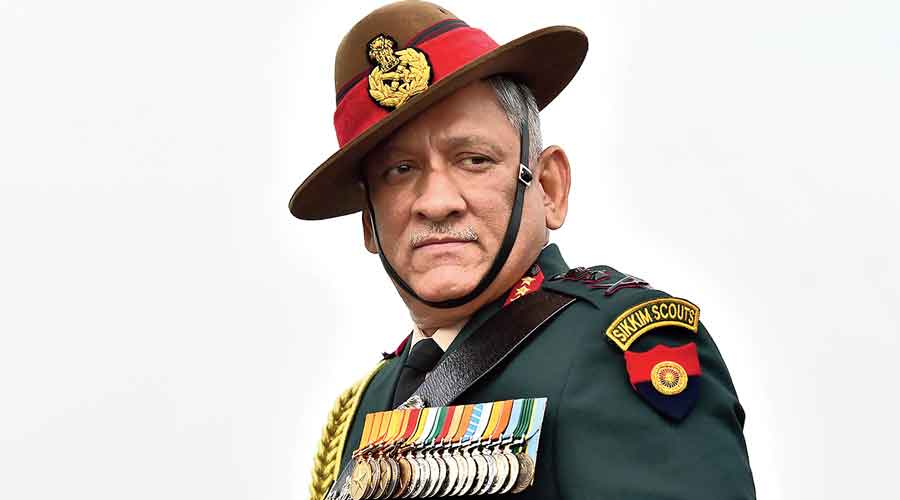 Gen. Bipin Rawat.
File photo
---
New Delhi
|
Published 13.12.21, 02:55 AM
|
---
Depending on what route the Narendra Modi government picks, the naming of a successor to Gen. Bipin Rawat as Chief of Defence Staff could be simple and swift or get complicated in ways that are tough to predict.
Although it's not an operational post, most veterans are emphasising the need to appoint a new CDS without delay.
"We cannot have that post vacant," the former chief of army staff, Gen. J.J. Singh, has said. "We have unresolved borders with Pakistan and China and we need to have a CDS appointed soon."
Another military veteran said: "Since the creation of the office of CDS, it has become a critical station. Yes, it is a staff and structural reforms job but the CDS also functions as principal military adviser to the Prime Minister and the raksha mantri (defence minister) on matters including the nuclear command. Let nobody think it will not matter if the post is left vacant for more than just a short while."
India does have a vice-CDS in Air Marshal B.R. Krishna but it is not, in rank or in reckoning, a post of natural succession, just as the office of the deputy national security adviser is not designed to be anywhere close to a step below the NSA.
On paper, and in the view of most senior veterans and military analysts, Gen. M.M. Naravane, the current chief of army staff, is the natural choice; he is the senior-most among the three chiefs and, as head of the army, by far the largest military arm, becomes preferred choice for the job.
Gen. Naravane, who retires as army chief in April 2022, is also said to be "politically acceptable" to the Modi establishment.
Gen. Rawat's conscious positioning as chief of army staff had made it apparent to most that his political leanings were a major reason Modi had chosen him as India's first CDS — the late general was an unabashed militarist, often overtly majoritarian, and unafraid to endorse the ideological views of the leaders he served.
A senior military watcher told The Telegraph: "Gen. Naravane may not have the political volubility that the Modi dispensation liked and encouraged in Gen. Rawat, but he gives the impression of being politically accommodating of the government's positioning. On the Chinese push into eastern Ladakh, for instance, Gen. Naravane is one of the few top men to have tacitly but studiously backed the Prime Minister's widely rubbished claim that there has been no incursion."
But there is nothing yet to suggest that those reasons settle it for Gen. Navarane. This could be on two counts.
First, there are no precedents to how a successor CDS should be picked; Gen. Rawat was the first to hold the job, and his departure from office was tragically abrupt.
Two, and probably more pertinent, Modi has a reputation for bypassing niceties like seniority and making wildcard choices.
Gen. Rawat himself was made army chief over the heads of two officers senior to him — Lt Gen. Praveen Bakshi and Lt Gen. P.M. Hariz, both highly respected by peers and army ranks.
"The absence of precedent throws the succession wide open," said an Indian army veteran who did not wish to be quoted.
"There is the easy choice of Gen. Naravane, but there is also a very wide field to choose from. There is no established process, and a political decision is a political decision, more so when the politician we are talking about is Narendra Modi, whose mind few seem to know."
Going strictly by eligibility, there are at least 23 military officers the new CDS could be picked from — the three service chiefs, the three vice-chiefs and the 17 general officers commanding-in-chief of the three military wings in different sectors.
But some are willing to venture that the choice may not be limited to this field. Among the significant others who could be considered, the name of Lt. Gen (retd) D.B. Shekatkar has been mentioned. A decorated officer of the Maratha Light Infantry, Shekatkar authored an official paper on reforms in the higher defence structure and presided over the largest single-day surrender of armed militants in Kashmir in the mid-1990s.
The chopper crash that snatched away Gen. Rawat along with a dozen others on December 8 was more than just a tragic bolt; for the Modi government it also meant a blow to a project that was just beginning to assume shape and reveal its contours — of a military thought process pro-actively aligned to the ideological moorings of the ruling dispensation, especially in critical theatres like Jammu and Kashmir and the Northeast. Gen. Rawat's is probably an irreplaceable loss in the Modi scheme; more's the reason why the choice of his successor is so salient.