Economy panic over coronavirus pandemic
Markets crash, aviation hit, Delhi schools shut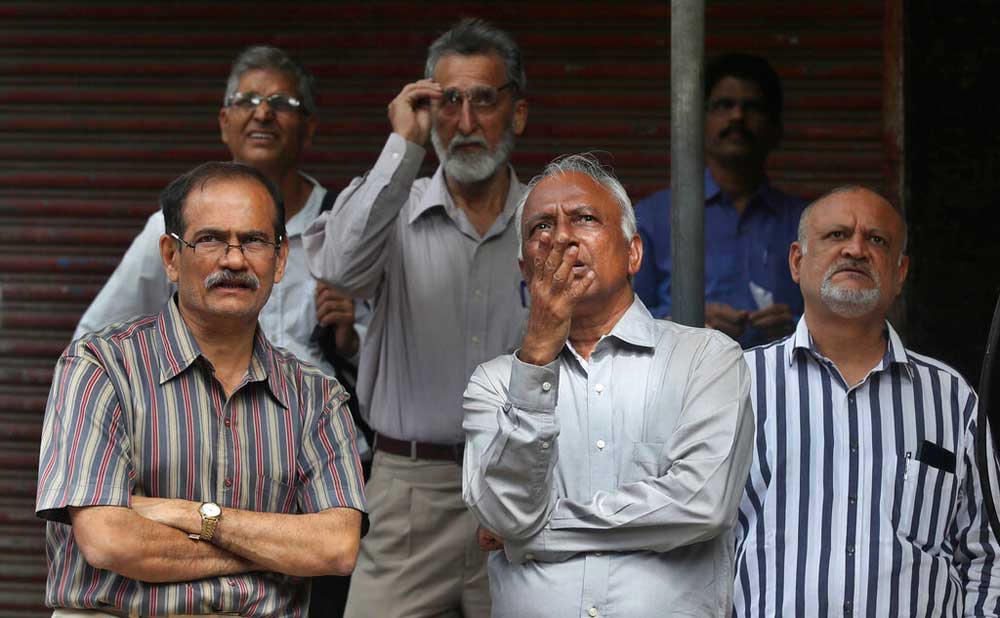 People react as they watch the stock exchange index on a display screen on the facade of the Bombay Stock Exchange building in Mumbai on Thursday
(AP photo)
---
Published 12.03.20, 03:14 PM
|
---
The S&P BSE Sensex crashed in the wake of India's tough measures that include effectively closing its borders and state governments ordering the shutdown of schools, colleges and cinemas, as the fight against Covid-19 went on a war footing with the number of new cases keeping on rising.
The market had its biggest intra-day fall ever in absolute terms, crashing by 2,919 points or 8.18 per cent, putting the Sensex at 2017 levels, as the Covid-19 toll rose to 74 with new cases being reported from 11 states across the country.
In Bangalore, a man who had returned from Greece tested positive and became the city's fifth case.
In the national capital, which has recorded its sixth case of Covid-19, the state government moved swiftly to shut down all schools, colleges and cinema theatres to try to slow or halt the disease's spread.
Financial capital Mumbai recorded its first two patients with the total number of confirmed patients nationwide at 74 cases. 'Out of the 73 positive cases reported in India so far, 56 are Indians and 17 are foreigners," health ministry official Luv Aggarwal told reporters, before the new case was reported.
The number of travellers coming into India daily has already fallen from 70,000 to 62,000 and is likely to fall further to 40,000, civil aviation minister Hardeep Singh Puri said on Thursday. India has cancelled all visas, except for a few exceptions, till April 15.
The ministry of external affairs has advised against holding the IPL tournament slated to begin on March 29. The remaining two one-dayers between India and South Africa now are likely to be played in empty stadiums in Lucknow on March 15 and in Kolkata on March 18.
The sports ministry has issued an advisory that in case it's unavoidable to postpone a sporting event, then it is preferable that it be conducted without a large public gathering.
PM tweets 'say no panic'
Prime Minister Modi tweeted, "Say No to Panic, Say Yes to Precautions." and the government said it was "augmenting healthcare capacities." The government announced it would speed up clearance of drug ingredients to ensure "overall preparedness and availability of drugs to reduce the impact of the outbreak."
Meanwhile, World Health Organization director-general Tedros Adhanom Ghebreyesus said the coronavirus outbreak is a "controllable pandemic" but added, "We are deeply concerned that come countries are not approaching this threat with the level of political commitment needed to control it" without specifying the nations to which he was referring.
The airline industry has already taken a huge hit because of the travel restrictions and both domestic and international airlines have cancelled around 490 flights into and departing from India. Air India has announced the suspension of flights to Rome, Milan and Seoul in addition to earlier flight stoppages to China and Hong Kong. It has also reduced the number of flights to Singapore because of falling demand.
Mandatory quarantine
The travel ban and newly introduced rules mean that Indian tourists and students who are in countries like Italy, Iran and Spain may have to undergo a mandatory 14-day quarantine if they return to India. The crew of an Air India flight from Milan to Delhi on Wednesday was also screened on arrival and ordered to self-quarantine for 14 days, as a precautionary measure.
Screening is in effect at 30 airports across India and 15 labs have been set up to test for the virus.
In Kerala, the state assembly passed a motion against the Central government ban on Indians needing certificates to return to India, saying: "Because of this circular, Indians, including Keralites are unable to board any flight even with a confirmed ticket."
The Union government invoked Section 2 of the little-known Epidemic Diseases Act on Wednesday which gives it wide powers to order medical examinations of people suspected to have the disease and to inspect anyone on board trains, ships and other forms of transportation.
900 Indians evacuated
So far, the Indian government's evacuated 900 Indian citizens along with 48 belonging to other nationalities like Maldives, Myanmar, Bangladesh, China, US, Madagascar, Sri Lanka, Nepal, South Africa and Peru, said the ministry of health and welfare.
In addition, 83 evacuees from Italy who arrived Wednesday have been quarantined and the Centre plans to fly out doctors to Italy, at Kerala's request, to bring back 45 people from the state stranded at an airport in Italy.
Indians who are stranded in Iran due to coronavirus will be returned in the next two-to-three days and quarantined.
"In the next two-to-three days, we are expecting more citizens to come back to India. We have prepared new facilities at places including Jodhpur, Jhansi, Gorakhpur, Kolkata, Jaisalmer, Chennai and Deolali where we can quarantine these people," said army spokesperson Colonel Aman Anand.
Tech firms hit
Three executives from Indian and global tech companies have already been hit. India's leading tech companies are likely to be impacted by the travel ban though many are expected to fall back on hi-tech business solutions like video conferencing. "There'll be cancellation of customer visits and curbed ability of salespeople to meet customers," says Pareekh Jain, of Pareekh Consulting.
Medical opinion is divided on the effectiveness of travel bans in the face of a global pandemic like Covid-19. The WHO says this is an extreme measure that should only be used for short periods at the start of an outbreak.
The WHO's guidelines say: "Travel measures that significantly interfere with international traffic may only be justified at the beginning of an outbreak, as they may allow countries to gain time, even if only a few days, to rapidly implement effective preparedness measures."
The organisation also warns that travel bans, "are usually not effective in preventing the importation of cases but may have a significant economic and social impact."
Both airlines and airports are already feeling the financial impact of the travel slowdown. International airports report a lower number of passengers at restaurants and shops and in Delhi the duty-free zone has been closed to passengers from countries like South Korea and Italy.