Vast powers must come with responsibility: Supreme Court
The SC castigated Facebook for arguing it was a mere 'intermediary platform' and couldn't be hauled up for content that manipulated the political discourse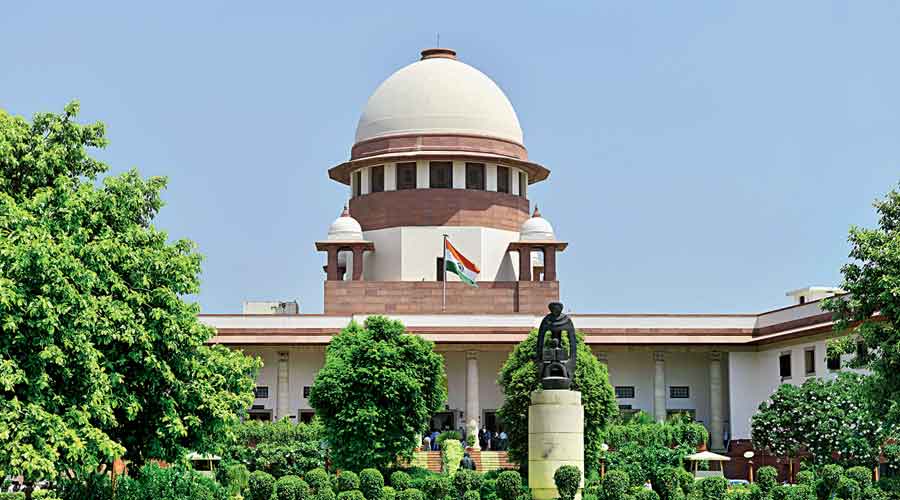 Supreme Court.
File photo
---
New Delhi
|
Published 09.07.21, 02:13 AM
|
---
The Supreme Court on Thursday castigated Facebook for arguing it was a mere "intermediary platform" and couldn't be hauled up for content that manipulated the political discourse.
"Facebook is the most popular social media platform in India with about 270 million registered users. Such vast powers must necessarily come with responsibility," the bench of Justices Sanjay Kishan Kaul, Dinesh Maheshwari and Hrishikesh Roy said.
"Entities like Facebook have to remain accountable.... While Facebook has played a crucial role in enabling free speech by providing a voice to the voiceless and a means to escape state censorship... it has simultaneously become a platform for disruptive messages, voices, and ideologies."
Justice Kaul, who authored the judgment, noted how social media "has become a tool in the hands of various interest groups who have recognised its disruptive potential".
"This results in a paradoxical outcome where extremist views are peddled into the mainstream, thereby spreading misinformation.... This has given rise to significant debates about the increasing concentration of power in platforms like Facebook, more so as they are said to employ business models that are privacy-intrusive and attention soliciting," the judgment said.
"The effect on a stable society can be cataclysmic with citizens being 'polarised and paralysed' by such 'debates'.... Less informed individuals might have a tendency to not verify information sourced from friends, or to treat information received from populist leaders as the gospel truth."
Targeting users
The apex court rejected Facebook's argument that it is merely a platform posting third-party information and has no role in generating, controlling or modulating that information.
"The endeavour to hide behind such simplistic models have been found to be unacceptable by the UK Parliament.... It is too late in the day for companies like Facebook to deny that they use algorithms (which are sequences of instructions) with some human intervention to personalise content and news to target users. The algorithms select the content based on several factors including social connections, location, and past online activity of the user," the bench said.
"These algorithms are often far from objective with biases capable of getting replicated and reinforced. The role played by Facebook is, thus, more active and not as innocuous as is often presented...."
Global role
Justice Kaul said that internationally, Facebook had had to recognise its failure to prevent incitement in the context of the ethnic cleansing in Myanmar, where its employees somehow missed the spate of misinformation that helped fuel the violence.
"The platform similarly apologised for its lack of serious response to evident signs of abuse of the platform in Sri Lanka and had to acknowledge its need to be regulated, though the exact method is still unclear and a prerogative of lawmaking authority," he said.
"There have been endeavours in light of the aforesaid by countries like Australia, US, the UK, and the EU for ways to regulate platforms such as Facebook in an efficient manner but their efforts are still at a nascent stage.
"The US has also seen heated debates arising from the 2016 presidential elections with allegations of supposed interference by Russia allegedly facilitated by platforms like Facebook."
The bench said Facebook had acknowledged that it had removed 22.5 million instances of hate speech in the second quarter of 2020 alone, showing it exercised substantial control over content.
"To that extent, a parallel may be drawn with editorial responsibility cast on other mass circulation media," it said.
Double standard
The apex court cited how, in the US, "Facebook projected itself in the category of a publisher, giving them protection under the ambit of the First Amendment of its control over the material which are disseminated in their platform".
"This identity has allowed it to justify moderation and removal of content. Conspicuously, in India, however, it has chosen to identify itself purely as a social media platform despite its similar functions and services in the two countries," it said.
"Thus, dependent on the nature of controversy, Facebook... seeks to modify its stand depending upon its suitability and convenience."