Elgaar Parishad: Varavara Rao's regular bail plea to 'stay alive'
Poet recalls how Stan Swamy had died in custody a year ago shortly before his bail application was to be heard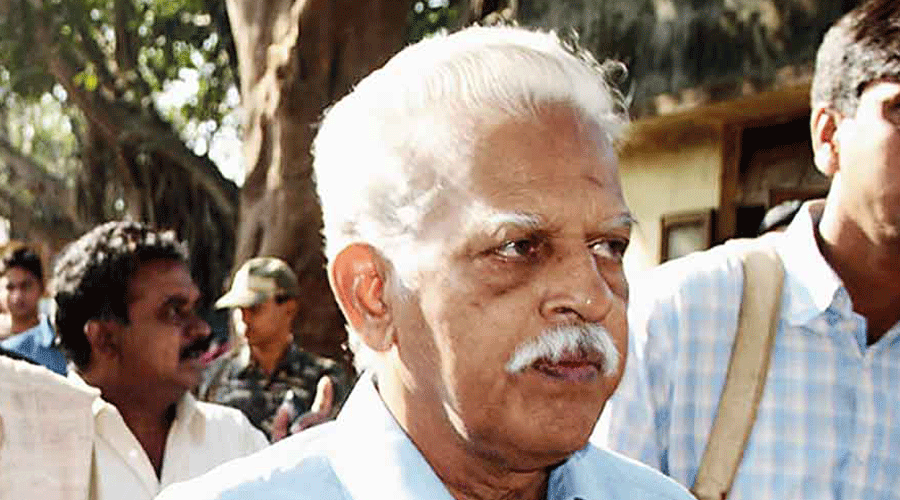 ---
New Delhi
|
Published 01.07.22, 01:14 AM
|
---
The Supreme Court on Thursday agreed to hear a plea for regular bail from poet and Elgaar Parishad-Maoist links accused P. Varavara Rao, 81, who cited multiple ailments including Parkinson's Disease and expressed fear that further imprisonment would kill him.
Rao, now out on interim bail, recalled how 84-year-old Father Stan Swamy, a fellow accused and Parkinson's patient, had died in custody a year ago shortly before his bail application was to be heard.
"Any further incarceration would ring the death knell for him as advancing age and deteriorating health are a fatal combination," Rao's plea, moved before the bench of Justices Surya Kant and J.B. Pardiwala, says.
"It is in the interest of all concerned — the prosecution, the society at large, and the petitioner — that the petitioner stands trial on the allegations against him. That interest is better served if the petitioner is alive when the trial ends."
Rao was at the Taloja jail in Navi Mumbai from August 24, 2018, till February last year when Bombay High Court granted him interim bail on medical grounds.
The high court has extended the interim bail since then but refused regular bail, saying the Telugu poet is suffering only from cataracts.
"Bombay High Court… has failed to consider that, apart from procedural formalities which have to be still complied with… over 300 witnesses have to be examined," Rao's petition says.
"…The trial will take not less than 10 years. In fact, one of the accused in the case, Father Stan Swamy, who was suffering from similar ailments as the petitioner, passed away even before the trial could start…. It is unreasonable for the State to insist that the petitioner is kept in jail custody where there is every likelihood that he would not survive."
The petition adds: "The petitioner is confident that he will be acquitted like in all the 25 cases that were lodged against him in which he was either acquitted or cases not proceeded with. He has not absconded in any one of the case(s). He has preferred to face trial and be acquitted."
Rao's revolutionary writings and participation in mass movements have led to him being jailed multiple times under various political charges.
The petition cites Rao's age and poor health to argue he is not a flight risk.
Apart from Parkinson's, it cites health complications such as piles, prostrate enlargement, coronary artery disease, anasarca (swelling of the whole body because of excess water accumulation in the tissues), vertigo, hypertension, brain atrophy with brain ischaemia, migraine, sinusitis and recurrent urinary tract infection (UTI).
"The UTI, being the resistant type, can recur at any time and can potentially lead to untreatable septicaemia (blood poisoning) in the poor hygienic conditions of the jail leading to death," the petition says. "The petitioner also contracted Covid-19 in Taloja, which could have been avoided."