PM inaugurates Kashi Vishwanath Dham
Tyrants like Aurangzeb had tried to destroy Indian civilisation: Modi
The prime minister justified his government's projects for Hindu pilgrimage centres, claiming it is simultaneously engaged in scientific and development programmes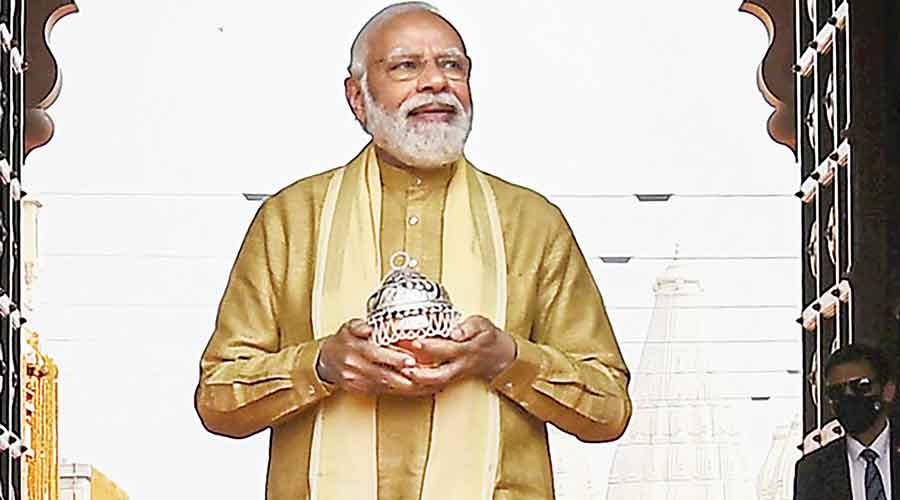 Narendra Modi during the inauguration of the Kashi Vishwanath Dham in Varanasi on Monday.
PTI Photo
---
Lucknow, Varanasi
|
Published 14.12.21, 02:12 AM
|
---
Prime Minister Narendra Modi on Monday suggested "tyrants" like Aurangzeb had tried to destroy Indian civilisation but were consigned to history's "black pages", making what might be deemed polarising references while appearing to launch the Uttar Pradesh Assembly poll campaign.
Speaking at the gates of the Kashi Vishwanath temple in his parliamentary constituency of Varanasi, Modi asserted that to every Aurangzeb there was a Shivaji and to every Salar Masud, a Muslim warrior, a Raja Suheldev who took him on.
"Tyrants attacked this city, tried to destroy it. History is witness to Aurangzeb's atrocities, his terror. He tried to change civilisation with the sword. He tried to crush culture with fanaticism," he said.
"But the soil of this country is different from that of the rest of the world. Here if an Aurangzeb comes, a Shivaji also rises. If a Salar Masud marches on, warriors like Raja Suheldev make him realise the power of our unity. The people of Varanasi forced (British Governor-General Warren) Hastings to escape on an elephant's back."
Modi went on: "See, how time changes. Today, those synonymous with terror have been consigned to the black pages of history while my Kashi marches ahead and is writing a new chapter of its glory."
The Prime Minister, who was speaking after inaugurating the Kashi Vishwanath Dham, which has renovated and expanded the temple's premises, punctuated his speech with chants of "Har Har Mahadev".
Modi compared his own work for Varanasi's development with the way 18th-century Maratha queen Ahilyabai Holkar had rebuilt the Kashi Vishwanath temple after it had been partly demolished.
"I salute her on this occasion: she did a lot for Kashi 200-250 years ago. It's only now that so much work has (again) been done for Kashi," Modi said.
He lauded Sikh king Ranjit Singh for gold-plating the temple's domes.
Many historians say a part of the Kashi Vishwanath temple was pulled down in 1669 after the Maharani of Kutch was dishonoured there. The Sangh parivar claims Aurangzeb had ordered the demolition to have the Gyanvapi mosque built on the premises.
Modi justified his government's projects for Hindu pilgrimage centres, claiming it was simultaneously engaged in scientific and development programmes.
"Today's India doesn't only beautify the Somnath temple (in Gujarat) but is also laying thousands of kilometres of optical fibre in the ocean. Today's India is not only renovating the Baba Kedarnath temple (in Uttarakhand) but also preparing to send Indians to space," he said.
"Today's India is not only building the temple of Lord Ram in Ayodhya but also opening medical colleges in every district of the country. Today's Indian is not only giving a magnificent shape to Baba Vishwanath Dham but also building pucca houses for the poor."
Modi also mentioned the projects carried out for Buddhist and Sikh pilgrimage centres.
The gathering included chief minister Yogi Adit­yanath, BJP president J.P. Nadda, other BJP politicians and state ministers, and sadhus invited from various parts of the country.
"There is only one government in Kashi, one who has the damru in his hand (Shiva)," Modi said.
Earlier, the Prime Minister had taken five dips in the Ganga and dedicated the renovated Kashi Vishwanath temple corridor to the nation while performing a brief Rudrabhishek sitting on a low table at the shrine.
The priests chanted "Raja Sahab ki jai (Hail the king)" and "Mahadev ki jai (Hail Shiva)".
Modi showered flower petals on some 30-odd workers involved in the construction of the temple corridor, thanked them in his speech and later sat down to lunch with them in a hall.
He later took a steamer ride in the Ganga and garlanded a statue of Ravidas, a Dalit icon, at a ghat named after the 15th-century poet-saint. Modi is scheduled to leave Varanasi on Tuesday.