At least 12 found dead in October while trekking
Trekkers find going tough as incessant rains wreak havoc
Precaution, skill sets and reliable support are paramount for trekkers as nature of rain changes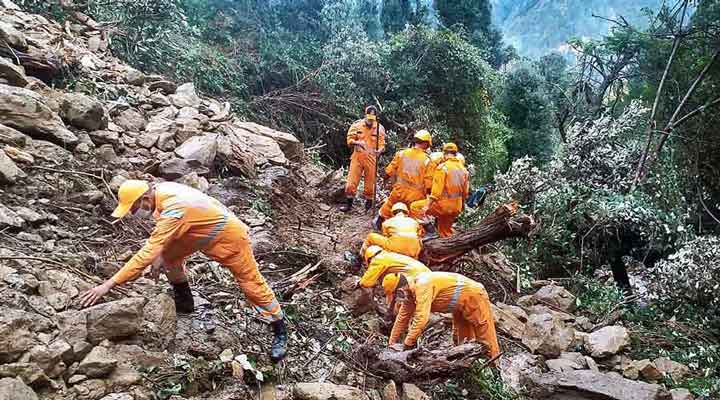 ---
Published 05.11.21, 12:55 AM
|
---
Towards late October, several trekkers, including at least 10 people from Bengal, lost their lives and many required rescue after adverse weather dumped rain and snow in Uttarakhand.
The bulk of the dead were found at the Lamkhaga Pass (17,330 feet) connecting Uttarakhand and Himachal Pradesh. By October 23, the casualty count in a snowstorm there had touched at least 12.
A thorough understanding of what happened at Lamkhaga will take time.
"What is important is that we learn from this incident. Right now, we must be compassionate, for people have died," Vaibhav Kala, who runs Aquaterra Adventures, among India's biggest adventure travel companies, said.
The other place where trekkers got stuck was on the relatively easy route to the Pindari and Kafni glaciers in Bageshwar district. A media report said that on October 21, over 65 tourists were trapped in the higher reaches. They included 20 in Kafni, 34 in Dwali (the trail junction from where separate paths lead to Pindari and Kafni glaciers) and 10 in Sundardhunga.
It is an area, once the stuff of a modestly long trek, now rendered shorter and more frequented because a road reaches deep. By October 27, eight persons were confirmed dead in Sundardhunga.
Like many places in the Himalaya, Pindari-Kafni-Sundardhunga in Kumaon has a history of being pounded by rain. In September 2009, the downpour was torrential, damaging the trail. In September 2010, extensive damage was reported because of rain, turbulent rivers and landslips in Uttarakhand. Kumaon bore its share. September seemed quite rainy.
Three years later, it was June. In June 2013 (the same time as the Kedarnath tragedy caused by cloudburst), major bridges on the Pindari trail were swept away, leaving people stranded in Dwali. Landslides first blocked the stream coming from Kafni and when the barrier broke, the suddenly released water reshaped Dwali.
October normally marks the resumption of trekking after the monsoon. Yet in 2021, Lamkhaga Pass and the Pindari and Sundardhunga valleys showed a different face.
"Climate change is a reality and those venturing into the outdoors must stay aware of it," Wing Commander Amit Choudhury, a member of the executive board of the UIAA and a former vice-president of the Indian Mountaineering Foundation, said. The UIAA is the apex body for mountaineering worldwide.
Unless something terribly unfortunate happens, a well-prepared group of trekkers/climbers that has factored in the unpredictable should be able to take care of itself, he added. "You must take the required precautions, you must have the required skill sets and you must be well supported," Choudhury said.
Punit Mehta, a Delhi-based seasoned trekker and outdoor educator, pointed out that on treks to any given place nowadays, he stays prepared (in terms of clothing and gear) for weather conditions associated with two months this side or that of the window he is in.
If he is guiding others, the attention to detail is more. "The old templates don't work," he said.
On the other hand, there are those among the general public who feel that given climate change is already causing natural calamities, trekkers should keep off the hills during the rainy season, allowing relief and rescue to focus on residents.
They have a point, for trekkers are fundamentally visitors. Guests don't inconvenience hosts, do they?
Some explanation is required here. First, people don't deliberately court disasters. These are unexpected developments.
Second, in mainstream news reporting, a wide range of people gets bunched under the category of trekkers and climbers. Trained mountaineers and trekkers typically know what they are getting into, including when the mountains are best avoided, which part of the Himalaya to go and when. Mistakes happen; but they learn and improve.
Not everyone has this mindset. In places where roads have made access easier, although people are following a trail, many of them could be more tourist than trekker. These distinctions matter because it has a bearing on how warning signs are processed, decisions are made and calamity is avoided or faced.
Third, isn't adversity (nature as it is) part of the reason trekking and mountaineering fascinate?
For instance, away from adventure tourism, in the related field of outdoor education and teaching outdoor skills, adversity of manageable proportions is classroom.
At the Uttarkashi-based Nehru Institute of Mountaineering (NIM), the first half of the annual training calendar starts with skiing in January (depending on availability of adequate snow in the training area). Mountaineering courses start in March and end in early July (what used to be peak monsoon hosts no programmes). It then picks up again in September and goes on into October.
"Our courses are very dependent on the weather. So, we watch it closely," Colonel Amit Bisht, principal, NIM, said. In the NIM's backyard, peak cold has shifted; from December-January to the period straddling late January-mid February. As has rainfall.
"Over the past two to three years, the nature of rainfall has definitely changed in our region," Dr Vishal Ranjan, registrar, NIM, said. The supply chain for the institute's post monsoon (September-October) courses in the field sometimes gets hampered because of the powerful rains.
Aside from the skiing course now beginning in late January, courses overall haven't undergone drastic rescheduling citing altered weather patterns. "We tell our students that rough weather is part of the challenge we equip them to face," Ranjan said.
In its more than five decades of training students in mountaineering, the NIM hasn't had a single fatality. This emphasises the significance of the earlier mentioned trio — precautions, skill sets and good support — as key to navigating the unpredictability of the outdoors.
So, what prevents us from being prudent?
While it's too early to say anything, one of the observations heard in the aftermath of the Lamkhaga mishap was the need for quick communication. There was little time between the warning of bad weather issued in October and incidents in the field.
Even if reaction is possible, you need devices like satellite phones to contact trekking teams. They are expensive and not all teams carry them. Tour operators who invested in satellite phones have found them useful to communicate weather updates and keep their teams safe.
Shelter is another aspect. Previously, expensive four-season tents, capable of tackling strong winds and heavy snow, were used in mountaineering. The combination of climate change and high passes now demand such tents in trekking too. The more you secure a team's safety, the costlier the expedition. Add to this, general inflation. Not everyone can afford the bill. The upshot: teams that may be poorly fitted out for demanding objectives and adversities.
Then, there are the avoidable complications. When the lockdown eased, there was a rush to taste freedom. In Kerala, Maharashtra and the Himalayan states, governments warned against crowding in the hills for fear that it may cause the spread of Covid-19.
Even without Covid-19, crowding has been an Indian paradigm complicating mishap in the mountains. During the 2013 Uttarakhand floods, worry was high because ongoing pilgrimages had stuffed thousands into the hills. The general reading is that Uttarakhand was slower to open up as the lockdown eased than Himachal Pradesh and Ladakh. It is possible that the Puja holidays may have enhanced tourist inflows to Uttarakhand.
A person hailing from the Pindari valley said he heard that officials were taken aback by the numbers in Pindari-Kafni but overall, it didn't appear terribly out of sync with the regular traffic of September-October. It was the weather that delivered the unkind cut, he felt. So, do we listen to the weather enough?
Climate is a complex phenomenon. Starting from 2018, a series of unusual weather events, ranging from devastating floods in the relatively placid Kerala to a string of cyclones and a possible delaying trend in the withdrawal of the monsoon had been reported in the media. If you are an outdoors person, you should be interested in these patterns. Are you?
As recently as in May 2021, a leading Indian travel magazine recommended the best months to visit the Pindari valley as "April, May, June, September and October". Had it cast a passing glance at the weather conditions of the past decade and noted the delays in the monsoon's withdrawal, September — and potentially the early part of October — would have been on the "be careful" list. Better still, it would have at least said: don't forget climate change.