Uttarakhand glacier burst: 20 bodies recovered, 197 people are still missing
Indications made on authorities' decision to have labourers work on a Sunday which helped fuel the human tragedy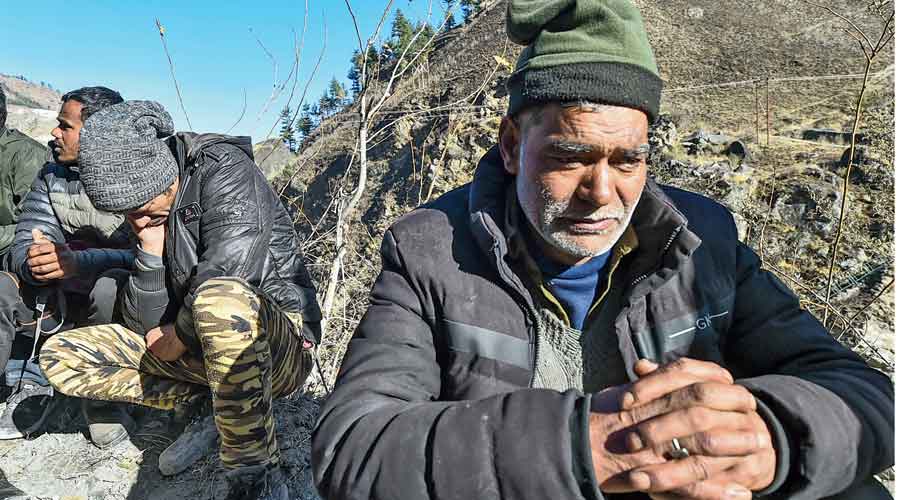 ---
Lucknow
|
Published 09.02.21, 01:55 AM
|
---
Twenty bodies had been recovered by Monday evening while 197 people were still missing a day after the avalanche in Uttarakhand, amid indications that authorities' decision to have labourers work on a Sunday at two hydropower projects had helped fuel the human tragedy.
Nearly all those dead or missing were workers of the Rishiganga and Tapovan hydel projects — set 5km apart and between the villages of Raini and Tapovan in Chamoli district — that took the brunt of the avalanche and were swept away.
Some 425 Indo-Tibetan Border Police personnel, 124 army soldiers and over 100 National and State Disaster Response Force personnel were helping the rescue efforts, which were focused on 35 workers, managers and engineers trapped inside a tunnel at the Tapovan project site.
Rescuers and some of the labourers said the avalanche spared the workers' makeshift quarters, about 500 metres from the project site at both Tapovan and Raini, implying the casualties would have largely been averted had Sunday not been turned into a working day.
A supervisor of the Tapovan project told reporters on the condition of anonymity that Sundays were supposed to be holidays and he didn't know why an exception had been made this week.
No clarifications could be obtained from officials of the NTPC, which runs the Tapovan project, or the Rishiganga Power Corporation.
"I think some 150 labourers would have been buried where the mass of snow and water fell," the Tapovansupervisor said.
"Huge quantities of iron bars, cement and concrete slabs had been stored there. It won't be possible to enter the muddy area anytime soon, but the earth and cement will soon mix and the spot will get frozen forever."
It appears that mostly those who had ventured out died or went missing. Chief minister Trivendra Singh Rawat announced the deaths of "five local shepherds and their 180 sheep and goats", and unconfirmed reports suggested the same fate for a few woodcutters.
With six bridge collapses cutting off half-a-dozen local hamlets including Raini and Tapovan, and mobile services hit, it was unclear whether residents had suffered casualties or losses. Rescuers said that "from the distance", the hamlets — with a collective population of about 500 —seemed largely unaffected.
Worker count
Speaking unofficially, an employee of one of the two hydel projects said the companies did not keep full records of all their workers, and the casualties could therefore be much higher than whatever the final official count is.
"This (lack of records) is because the companies depend on petty contractors to bring in labourers, and shrug off any responsibility when casualties happen. So, we'll never know the actual number," he said.
Survivor accounts too indicated a heavier toll, with one Tapovan labourer saying he saw "nothing left" at one particular site "where more than 300 were working".
Vimal Kumar, 21 — from Nighasan bock in Lakhimpur Kheri district of Uttar Pradesh to which at least 40 of the missing labourers belong — told father Dukhi Ram he was unhurt because he was working at a distance from the dam.
He said most of the labourers were near the dam and apparently got buried under the mud and snow.
"Vimal told me he saw a mass falling with a roar. He ran away with the others nearby. When he turned back from about 50 metres, there was nothing left where more than 300 were working," Dukhi Ram said.
"My son, who has been working there for six months, said there was hardly any possibility of survival because the mud, which formed instantly, was too deep. There was no time for anybody to escape."
Nathu Lal, whose son Dharmendra Verma is missing, said: "I don't know why they were asked to work on a Sunday. They are paid only on the days they work. Still, they should be able to rest at least one day a week even if they have to go without pay for that day."
He added: "My son said he worked 12 hours a day and stayed in a makeshift structure about 500 metres from the project site below the Nanda Devi.., from where something fell on them. I hope he wasn't there at the time."
Tunnel trap
Chief minister Rawat said the ITBP was trying to free 35 Tapovan project workers trapped inside a tunnel.
"We have reached 80 metres of a 180-metre tunnel and hope to rescue the 35 soon. Debris (mud and rocks from the avalanche) has entered the tunnel and is blocking the way. We are clearing it gradually," ITBP deputy inspector-general Aparna Kumar said in the afternoon.
Those trapped in the tunnel, which is 3km long but trifurcates after 180 metres, include a general manager, an assistant general manager and several NTPC engineers, sources said.
They said the tunnel was slightly curved, making it difficult to clear the slush, debris and silt blocking it.
No voice contact had been made yet with anyone in the tunnel, an official said. Sniffer dogs and heavy equipment, including bulldozers and JCBs, had been flown in.
State authorities said 27 people had earlier been rescued — 12 from a smaller tunnel at the Tapovan project site and 15 from one at the Rishiganga site.
Dam safety
Himanshu Thakkar, co-ordinator of the South Asia Network of Dams, Rivers and People, said the tragedy had raised questions about the safety of the dams, Reuters reported.
"The dams are supposed to withstand much greater force. This was not a monsoon flood, it was much smaller," he said.
Additional reporting by Reuters and PTI