Patanjali heaps praise on PM Modi
Uttarakhand authorities make U-turn on Ramdev drugs ban
Divya Pharmacy can now continue producing BPgrit, Eyegrit, Lipidom, Madhugrit and Thyrogrit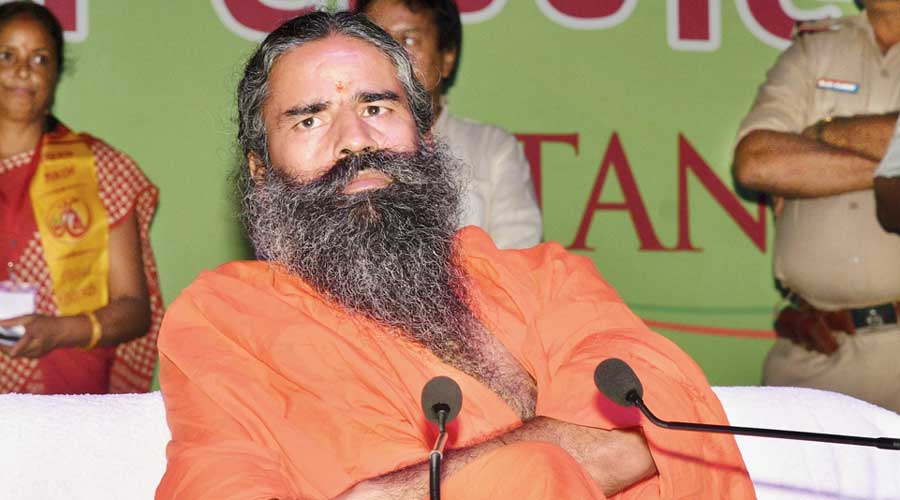 ---
New Delhi
|
Published 13.11.22, 03:36 AM
|
---
An Uttarakhand regulatory authority on Saturday retracted its three-day-old order asking Patanjali Ayurved to stop producing five drugs under scrutiny for violations of rules on advertisements for certain drugs, saying the order was a mistake.
A November 12 letter sent by the Uttarakhand Ayurveda and Unani Services Licensing Authority to Divya Pharmacy, Patanjali's manufacturing unit, said the firm can continue producing the five drugs — BPgrit, Eyegrit, Lipidom, Madhugrit and Thyrogrit.
The licensing authority had directed Divya Pharmacy through a letter released on November 9 to stop producing the five drugs, submit revised label claims and seek fresh approvals for each, citing "repeated contraventions" of rules on drug advertisements.
Divya Pharmacy had on November 10 described the order as part of a "conspiracy" by an "anti-ayurveda mafia". Both documents — the November 9 letter ordering the ban and the November 12 letter revoking it — were signed by G.C.N. Jangpani, the licensing officer with the authority's office in Dehradun.
The new letter does not detail reasons for retracting the ban order. But it emerged after Uttarakhand's BJP government sent a notice to Jangpani asking him to explain his action, a state official said.
"Jangpani… has received the notice from the health department asking him to explain his action. Jangpani will reply soon," a health department official told The Telegraph, speaking on condition of anonymity.
Patanjali, in a media release on Saturday, thanked the Uttarakhand government. "Taking cognisance of this thoughtless act of defaming ayurveda, the way the Uttarakhand government rectified the mistake, we are grateful to the government for taking cognisance of this mistake," it said.
Ramdev, the yoga evangelist associated with Patanjali, is often seen in the company of senior BJP leaders. 
In its media statement, Patanjali said its institutions had helped ayurveda gain acceptance through its research efforts and cited Prime Minister Narendra Modi's "untiring efforts to make our country proud of its ancient heritage by wiping away all signs of slavery". 
The company has described the licensing officer's ban order as a "reprehensible act to defame Patanjali", adding that a department whose task was to promote ayurveda as a national system of medicine is engaged in defaming and destroying ayurveda.
Jangpani's November 9 letter had cited complaints by a Kerala-based doctor, K.V. Babu, who had alleged that Divya Pharmacy's advertisements for the five products violate the Drugs and Cosmetics Act, 1940, and the Magic Remedies Act, 1954. The acts prohibit advertisements that promote the prevention, treatment or cure of certain disorders, including blood pressure, glaucoma, goitre, diabetes, liver disorders and heart disease.
Babu, a Kerala-based ophthalmologist who had complained to the Centre about Divya Pharmacy's advertisements, said on Saturday that he was surprised by the ban order.
"There was never any complaint about the quality of the drugs — the only issue is prohibited advertisements," Babu told this newspaper.
"Why were the five drugs banned is a question that should be directed to the licensing authority."
The Union ministry for Ayush (Ayurveda, Yoga, Unani, Siddha, and Homeopathy) had on April 15 this year asked the Uttarakhand licensing authority to "take appropriate action" against Patanjali's advertisements for three products -- Lipidom, Livogrit, and Livamrit.
Divya Pharmacy, however, has argued that the rules that prohibit advertisements of certain drugs do not apply to ayurvedic medicines. The company has cited a 2019 Bombay High Court order that had stayed rule 170 -- a rule the Centre introduced in 2018 specifically to curb inappropriate advertisements of ayurveda, siddha and unani drugs.
In a note sent to the Uttarakhand licensing authority on September 30 this year, Divya Pharmacy had said that under a Bombay High Court order on rule 170, penal action cannot be taken against members of the Ayurvedic Drug Manufacturers' Association.