UP meat trader's kin accuses cops of pushing him to death
The Bulandshahr police denied the allegation and said Aquil, 43, had injured himself while trying to flee during a raid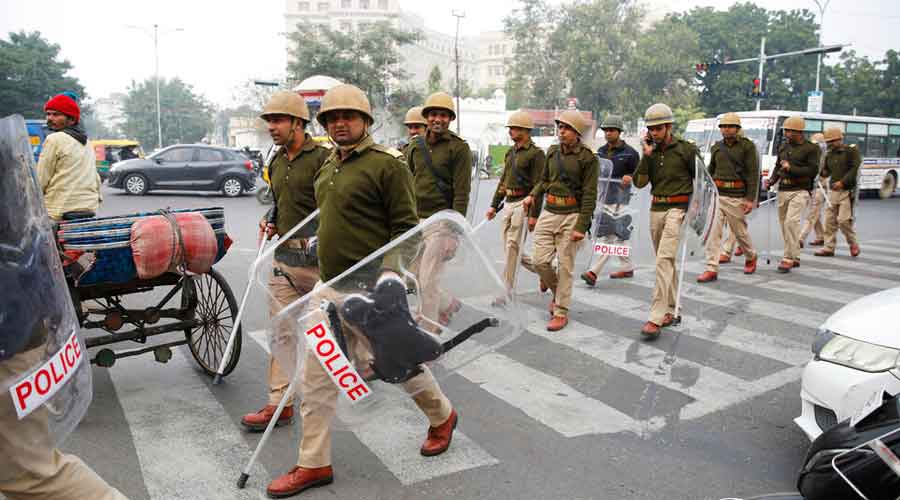 Representative image.
File picture
---
Lucknow
|
Published 31.05.21, 01:30 AM
|
---
The family of a meat seller in Uttar Pradesh, Muhammad Aquil, has alleged that he died after police hit him on the head with a rifle butt and threw him off the roof of his house during a raid in the dead of night.
The police in Bulandshahr denied the allegation and said Aquil, 43, had injured himself while trying to flee during a raid by jumping off the roof of his one-storey house. The police said Aquil had 12 cases of cow slaughter, which is banned in Uttar Pradesh, against him.
Aquil's family have denied the allegation of cow slaughter and said he used to trade in goat meat.
In a video that has been widely shared on social media, Aquil's two minor daughters are seen saying that the police barged into their house at Khabil Gyan around 1am on May 23.
"The police hit my father with the butt of a rifle and threw him off the terrace," one of the girls says in the video.
The other girl says: "We were sleeping on the terrace. The police barged into the house and attacked my father around 1am. They hit him on the head with a rifle butt and pushed him off the terrace. His skull cracked."
"Some policemen stood at the main gate while some others entered the house by opening an under-construction gate," she added.
Aquil's family said he died at a hospital in Delhi on May 27 and was buried at Khurja in Bulandshahr the next day.
Suresh Kumar Singh, the circle officer (CO) of Khurja, said: "Aquil's death is a mystery for us. We came to know about it on May 28 when some people staged a dharna at the Munda Khera crossing, alleging that the police had thrown him off his terrace."
"We conducted a preliminary inquiry the same day and reached the conclusion that Aquil, who was wanted in 12 cases of cow slaughter, had jumped off his terrace to evade arrest when a police team reached his gate," Singh said.
The officer said Aquil had escaped in similar fashion many times earlier. Singh said that on May 23, the police team had left after assuming that Aquil had made a getaway through the narrow lanes after jumping off from the side of the roof that is opposite the direction from which the cops came.
"Our investigation has revealed that he suffered injuries when he fell on the road. His family members secretly admitted him to a local hospital under another name — Mohammad Shahid. From there, he was shifted to Aligarh and then to Delhi. He died at the Delhi hospital on May 27. While his family members brought the body back and were going to bury him the next day, some anti-social elements staged a dharna on May 28 against the police," said Singh, the CO.
Santosh Kumar, senior superintendent of police of Bulandshahr, said: "Since some people of the area have staged a dharna and claimed that policemen had pushed him off the rooftop, I have asked Harendra Singh, the superintendent of police (rural), to conduct a probe."