Uttar Pradesh: Axe falls on officer who promoted Urdu
Director of health department says Tabassum Khan has been suspended for 'dereliction of duty'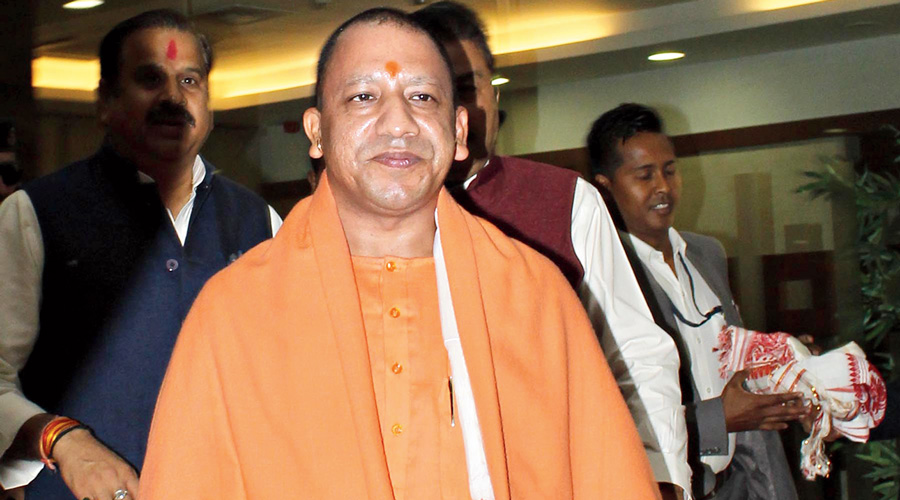 Yogi Adityanath.
File photo
---
Lucknow
|
Published 15.09.22, 02:58 AM
|
---
The Yogi Adityanath government has suspended Tabassum Khan, joint director in the health department, a week after she ordered that Urdu be used along with Hindi on the signboards of community and primary health centres and on nameplates of government doctors.
Raja Ganpati R, director (administration) of the health department, said Khan had been suspended for "dereliction of duty" but did not elaborate. Urdu has been Uttar Pradesh's second language since 1989 and the government would periodically issue reminders encouraging its use.
But these reminders stopped after Adityanath became chief minister in 2017, sources said. A senior health department official said on condition of anonymity Khan's suspension letter says "she has been punished for dereliction of duty as she didn't inform senior officers of her department before issuing the notice".
The official said: "Khan had sent the order to the chief medical officers and heads of community and primary health centres on September 1, 2022, when Mohammad Harun, a resident of Unnao district, submitted an application to her citing the Uttar Pradesh government order of October 1989 giving Urdu the status of second state language after Hindi, which was always the first language."
Khan's order was never implemented and was withdrawn within a week. Samajwadi Party patriarch Mulayam Singh Yadav was chief minister when Urdu was accorded the status of the second language of Uttar Pradesh. Scholars say Urdu had started developing between Lucknow and Punjab with its epicentre in Delhi in the 12th century.
When Urdu became a literary language in the 18th century, Lucknow, the Uttar Pradesh headquarters, and Delhi became the seats of the two standard forms of the language spoken in India. 
Reacting to Khan's suspension, senior Congress leader Dwijendra Tripathi said: "The state government used to issue letters to its departments at regular intervals urging the use of Urdu as one of the two languages of communication. It used to put up notice boards and signboards in Urdu. Khan's letter was only in continuation of such letters. "Shailesh Krishna, the then principal secretary of the Uttar Pradesh government, had in 2015 issued a similar letter.
He had cited the government's decision of 1989 and asked all office heads to use Urdu as the second language after Hindi for written communication. The letter had also asked the various departments to publish advertisements and put up important signboards of the government in Urdu. Krishna had cited certain past orders of the government and a Supreme Court directive in his communication."