Blinken: Across-the-board engagement
US and India discuss staging area for 'over-the-horizon' forces
The Joe Biden administration has been considering the surveillance operations to maintain the security situation in Afghanistan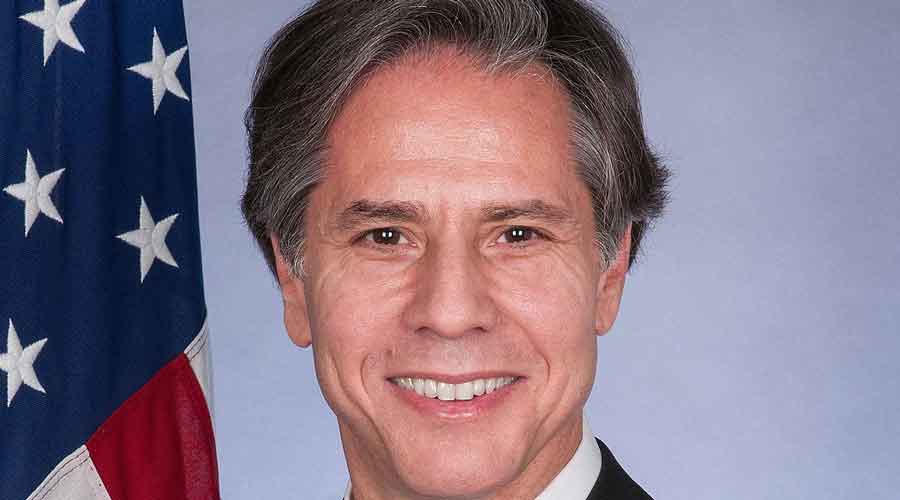 Antony Blinken
File picture
---
New Delhi
|
Published 15.09.21, 02:41 AM
|
---
Washington is discussing with India a possible staging area for "over-the-horizon" forces that are being talked about by the Joe Biden administration for maintaining the security situation in Afghanistan, US secretary of state Antony Blinken has indicated.
"Over-the-horizon" operations are missions launched from another country aimed at surveillance or other targets beyond the visual and radar range of the operational base.
Blinken referred to the discussions with India while testifying on Monday before the House foreign affairs committee on Afghanistan.
The secretary of state had been asked by a Republican Congressman from Tennessee whether, given Pakistani agency ISI's support for the Taliban, the Biden administration had "reached out to India as a possible staging area for the over-the-horizon forces — I'm talking northwest India as a potential — because we all know Qatar and Doha and the other places are just a little bit too far".
In response, Blinken said: "Let me just say generally, Congressman, we're deeply engaged with India across the board. With regard to any specifics about over-the-horizon capabilities and the plans that we put in place and will continue to put in place, I'd rather take that up in a different setting."
Blinken used the phrase "across the board" and did not qualify the nature of engagement with India while avoiding specifics.
Nearly two decades ago in 2003, the Vajpayee government had come under pressure from the Bush administration to send troops to Iraq but the plan was eventually abandoned. In 1991 during the first Gulf War, a decision by the Chandra Shekhar government to allow US military aircraft to refuel at the airport in the then Bombay had caused an uproar in India.
In recent weeks, President Biden and several serving American generals have talked about maintaining "over-the-horizon capacity" to ensure that Afghanistan does not become a threat to other countries.
Prior to the collapse of the Afghan National Army and the Taliban takeover, the Pentagon had envisaged over-the-horizon capability as a back-up to the government in Kabul.
In a briefing on July 6, Pentagon spokesperson John F. Kirby had said that "as for the over-the-horizon capability", the department of defence was in active discussion with the state department on the nature of what that capability would be.
The US currently lacks any military base in the countries adjoining Afghanistan in Central Asia. Pakistan, which has had to deal with the blowback of facilitating America's war on terror while providing a safe haven to some terror groups, has said it will not host an American base.
Prime Minister Narendra Modi travels to Washington next week for the first physical summit of the Quad leadership on September 24.