UP polls 2021: BJP leader held for attack on woman BDC member
Pramukh elections across the state's 822 blocks has been marred by violence, with the saffron party accused of trying to prevent rival candidates from filing their nominations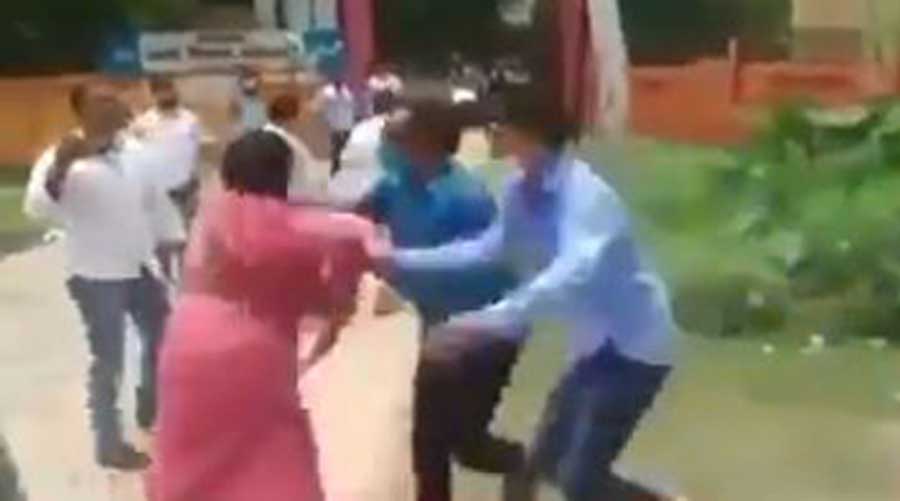 ---
Lucknow
|
Published 10.07.21, 02:24 AM
|
---
A video showing two men pulling a woman's sari, backed up by an official complaint, has led to the arrest of Lakhimpur Kheri district BJP chief Yash Verma on the charge of attacking a woman block development council (BDC) member.
The video purportedly shows Yash and Brij Singh — said to be a supporter of Rekha Verma, BJP parliamentarian from Dhaurahra in Lakhimpur Kheri — assaulting the woman BDC member on the compound of the Pasgawan block office, 130km north of Lucknow, on Thursday afternoon.
Nomination papers were being filed on Thursday for the post of block pramukh — head of the BDC, the second tier of the panchayati raj system whose members had been elected during the state-wide rural polls in April.
The run-up to the July 10 and 12 pramukh elections across the state's 822 blocks — where the voters are BDC members — has been marred by violence, with the BJP accused of trying to prevent rival candidates from filing their nominations.
A would-be pramukh candidate for the Pasgawan block told reporters in Lucknow on Friday that the woman in the video was her proposer. She alleged that Yash and Brij had pulled her sari, too, inside the returning officer's chamber and prevented her from filing her papers.
"I handed a written complaint to the police on Thursday that Brij, a resident of J.B. Ganj area and a supporter of Rekha Verma, and Yash Verma pulled my sari and that of my proposer," she said. "They registered the case a day later under media pressure."
She described the incident: "I somehow pushed past the crowd blocking the entrance to the room of the returning officer and walked in, but they held the BDC member by her hand (on the premises outside), pulled her sari and snatched her belongings, including Rs 7,500 in cash and gold jewellery. They left her injured while pulling her gold earring."
She added: "Some BJP members present in the returning officer's room tried to drag me out while Rekha Verma and the police officers present looked on. I couldn't submit my nomination papers. My supporters somehow rescued me and the BDC member (proposer) and took us away."
The complainant, a resident of Semra Janipur in Lakhimpur Kheri, had rushed to Lucknow on Friday to meet leaders of the Samajwadi Party, which had supported her in the panchayat elections and was supporting her for the pramukh's post.
The woman in the video told reporters in Lakhimpur Kheri: "Anything could have happened to me — the BJP members wanted to kidnap me."
She said Rekha and Yash were close relatives and belonged to the same village, Maksudpur.
Sumit Kumar, who identified himself as Rekha's representative, blamed Samajwadi supporters for the "ruckus" at the block office but sidestepped the specific incident of sari-pulling.
Kumar said: "The dispute began when a Samajwadi supporter's car hit my car while we were about to enter the block office. Our supporters didn't do anything; the Samajwadi members created a ruckus as they knew they would lose the election."
As news channels began beaming the video and social media users circulated it on Friday, additional director-general of police Prashant Kumar said Yash had been arrested and officers were probing the matter to see whether Brij should be taken into custody too.
"Seven policemen have been suspended for allowing such an incident to happen, and an inquiry has been ordered," he said.
Buddhipriya Singh, assistant returning officer for the pramukh election at Pasgawan block, said she had received only two nominations — those of Urmila Katiyar and Shikha Singh.
The would-be candidate who alleged she was prevented from filing her papers said Urmila was the outgoing block pramukh and the mother of Rekha and that Shikha Singh was an associate of the MP and "a dummy candidate".
Chief minister Yogi Adityanath asserted "zero tolerance" for the perpetrators of the sari-pulling but named no political party.
Former chief minister and Samajwadi president Akhilesh Yadav accused the BJP of "bullying Opposition candidates" and alleged that district magistrates and superintendents of police were "behaving as BJP workers".
July 8, 2021
BDC kin killed
Some BJP workers tried to kidnap a woman BDC member from Khairighat, Bahraich district, around 2am on Friday and ended up murdering her 60-year-old brother-in-law, a police complaint says.
Sundar Lal, husband of BDC member Yadurai Devi, said: "Sudhir Yagyasaini, the husband of block pramukh candidate Sarita Yagyasaini, and his goons tried to kidnap my wife at 2am from our home in village Dinapurva. When my elder brother Mayaram resisted, they hit him with a rifle butt and killed him on the spot."
Sudhir is a known BJP worker. Bahraich superintendent of police Sujata Singh said: "The husband of a block pramukh candidate and four others have been booked on the charge of murder and kidnapping. We are trying to arrest them."
News agency PTI later quoted Sujata as saying two accused, Ram Bhulawan Shukla and Jitendra Kumar, had been arrested and teams formed to nab the other accused.
Hostage scare
In Sirathu block, Kaushambi district, a police team raided the home of Independent candidate Dileep Patel on a tip-off and found 18 BDC members present there, PTI reported.
They were taken to Saini police station and later released after the intervention of BJP MLA Shitla Prasad Patel.
Circle officer Yogendra Krishan Narain said he had received information that Patel was holding 18 BDC members hostage, but all 18 said they had gone there willingly.