Uttar Pradesh gangster's 1400km run
After eluding a manhunt for 6 days, Vikas Dubey was arrested from the Mahakal temple at Ujjain in Madhya Pradesh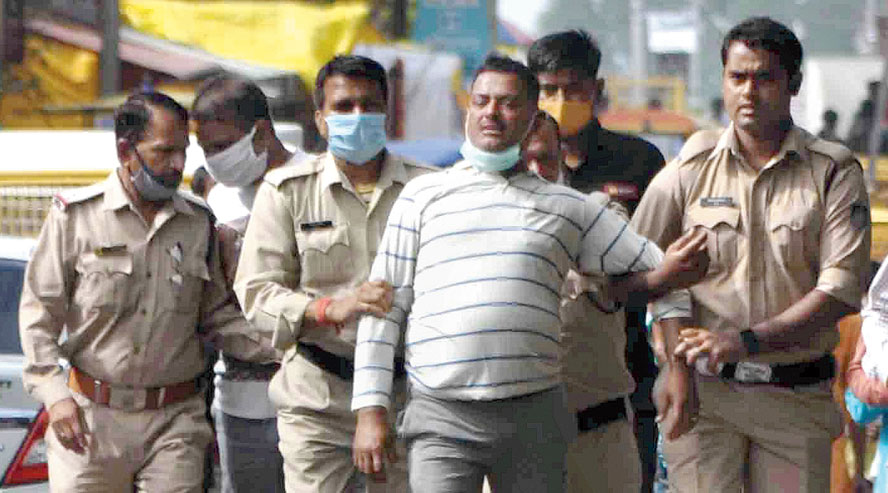 ---
|
Lucknow
|
Published 10.07.20, 04:11 AM
---
Gangster Vikas Dubey, accused of masterminding the ambush and massacre of eight policemen in Kanpur, was killed in an encounter on Friday morning.
He was arrested from a temple at Ujjain in Madhya Pradesh on Thursday morning after eluding a manhunt for six days during which he travelled 1,400km across states.
Television cameras caught the politically connected gangster shouting "main Vikas Dubey hun Kanpur-wala (I am Vikas Dubey from Kanpur)" as he was being pinned against a car after his arrest. A policeman behind Vikas slapped him below the left ear before he was dragged away by cops.
Madhya Pradesh home minister Narottam Mishra, who had been in charge of the BJP's electioneering for the Kanpur region before the 2017 Assembly polls in Uttar Pradesh and is now the party's Ujjain minder, announced that Vikas had been arrested from the Mahakal temple in the pilgrim town around 7.30am.
In the evening, Vikas's wife Richa was arrested in Lucknow on the charge of helping him escape.
The Madhya Pradesh government and eyewitnesses near the temple gave different accounts of what happened on Thursday. While Mishra said the state police had, acting on a tip-off, arrested Vikas, the eyewitnesses said the gangster had surrendered.
Vikas, on the run since July 3 when he and his henchmen allegedly killed eight policemen after being tipped off about a raid on his home in Bikru village, Kanpur Rural district, had travelled around 1,400km via Lucknow and Faridabad (Haryana) to Ujjain in an SUV. During this period, Uttar Pradesh police had killed five of his aides, including two in the past 24 hours.
"We have arrested Vikas; he is in our custody," Mishra said. "Vikas had arrived at the (Mahakal) temple in his car. A police constable identified him first, after which three other (cops) were alerted and he was taken aside for questioning and later arrested."
A private security guard at the temple, however, told reporters: "He (Vikas) was sitting on a bench after offering prayers. Then he called a guard and said, 'I'm Vikas Dubey from Kanpur and want to surrender'."
Ashish Kumar, a priest, told reporters: "He was shouting continuously that he was Vikas Dubey. He asked the guards to inform the police about him."
A flower seller near the Mahakal temple, where devotees come to rid themselves of the fear of death, said Vikas had come to his shop to deposit his bag before going off to offer prayers.
"A few security guards identified and accosted him when he came out of the temple. They took him to a room and asked him about his identity. He said he was not Vikas Dubey. Then the temple staff called the police," the flower seller said.
A police source in Uttar Pradesh said the temple guards had taken Vikas to a room on the premises and asked him to sit on a sofa when he revealed his identity. Some pictures and purported footage from CCTV cameras show a smiling Dubey sitting in the room.
The Uttar Pradesh government had on Wednesday increased the reward for information on Vikas from Rs 2.5 lakh to Rs 5 lakh.
A police officer in Lucknow said: "Vikas had travelled to Shivali, 10km from Bikru, (after the July 3 ambush) and stayed there for two days. He then travelled 80km to Lucknow, stayed there for a day, and then rode 540km to Faridabad where he tried to check into a guesthouse on Tuesday. Two of his aides had been staying there.
"The receptionist, however, would not let Vikas check in as he couldn't furnish his identity proof. From there he travelled 770km to Ujjain."
The two aides — Prabhat alias Kartikeya Mishra and Ankur Kumar — were arrested on Wednesday. Early on Thursday, the special task force of Uttar Pradesh police gunned down Prabhat in Kanpur when he allegedly tried to escape from custody.
"The STF was taking Prabhat to Kanpur but he tried to escape when the police jeep stopped because of a flat tyre. He was killed in firing," said Dinesh Kumar, senior superintendent of police, Kanpur.
Another associate of Vikas, Amar Dubey, had been shot dead in an encounter in Hamirpur, Uttar Pradesh, on Wednesday.
Vikram Singh, former director-general of police, Uttar Pradesh, said he believed that Vikas had surrendered under pressure from the police. "It needs to be investigated who helped him reach Ujjain. It's now the responsibility of the Uttar Pradesh police to decimate the killer's entire network," Singh said.
Prashant Kumar, additional director-general of Uttar Pradesh police, said: "We didn't have any intelligence about his Ujjain visit. He has been arrested and every thread will be connected soon. He will be brought to Kanpur this (Thursday) evening."
Madhya Pradesh chief minister Shivraj Singh Chouhan tweeted at 10.28am: "Congratulations to Ujjain police for the arrest of Vikas Dubey. I have talked to the CM of UP (Yogi Adityanath). Further legal action would be taken soon. Madhya Pradesh police will hand over Vikas Dubey to Uttar Pradesh police."
Samajwadi Party leader and former Uttar Pradesh chief minister Akhilesh Yadav said: "The way Vikas travelled from UP to Madhya Pradesh proves that he had been in touch with those who knew about the government's strategy against him. The government must make public Vikas's call details."
When reporters informed Sarla Devi, Vikas's mother, in Bikru village that her son had been arrested, she said: "Thank you Mahakal. You saved my son from police encounter and death."
She said Vikas had been associated with the Samajwadi Party, which denied the claim.