Union minister Sanjeev Balyan's policy of gate-crashing farmers' family events to thumb his nose at a Bharatiya Kisan Union call to boycott BJP members triggered a clash that left four villagers hospitalised on Monday and spawned the gherao of a police station.
Residents of Soram village in Muzaffarnagar district, western Uttar Pradesh, said Balyan's "goons" and policemen had used sticks to thrash villagers protesting his visit in the afternoon.
After the Muzaffarnagar MP and 2013 riots accused left, policemen entered homes, dragged men and women out and threatened them, they alleged.
The villagers held a panchayat and surrounded Shahpur police station, 4km away, demanding action against the minister of state for animal husbandry, fisheries and dairy development. The three-hour gherao ended around 9.30pm after the police promised action on the basis of their complaint.
"Balyan's men had lathis in their cars and attacked those chanting slogans peacefully against their visit. They dragged me out of my home and damaged my doors," a villager, Sarita Devi, said.
"Instead of acting against the minister and his goons, the police have detained five farmers," local farmer Madan Singh told reporters.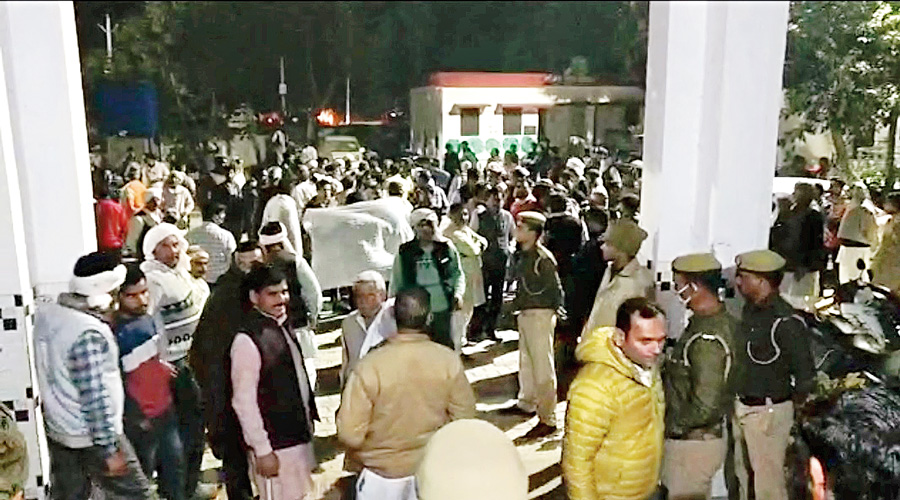 Farmers outside the Shahpur police station seeking action against Balyan. Telegraph picture
Balyan accused the Rashtriya Lok Dal (RLD) of engineering protests while he was attending the terahvin (a post-death ceremony) at a villager's home, and said he had left as soon as "some people clashed with some others".
But villagers said residents of the neighbourhood had protested when Balyan arrived uninvited and thrust his company on an unwilling host — a tactic that is earning the minister scorn and anger in his stronghold.
Balyan has been systematically storming homes, confident that his status and the farmers' civility would avert any rebuff, since BKU leader Naresh Tikait announced on February 18 that peasants of the region would not invite any BJP member to their homes.
This was a huge snub in a region where, as Tikait emphasised, "we tend to invite the entire area to family events like marriages and last rites".
"Those who (host BJP members) will be punished and made to offer food to 100 local people," Tikait had said.
Balyan took up the dare and began visiting homes with a vengeance — taking in villages like Kankra, Goela, and Jaitpur on Saturday and Sunday — either to express condolences for deaths or to attend engagement ceremonies.
Sometimes he got outwitted. When Balyan headed for Bhainswal in adjoining Shamli district on Sunday, residents got wind of it and blocked the roads with their tractors.
Tikait on Monday appealed for calm, saying a democracy gives everyone the right to state their case. He, however, asked people's representatives to be mindful of people's sentiments.
The BJP is said to have tasked Balyan with placating his Jat constituency in western Uttar Pradesh, worried by the community's anger at the new farm laws and recent efforts at reviving the formidable Jat-Muslim "brotherhood" that had been the party's nemesis for decades.
That brotherhood had been shredded by the September 2013 Muzaffarnagar riots, which Balyan is accused of instigating, making him a divisive figure in this context.
However, he so far seems to have attracted strong derision from Jat farmers.
Sudheer Chaudhary, village panchayat chief of Soram, said Balyan had come to his home from the terahvin and touched his father's feet.
"This angered the villagers as we have been staying away from BJP leaders on the BKU's call," he said.
Santresh Devi, a Soram resident, said: "Policemen barged into my home after Balyan and his goons left and pointed a pistol at my son. They dragged him out and threatened him."
She added: "Earlier during the clashes, Balyan's goons attacked (neighbourhood youths) Situ, Yogesh, Omkar and Bablu."
Sarita Devi said: "We had created Sanjeev Balyan and now he is playing with our honour."
Balyan said: "There was a terahvin for Rajveer Singh in Soram. Some RLD workers arrived and started chanting slogans. The villagers drove them away. When the police arrived, I said I didn't want any action against those people."
He said it was his "democratic right" to meet people and discuss certain issues.
RLD leader Ajit Rathi, who was at the Shahpur police station, said: "The villagers have called a mahapanchayat in Soram on February 26 to discuss today's incident and devise a strategy to keep the BJP at bay."
RLD vice-president Jayant Chaudhary tweeted in Hindi: "Many people have suffered injuries in a clash between the BJP and farmers. At least, you (BJP leaders) can behave properly even if you can't talk in favour of the farmers."
'Ridiculous' jab
Another Muzaffarnagar village, Raipur Nangli, had held a panchayat on Monday morning and reaffirmed the pledge to not entertain BJP members until the three farm laws had been repealed.
However, Balyan, BJP zonal president Mohit Beniwal, Budhana MLA Umesh Malik and a few other party leaders visited the home of an apparently unwilling Gajendra Singh Ahlawat, chief of the Ahlawat khap, in Raipur Nangli on Saturday.
"The villagers chanted slogans against the Centre, BJP and Balyan. I told Balyan there was no reason to entertain them until the farm laws had been withdrawn. They soon left," Ahlawat told reporters.
"They are turning up at farmers' family functions without invitations, which is ridiculous."
Rajveer Singh, a farmer in Khatauli, said: "Our houses are mostly open from the front, and we cannot stop anybody from sitting in our courtyards. But we will not invite BJP leaders."
He added: "Those who come without invitation should be ready to face opposition. We appeal to BJP leaders not to test our patience."
The Samyukta Kisan Morcha on Monday said agriculture minister Narendra Singh Tomar had insulted the farmers' movement by saying "laws cannot be repealed by collecting a crowd".
It reminded him that this same crowd had voted for the BJP in previous elections.
Additional reporting by Anita Joshua