UP, Bihar and Bengal fall on health index
The findings suggest that health parameters in poorest-performing states have deteriorated over the two-year period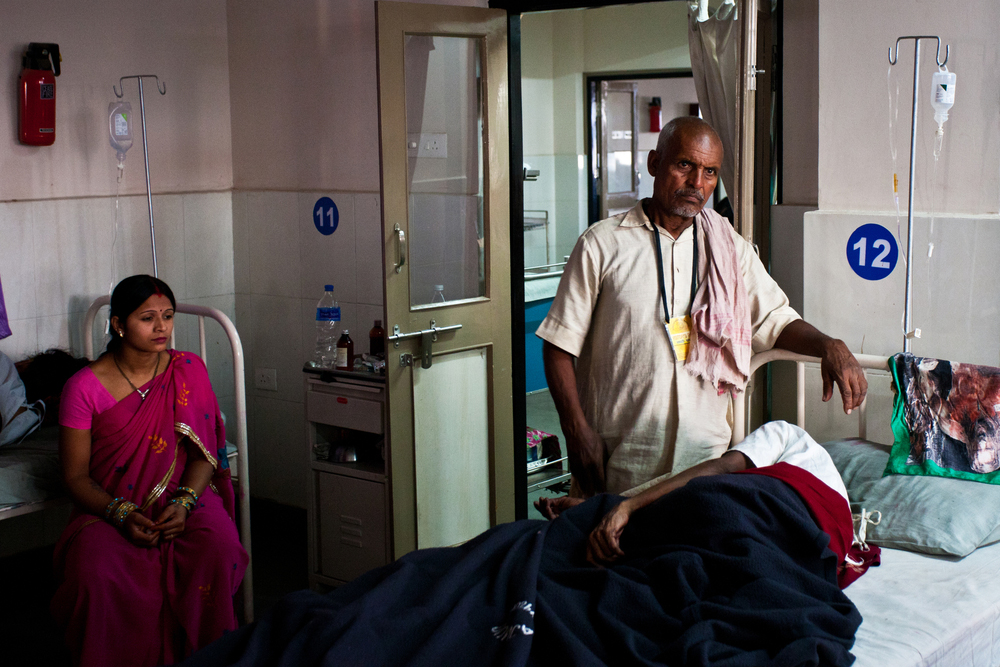 ---
---
Measures of human health have fallen in eight states, including Bengal, with the steepest incremental drops over a two-year period in Bihar and Uttar Pradesh, according to a health index released on Tuesday by Niti Aayog, the government's think tank.
The index — a tool to assess states' performance on 23 measures of health care — has found that the scores of Bihar, Uttar Pradesh and Uttarakhand fell by five or more points during 2017-18 compared to 2015-16.
The findings suggest that health parameters in states with the poorest performance on health have deteriorated over the two-year period.
Their lower scores have been attributed to multiple parameters, including low birth rates, quality of public health facilities, rapid transfers of state and district level health personnel, and drops in tuberculosis treatment success rates, among others.
Even Kerala, the nation's best performing state on health parameters, showed a 2.55 point score decline while Bengal's score fell by 1.08. The most significant improvements have occurred in Haryana, Rajasthan, Jharkhand, Assam and Andhra Pradesh.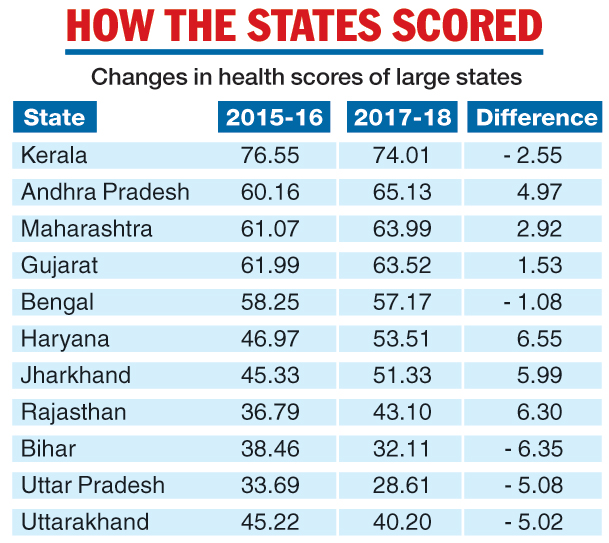 For most states, the higher their economic development levels, the higher their health index scores. However, a senior Niti Aayog official said a few states such as Jammu and Kashmir, Manipur, Mizoram and Andhra Pradesh with relatively low economic development levels have still performed well on health measures.
"While a state's prosperity counts, there may be lessons from these states for others," said Vinod Paul, a senior paediatrician and member of Niti Aayog. "Strong health systems, good governance, and policies are important."
The health index has also shown that some states or Union Territories, such as Goa, Delhi or Sikkim, with relatively high economic development levels have not performed well on the health index. The proportion of staff nurses' vacancies in primary health centres and community health centres in Goa, for instance, has deteriorated during the two-year period. In Delhi, the fraction of medical officers' vacancies in primary health centres has deteriorated.
TB treatment
The 2019 health index has also revealed that tuberculosis treatment success rates have fallen in 29 of 36 states or Union territories over the two-year period, underscoring the challenge India will face in its efforts to eliminate the disease by 2025.
The steepest incremental changes from 2015-16 to 2017-18 were in Uttar Pradesh (23.5 points), Bihar (17.8) and Odisha (16.4), but other states too lost on health scores because they performed poorly on TB treatment success rates.
But health analysts tracking India's TB control programme say the data will need to be scrutinised to determine the cause of these drops. "We need to be sure what the numbers represent — are they real falls in success rates or just improved documentation of real success rates?" said Leena Menghaney, a senior legal expert with Medicins Sans Frontieres.