UP aims to catch alpha male to disperse marauding monkey troops
Experts have seen that the entire group of simians obeys the alpha and follows him wherever he goes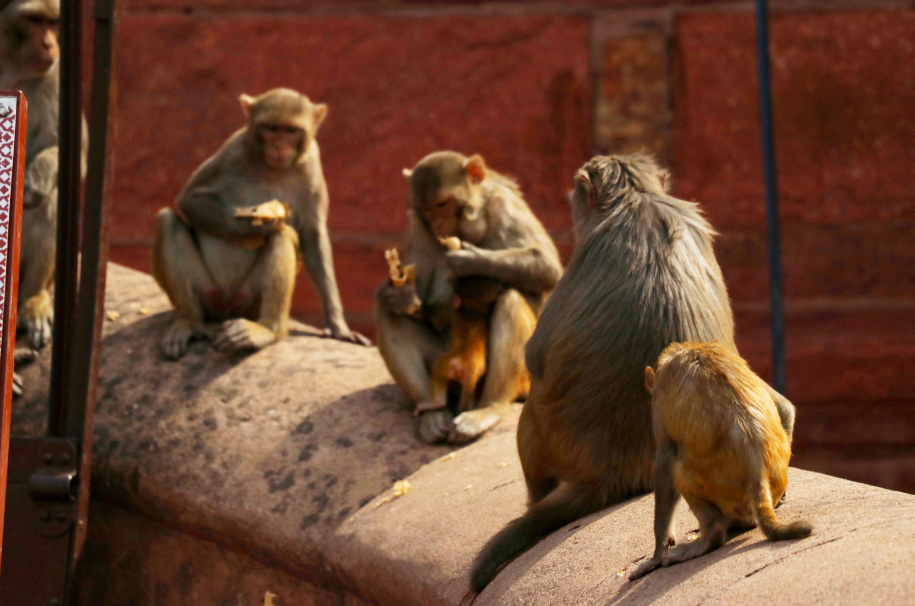 Monkeys at the Agra Fort
Shutterstock
---
Lucknow
|
Published 16.11.18, 10:18 PM
|
---
Many a great war has ended with the capture of the king.
In Agra, which has been held hostage by gangs of marauding monkeys, the administration has decided to fall back on the same strategy.
The SOS unit of the Uttar Pradesh wildlife department has decided to catch the leaders of the packs, the alpha males and typically the most aggressive, so that their simian minions fall apart and scatter.
"We have noticed at several places that the entire group obeys the alpha and follows him wherever he goes. Instead of trying to chase all the monkeys out of the city, it is better to catch the alpha and the group itself will break," said Baiju Raj, the director (conservation project) of the wildlife SOS rapid-response team.
The initial plan is to put iron cages at strategic locations in Agra with the hope that the alphas would be the first to enter them. The pack leaders would then be caged and transported to forests 40-50km from Agra so that they can't return.
Sources in the administration said the plan would be implemented in a day or two.
In the past few days monkeys have killed two persons in Agra.
Bhuran Devi had been on her way to a local market when the monkeys suddenly attacked her. She was rushed to hospital where she died of excessive bleeding.
Earlier, on November 12, monkeys had swooped on a house and snatched Neha Devi's 12-day-old son, Arush, from her lap as she breastfed him. The monkeys then leapt to a neighbouring rooftop where they bit the baby's head. The infant died.
The monkeys have also attacked at least three more children and tourists in the city of the Taj Mahal. The latest attack was on Mayank Singh, 5, when he was returning home from a shop on the outskirts of Agra.
"The monkeys attacked Mayank to snatch a toffee from him," said Balbeer Singh, the boy's father. Mayank is under treatment for head injury.
Residents of Agra have been hiring tamed langurs to stave off the monkey menace. Langurs, which are bigger in size and have a louder voice, are known to scare away monkeys.
Residents of Kagaraul, where Bhuran Devi was attacked, staged a protest against the state government on Friday for "not doing anything immediately to save women and children from the monkeys".
"It is unfortunate that the residents of the city have been left to fight against the monkeys. It is the duty of the police, the local administration and the forest department to act quickly before more deaths and attacks take place," said Rahul Joshi, a resident of Kagaraul who participated in a procession against the government.
Arun Prakash, the municipal commissioner, said forest department and local administration officials would soon meet to find a solution.