Union govt announces 'some relaxation' on wheat export ban
Announcement comes hours after US urges countries not to restrict supply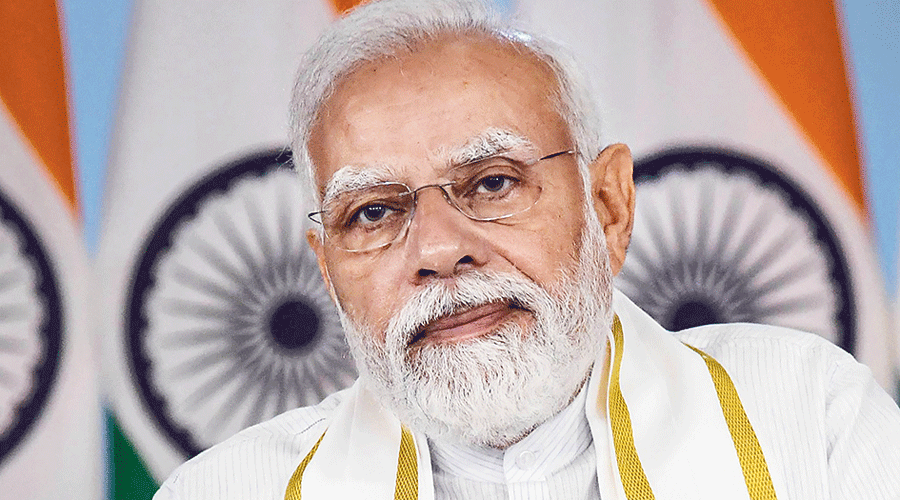 Narendra Modi.
File photo
---
New Delhi
|
Published 18.05.22, 02:52 AM
|
---
The Union government on Tuesday announced "some relaxations" in the wheat export ban, hours after the US urged countries not to restrict the supply.
The relaxation was announced by the Union commerce ministry amid reports of at least 4,000 trucks loaded with wheat stranded at Kandla Port in Gujarat over the weekend in the absence of clarity following the surprise announcement of the export ban on Saturday. The Indian government had earlier promised to supply wheat to the world to address the shortfall because of the Russia-Ukraine conflict.
The confusion in Kandla was reminiscent of the chaos that followed demonetisation in 2016 and the lockdown in 2020.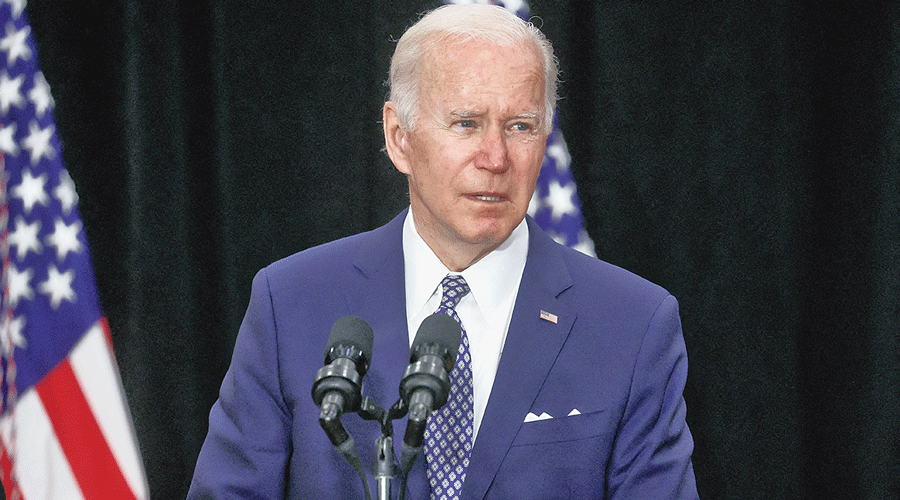 While the commerce ministry's media release did not detail the reasons for announcing relaxations in the wheat export ban announcement of May 13, Congress veteran and former Union minister of state for commerce and industry Jairam Ramesh was quick to draw a connection with the US nudge.
"First grab headlines by announcing big wheat exports to replace Ukraine. Then declare ban on wheat exports because of domestic price situation. Thereafter relax ban because USA is unhappy with it. All within a span of 5 days! No surprise from the Vishwaguru of 'masterstrokes'," he tweeted.
First grab headlines by announcing big wheat exports to replace Ukraine.

Then declare ban on wheat exports because of domestic price situation.

Thereafter relax ban because USA is unhappy with it.

All within a span of 5 days!

No surprise from the Vishwaguru of 'masterstrokes'

— Jairam Ramesh (@Jairam_Ramesh) May 17, 2022
On Monday, briefing the media in New York on global food security, US ambassador to the United Nations Linda Thomas-Greenfield had said: "We're encouraging countries not to restrict exports because we think any restrictions on exports will exacerbate the food shortages." She was responding to a question on whether the US had a reaction to India's decision to limit exports of wheat.
Thomas-Greenfield added: "India will be one of the countries participating in our meeting at the Security Council, and we hope that they can, as they hear the concerns being raised by other countries, that they would reconsider that position." She was referring to an open debate that the US is calling in the United Nations Security Council on Thursday on Conflict and Food Security.
On Tuesday, the Indian government said overseas wheat shipments awaiting customs clearance would be allowed. Wheat exports to Egypt will also be allowed.
"It has been decided that wherever wheat consignments have been handed over to Customs for examination and have been registered into their (Customs) systems", either on May 13, 2022, or earlier, would be allowed to be shipped out, the government said.
India banned wheat exports just days after it forecast record shipments of 10 million tonnes this year, as a scorching heat wave curtailed output, sending domestic prices to record highs.
The government said it would only allow exports backed by letters of credit, or payment guarantees, issued before May 13. The provision has created uncertainty, given that of some 2.2 million tonnes of wheat at ports or in transit, traders said they only had letters of credit for 400,000 tonnes.
The export ban also trapped about 1.8 million tonnes of grain at ports, potentially forcing traders to incur heavy losses from selling onto a weaker domestic market.
India's decision to restrict the export of wheat came as a surprise because several ministers of the Modi government had earlier said that New Delhi was prepared to help meet the shortfall in foodgrains the world was facing because of the conflict. Russia and Ukraine together account for more than a quarter of the world's wheat exports, and the conflict has disrupted this supply.
Prime Minister Narendra Modi himself had said on April 13 that he had told US President Joe Biden that India was ready to send food relief to countries if the World Trade Organisation (WTO) permits.
 Addressing the inaugural function of the hostel and education complex of the Shri Annapurnadham Trust at Adalaj, Modi had said: "A war-like situation has developed and everybody is securing its stocks. In such a situation, the world is staring at a new problem as food stocks have started declining.
"During my discussion with the US President yesterday, I assured him to send food relief to countries if the WTO accords permission. We are ready to send the relief from tomorrow itself. We already have enough food for our people but our farmers seem to have made arrangements to feed the world due to the blessings of Maa Annapurna. However, we have to work according to the laws of the world, so I don't know when the WTO will give permission."
Nearly a fortnight later, external affairs minister S. Jaishankar said at the Raisina Dialogue that "India can make a difference today by stepping in, in terms of export of agricultural commodities, especially wheat…. We are trying to see how we can supply more wheat to meet global shortfalls.
"There are, of course, some constraints which is what we have in terms of public stocks, there are WTO limits on trading with those stocks. But this is a very unusual situation and we hope that the WTO will look at it in that manner. If we can contribute today to alleviate food shortages, whether it's government purchases, expanding the markets, helping the World Food Programme, I think this is a very big contribution that we can make and we are prepared to make that."
The government drew flak from the Opposition for the confusion created by the surprise ban.
Leader of the Opposition in the Rajya Sabha Mallikarjun Kharge tweeted: "4 lakh metric tonnes of wheat stranded outside ports from retailers of MP alone. 4,000 wheat-laden trucks in a queue. 4 ships half loaded and no order to sail. No one knows what to do with it because the insensitive Govt didn't even plan about it. Be it Demonetisation or unplanned lockdown and now the ban on wheat exports — these unplanned decisions have unleashed chaos on the nation #ModiHaitoMumkinHai."
- 4 lakh metric tonnes of wheat stranded outside ports from retailers of MP alone
- 4,000 wheat-laden trucks in a queue
- 4 ships half loaded and no order to sail

No one knows what to do with it because the insensitive Govt didn't even plan about it. (1/2)

— Mallikarjun Kharge (@kharge) May 17, 2022
 Additional reporting from Reuters