Undeclared positioning of Rahul
Congress changes projection of party chief from a challenger to an alternative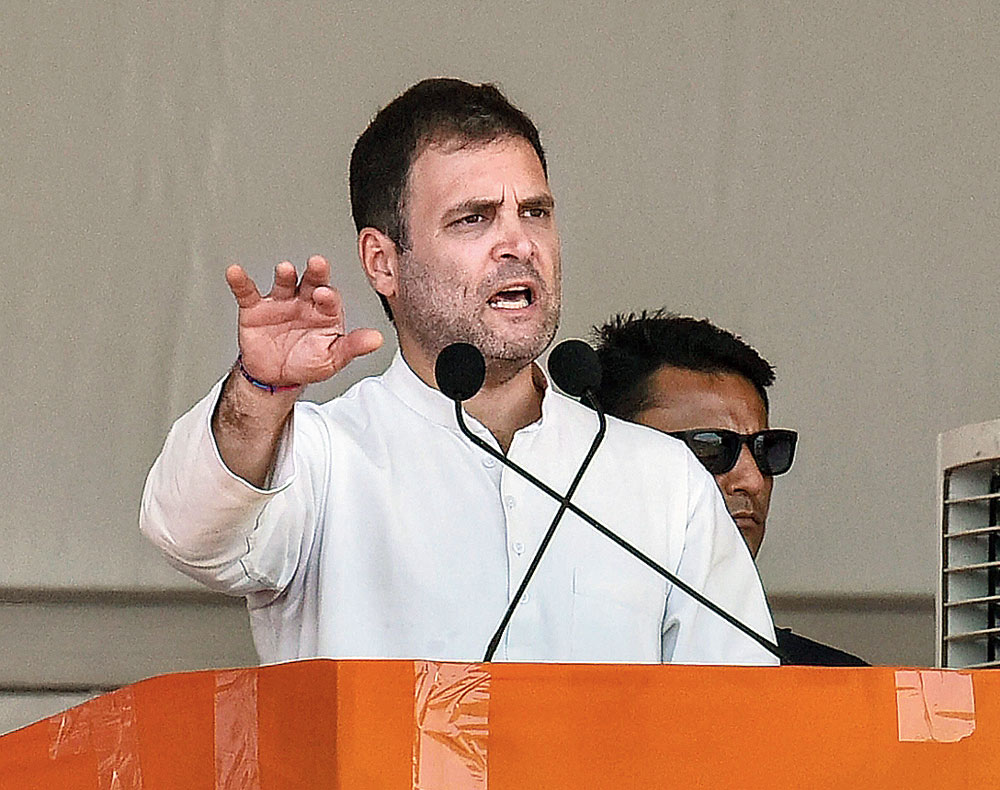 ---
New Delhi
|
Published 01.04.19, 09:41 PM
|
---
The Congress has quietly changed its projection of Rahul Gandhi from a fierce challenger who had shredded Prime Minister Narendra Modi's aura of invincibility to a leader ready with an alternative vision for the country.
For the past four-and-a-half years, the party and Rahul himself had toiled away with the sole agenda of demolishing Modi's image. They have now changed tack, just in time for the general election, to focus on laying out what they have to offer.
Rahul has over the past few weeks spoken extensively on governance and policies, explaining to the electorate what he stands for. The Congress too has run a social media campaign highlighting his promises and portraying him as a leader who cares. In another campaign, #RahulForYoungIndia, his ideas and proposals have been listed.
"Although we are not going to project him as the candidate for Prime Minister, it is clear he has matured as a leader and is waiting to shoulder larger responsibilities," a party strategist said.
"Rahul didn't want to be projected through an advertisement campaign; he has accomplished it through his own actions."
An aide to Rahul said: "We are into a very complex election in which the primary objective is to stop Modi from retaining power. Rahulji has himself clarified that this election is about the soul of India, not about power and victory. The unity of the Opposition too rests on this understanding."
He added: "We have therefore avoided projecting him as the Prime-Minister-in-waiting, but he has emerged as the supreme leader in the Opposition ranks. Post-poll calculations will happen later, but the country now knows about Rahul's leadership and his philosophy. He has established his credentials with his sustained struggle."
Rahul has explained his ideas on a host of subjects from politics and the economy to public welfare, diplomacy, administration, education and agriculture during interactions with students and others, in India and outside. He has repeatedly challenged the Prime Minister to a debate on any issue.
Although the party manifesto is to be officially released only on Tuesday, Rahul has already used its key components to advertise his worldview.
He has showcased his idea of battling poverty with Nyay, a minimum income guarantee scheme, cementing his credentials as a believer in the government's role in welfare. He has also promised a right to health care, a loan waiver for farmers, massive investments in education and innovative measures for job creation.
Rahul's recent announcements about scrapping the Niti Aayog and freeing new entrepreneurs from the chokehold of the permission-and-regulation regime have provided a glimpse of his outlook on governance and administration.
When his pro-poor position raised questions about his attitude towards industry, he clarified that he was not anti-corporate but only against crony capitalism.
The Congress president has lauded decisions like the nationalisation of banks, and is yet to clarify his stand on economic liberalisation, but he has indicated that he is not rigid and would respond to situations with an open mind. He has emphasised that it was the Congress that brought in both the bank nationalisation of 1969 and the economic reforms of the 1990s.
Rahul's stress on passing the women's reservation bill and his pledge to reserve a third of government jobs for women and provide free education to the girl child reflect his stand on gender disparities.
On foreign policy, he has avoided strident Modi-like posturing while subtly indicating that he prefers India's traditional positions of non-alignment and friendly relations with all.
The Congress hasn't unveiled its campaign strategy or slogans yet but sources say these will not be Rahul-centric.
"The essence of the campaign will be issues, not the leader. While Nyay is the central theme, Modi's failures will be highlighted through our campaign," a member of the party's publicity committee said.
"Our manifesto is so powerful that the campaign theme will obviously be extracted from that."