The tough battle in one riot case
Delhi riots: Umar Khalid, Khalid Saifi discharged of stone-pelting, arson charges
Both rights defenders to remain behind bars as undertrials in a riot conspiracy case where the anti-terrorism law UAPA has been invoked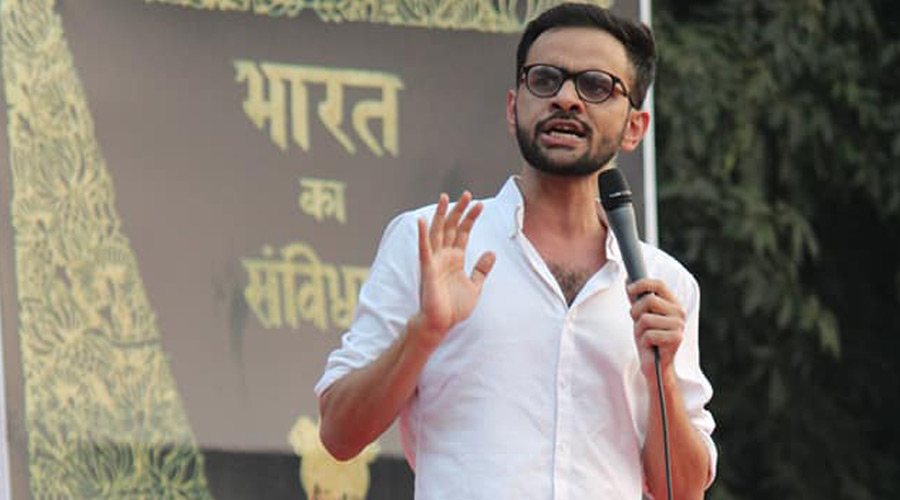 ---
New Delhi
|
Published 04.12.22, 03:11 AM
|
---
A Delhi court on Saturday discharged rights defenders Umar Khalid and Khalid Saifi in a case relating to stone-throwing and arson during the February 2020 riots in northeast Delhi.
Both will, however, remain behind bars as undertrials in a riot conspiracy case where the anti-terrorism law UAPA has been invoked and they have been denied bail.
A PTI report said: "The FIR (101/2020 of Khajuri Khas police station) in the case was registered on the basis of the statement of Constable Sangram Singh who said a riotous mob had pelted stones on Main Karawal  Nagar Road, besides setting ablaze several vehicles in a nearby parking lot on February 24, 2020.
"Special public prosecutor Madhukar Pandey confirmed that Umar Khalid and Khalid Saifi were discharged in the matter by the court of additional sessions judge Pulastya Pramachala (of the Karkardooma Courts)."
Umar's father S.Q.R. Ilyas told The Telegraph: "But there is another FIR, 59/2020, (of the crime branch) with similar charges but carrying the UAPA and other draconian sections of criminal law. In FIR 59 he was denied bail by the lower court as well as the high court.
"Anyway, it (Saturday's discharge) is a good development and will definitely impact the other case also. I am grateful to the Almighty and thankful to his lawyer — senior advocate Trideep Pais — and his entire team for their exemplary legal efforts."
"The  battle has been quite tough but we are positive about getting justice," Ilyas told PTI. 
"My son has been quite tough and has always consoled us whenever we visited him. Meeting him was very difficult because of the charges levied against him."
While granting bail to Umar in the Khajuri Khas case in April last year, additional sessions judge Vinod Yadav had said: "I find absolutely no substance in the argument of learned special PP that in a case of criminal conspiracy, the disclosure statement of co-accused can be read against another co-accused, merely on the ground that pursuant thereto the CDRs (call data records) of co-accused were unearthed  which led to the recovery of fact of meeting dated 08.01.2020."
Judge Yadav had added, while granting bail to Umar last April: "The sole evidence of this so-called conspiracy is a statement of PW (prosecution witness) Rahul Kasana, wherein he stated on 27.09.2020 that he was standing outside a building in the area of Shaheen Bagh, where he had dropped principal accused (and jailed former AAP councillor) Tahir Hussain and thereafter he saw applicant (Umar) and Khalid Saifi going into the same building. I fail to understand from the aforesaid statement how a lofty claim of conspiracy can be inferred."
Saifi, founder of United Against Hate, had received bail in the Khajuri Khas case in 2020 itself.
The police have linked protests against the new citizenship regime in 2019-20 — in which Umar and Saifi participated — to the subsequent communal riots in Delhi that claimed 53 lives.
Saifi's wife Nargis tweeted: "This (discharge) means the police have no evidence, and that only by making a fake case of UAPA, they have kept both of them in jail."
While denying Umar bail in the UAPA case, where the police have alleged a conspiracy to incite the riots, Delhi High Court had in October said: "The protest planned was 'not a typical protest' normal in political culture or democracy but one far more destructive and injurious, geared towards extremely grave consequences….
"The attack on police personnel by women protesters in front only followed by other ordinary people and engulfing the area into a riot is the epitome of such pre-meditated plan and as such the same would prima facie be covered by the definition of 'terrorist act'."
Supporters of Umar and Saifi tweeted on Saturday night, with author Ashok Pandey writing: "Their crime is their conscience and their names. Even his enemies know the rest of the facts."
PTI said Judge Pramachala had ordered the framing of charges against Tahir, the AAP leader, and 10 others in the Khajuri Khas case. Apart from Umar and Saifi, the others discharged were Tariq Moin Rizvi, Jagar Khan and Mohd Illiyas.