Two Prime Ministers, two responses
Christchurch and Pulwama: Golden-hour responses charted dramatically different courses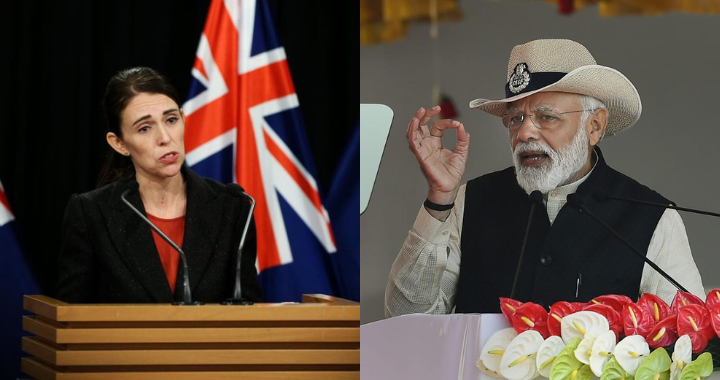 ---
---
More than 40 people are killed in terror attacks in the afternoon. The Prime Minister goes on air to address the nation, emphatically denounces the forces of hate and delivers an unequivocal message of inclusiveness.
If terrorism bound Christchurch and Pulwama together in senseless bloodshed, the golden-hour responses from the top in India and New Zealand charted dramatically different courses.
Within the first few hours of the shootings, New Zealand Prime Minister Jacinda Ardern addressed her nation twice and then fielded questions at a media conference.
Ardern, at 38 one of the youngest heads of government in the world, emphatically declared that the victims, many of whom may be migrants or refugees, "are us" and the shooter "is not". The overriding theme of the Prime Minister's statements was that her country represents "diversity, compassion and refuge".
In contrast, circumstances surrounding the immediate aftermath of the Pulwama terror attack are shrouded in controversy. Allegations, vigorously denied by the government, that the Indian Prime Minister was shooting for a film at the Jim Corbett Park gained traction because Narendra Modi reserved his most vocal comments for the campaign trail.
Barring a tweet, Modi neither addressed the nation nor the media. The visible podium of national leadership was left vacant by a Prime Minister who had made spectacular gains from his communication skills in 2014 and who used to mock his predecessor as "Maun-mohan".
After the November 2008 Mumbai terror attacks, the then Prime Minister, Manmohan Singh, had addressed the nation and appealed for calm.
After the Pulwama massacre, when Kashmiris were attacked in some places in the country, Modi waited for more than a week to speak out and say that "our fight is for Kashmir and not against Kashmir and Kashmiris".
In New Zealand, Ardern stayed focused on the immediate task of extending a reassuring hand to her country, especially minorities. "I want to assure people… that all our agencies are responding in the most appropriate way, that includes at our borders," she explained.
Some Indians -– mostly and unsurprisingly Modi's critics --- took note of the differences in the approach.
"PM @jacindaardern on mosque shootings in New Zealand. About those attacked (migrants/refugees): 'They are us'. About the attackers: 'They have no place in New Zealand'. So unlike Modi," Congress politician Salman Soz tweeted.
He was referring to Ardern's statement, in which she said: "Many of those who will have been directly affected by this shooting may be migrants to New Zealand, they may even be refugees here. They have chosen to make New Zealand their home, and it is their home.
"They are us. The person who has perpetuated this violence against us is not. They have no place in New Zealand. There is no place in New Zealand for such acts of extreme and unprecedented violence, which it is clear this act was."
Some comparisons can be merciless. In a digital world where every footprint more or less remains intact to be tracked back, some social media users flagged an apparent delay in Modi's reaction to the New Zealand terror attacks, which are being blamed on the far-Right.
On Friday, Modi wrote to Ardern expressing condolences over the terror attacks. That Modi had despatched the letter was revealed officially around 7pm, more than 12 hours after the attacks and after questions were asked across social media platforms on his prolonged silence on the atrocity.
Modi has a reputation for being quick to post tweets condemning terror attacks.
Modi's letter expressed solidarity with New Zealand at this difficult time and laid stress on India's strong condemnation of terrorism in all its forms, and of those who support such violence.
"He stressed that hatred and violence have no place in diverse and democratic societies,'' an official statement on his letter said.