One pilot dead, two others injured
Two IAF fighter planes crash in Morena district of Madhya Pradesh
Two pilots traced, injured and are being airlifted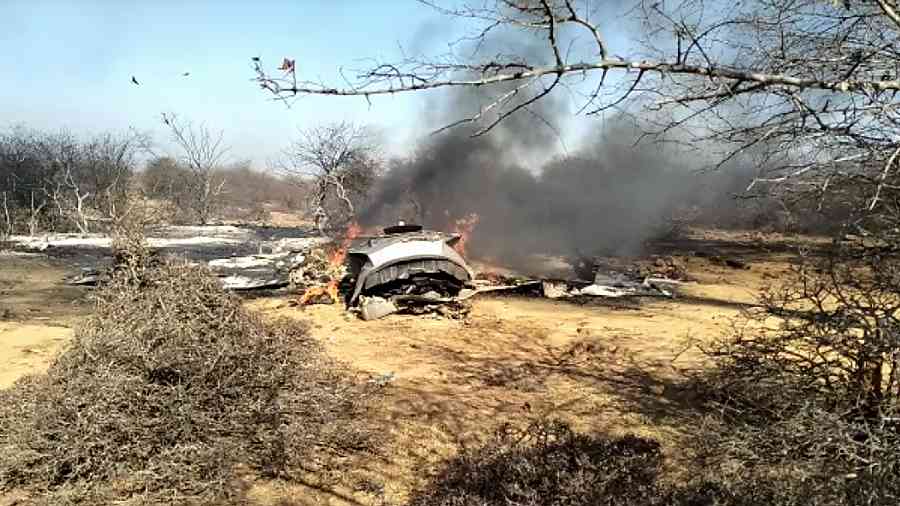 Security personnel near the wreckage after a Su-30MKI and a Mirage 2000 fighter planes crashed during an exercise, at Pagadgarh in Morena district, Saturday, January 28, 2023.
PTI
---
Published 28.01.23, 12:08 PM
|
---
Air Force probing possible mid-air collision, reports NDTV
One of three pilots killed, reports PTI
Two pilots traced, airlifted to hospital, reports NDTV
Two fighter aircraft of the Indian Air Force crashed on Saturday, defence ministry sources said, reports PTI. 
The sources said the exact location of the crash is being ascertained.
Preliminary reports suggested that one aircraft fell in Morena in Madhya Pradesh and other reportedly went down in the general area around Bharatpur, the sources said.
Defence Minister Rajnath Singh was briefed by Chief of Air Staff Air Chief Marshal V R Chaudhari on the crash of two IAF aircraft, they said.
Singh enquired about the well-being of pilots and is monitoring the developments closely, the sources said. 
A Court of Inquiry has been established by the Air Force to understand the root cause of the crash and also to find out whether the jets collied mid-air, reports NDTV. 
"IAF court of inquiry to establish whether there was a mid-air collision or not. The Su-30 had 2 pilots while Mirage 2000 had one pilot during the crash. Initial reports suggest 2 pilots are safe while an IAF chopper reaching the location of the third pilot soon," sources added. 
Two fighter aircraft of IAF were involved in an accident near Gwalior today morning. The aircraft were on routine operational flying training mission.
One of the three pilots involved, sustained fatal injuries. An inquiry has been ordered to determine the cause of the accident.

— Indian Air Force (@IAF_MCC) January 28, 2023
#BreakingNews Pilots have been rescued successfully, no casualties reported in the Morena plane crash. The Indian Air Force (IAF) has been facing a high rate of accidents involving fighter planes now days.#sukhoi #Mirage2000 #planecrash pic.twitter.com/0OENJotD6C

— Moh!t Tandon (@MohiitTandon) January 28, 2023